Digital Asset Management system (DAM) is a powerful software that makes your media library easier to manage and maintain. It uses metadata (keywords, file names, descriptions, EXIF, etc.) to index your collection that you can then easily search through using said metadata as well as a variety of visual tags.
In addition to that, in the last decade, DAM capabilities have expanded further, creating functionality that goes beyond just collection management. Features such as version control that organize all revisions of a file under one thumbnail, and sharing options that let you distribute files in one click, make DAM an absolute must-have for all organizations that work with a large volume of media assets.
As there are so many options on the market right now, one that is of particular interest is the DAM system open source solution. Like proprietary DAMs, open source offerings have the same basic functionality that you'd expect from this range of products. At the same time, its open source nature provides some benefits like cheaper cost as well as an easier way to expand and customize it to fit your needs. However, these advantages come at a price and open source DAMs are far from perfect.
In today's article, we'll look at how open source DAMs differ from proprietary solutions, how to choose one, and whether you should consider one or not.
Let's dig in.
How to Choose the Right Open Source DAM Software?
Choosing Digital Asset Management open source software can be a tricky ordeal as there are so many options available right now. To make that search easier, here are the key features, benefits, and limitations that can help narrow down the options to the open source DAM that fits your needs the most.
Give Pics.io DAM a try
free 7-day trial
Features of Open Source Digital Asset Management Software
Cost Efficiency
Unlike proprietary solutions, the licensing for an open source online platform is free.
That does not mean that the storage is free, obviously, but with open source that should be your only external cost of maintaining a DAM solution. However, make sure that it would be actually less expensive before you commit to a choice. Just because a project is an open source does not necessarily mean that it's quality. If the code is a mess and it would take your dev team hours to put it into a proper shape, you might find out that it's gonna end up costing as much as the proprietary solution would have.
Community Support
A DAM open source software lives and dies by how active its community is.
After all, building a DAM solution, is not an easy ordeal that requires a specific set of programming skills. As any programmer would tell you, maintaining someone else's code is ten times harder than your own. So, if there's some quirk in the program that you cannot figure out yourself, the community is your only bet to fix the bugs.
Easy to Expand
The thing with media asset management open source software is that the "as-is" version of software rarely satisfies all your requirements to a T. So, there might come a point where you are going to need to expand it yourself. It might be a good idea for your software company to make that assessment, but if it turns out that the code isn't as easy to update as initially assumed, it might be better to look for another solution.
Benefits of Digital Asset Management Software Open Source
Besides the features mentioned above, the benefits of the open source DAM software are pretty much the same as with any DAM system, whether proprietary, open source, or else.
That said, we do believe that it would be best to mention some of them if you are completely unfamiliar with the DAM and how it can help manage your enterprise content in many ways.
Saves Time
At most basic, Digital Asset Management is about organizing and indexing your digital media database so that it makes it easy to search for assets, regardless of their number. Using metadata (keywords, file name, description) and visual tags, you can reduce search time by 270%, thus ensuring that your assets are always there when you need them.
Version Control
When you revise an asset multiple times, you might end up with a folder that has dozen of slightly different versions of the same asset. Remembering which version has been approved and keeping track of all the feedback can be a pain. Modern open source digital asset management solutions keep all revisions and comment history under a single thumbnail. This means that by opening an image, you get a snake UI presentation that allows you quickly switch between asset versions and also to compare them side-by-side.
Easy to Share and Receive Files
Whenever you need to share assets outside your organization, there is usually this awkward stage where you have to take assets outside of your protected environment and then host them on some third-party website (e.g. Dropbox) or send them as an email attachment. Not only these issues aren't necessarily safe but they also don't work well with really large files (and HD video puts you in that range immediately).
Modern DAM solutions solve this problem by offering a way to easily generate shareable links that will lead the receiver straight to the desired asset.
Limitations of Media Asset Management Open Source System
Digital Asset Management system open source software is great but not without its flaws and limitations. Those limitations pertain to its open source nature and its implied issues.
Security Concerns
If you can see the code so can everyone else. Even people with not the best intentions. So, if you are going to use the DAM solution as is, not using it as a foundation to build your own version of the software, it means that whenever a vulnerability in the system is exposed, your organization's security will be threatened as well. The severity of the security breach will, obviously, vary. However, if you are trying to have a Brand Asset Management platform that will undoubtedly have sensitive information inside, then these security concerns are something that you should pay close attention to.
All Upgrades Come at a Cost
The majority of sold DAM solutions operate on a software-as-a-service (SaaS) basis. This means that you just pay a flat monthly fee and the provider handles the rest, such as security, performance, server upkeep,  and digital content updates. Let's say that your DAM software open source solution does not handle video files quite well. To add necessary features, like the ability to comment on the timeline, leave visual marks, etc. - you'll need to spend in-house resources to make that change happen. Proprietary DAMs, meanwhile, are getting constantly updated by their providers and those changes come at no cost to you.
Give Pics.io DAM a try
free 7-day trial
Open Source DAMs Don't Come With Support Team
As we've already mentioned, DAM is a tricky beast. It's complex software with complex backend and frontend logic that you cannot just tackle in a minute. Most of the time, open source DAM solutions are free, which means that if you wanted to figure out some kink of the system, you're on your own.
Top 5 Digital Asset Management Open Source Systems
All the offerings outlined below possess the DAM feature core. Thus, we will not reiterate these for every entry but will try to focus on things that differentiate them from the competition in the open source DAM market.
Razuna DAM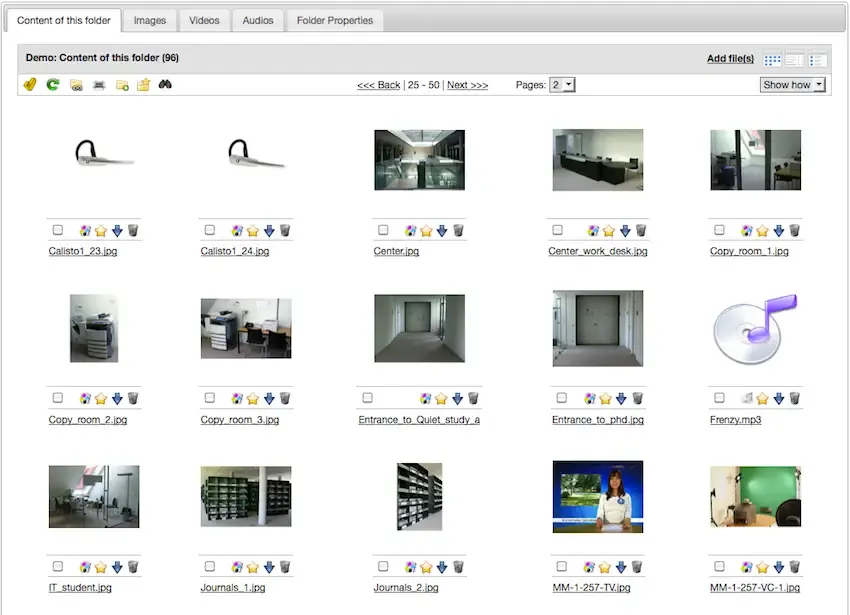 Razuna might be of interest to newspaper companies or people with popular blogs as it can integrate with WordPress through a provided plugin. The WordPress integration, as pretty much any other one, can be expanded further through its API - almost a staple offering with open source DAMs, it seems. However, it can be somewhat difficult to test the sheer extent of its expandability as Razuna, surprisingly, does not have a free licensing option. However, it does have a special pricing plan for non-profits. So, Razuna might be worth looking into if you want to start your DAM journey on a budget.
Pimcore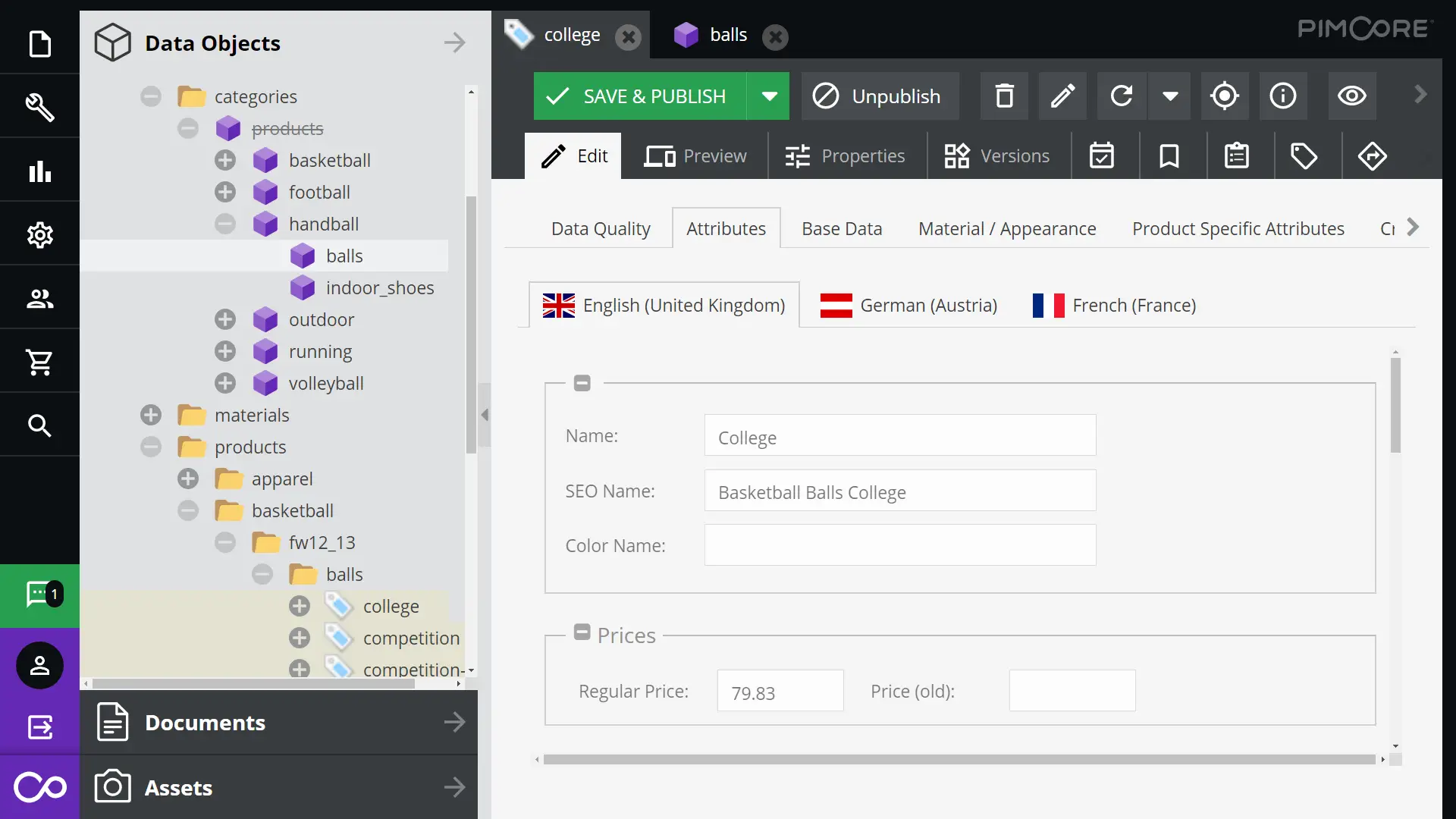 Pimcore takes its open source roots seriously which is why it puts a lot of emphasis on its unified API with a zero-cost license for all developers and enterprises. Its open source credentials are bolstered even further by the fact that analytics in Pimcore is powered by the Matomo web analytics engine which also happens to be fully open source.
If you're trying to take full advantage of API capabilities, then Pimcore definitely should be the DAM of your choice.
HyperCMS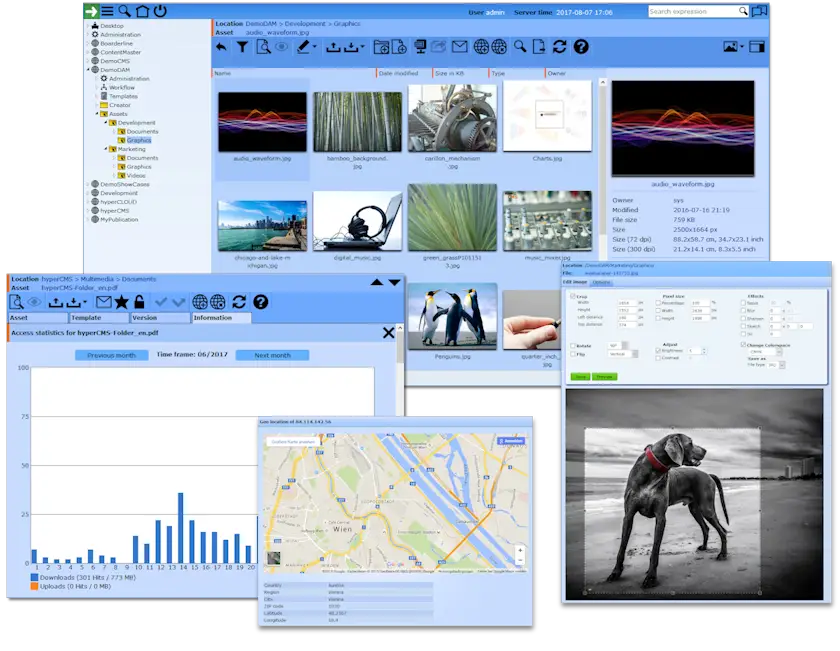 Although HyperCMS is more a content management system than a fully-fledged DAM, it nonetheless can be a solid choice for your DAM management needs on a budget.
HyperCMS' Media Asset Management software open source solution boasts the traditional features you'd expect from DAM such as versioning, backups, and indexing which helps finds assets easier and quicker. Harkening to its CMS roots, HyperCMS allows you to publish content to all your socials straight from the media repository which is a feature that is not always implied with DAM solutions.
Its free license, however, excludes numerous features such as encryption, branding, and integration with external services (including its API).
Phraseanet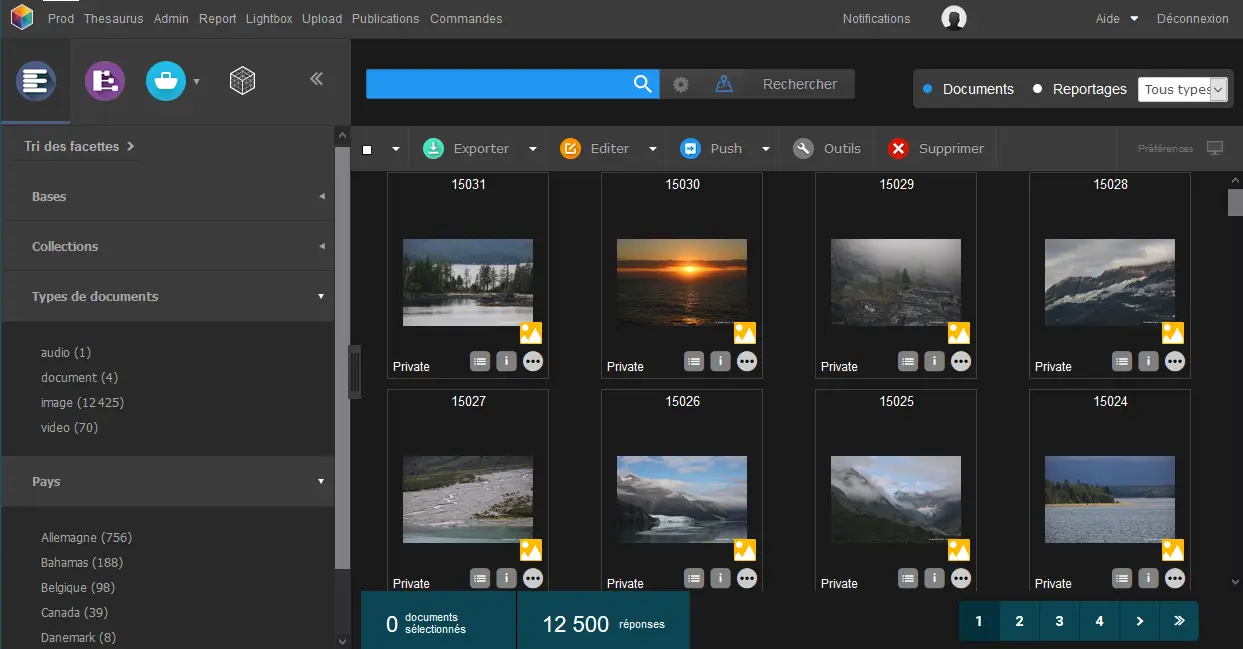 If you compare Phraseanet to the proprietary DAM offerings, it does seem quite barebones. It does not offer any extensive ways to edit images, work with videos, or powerful version control features such as in Pics.io DAM. However, its barebone nature might be just the thing that you're looking for, considering that it has a PHP SDK development kit that you can use to expand its backend as much as you need.
Nuxeo DAM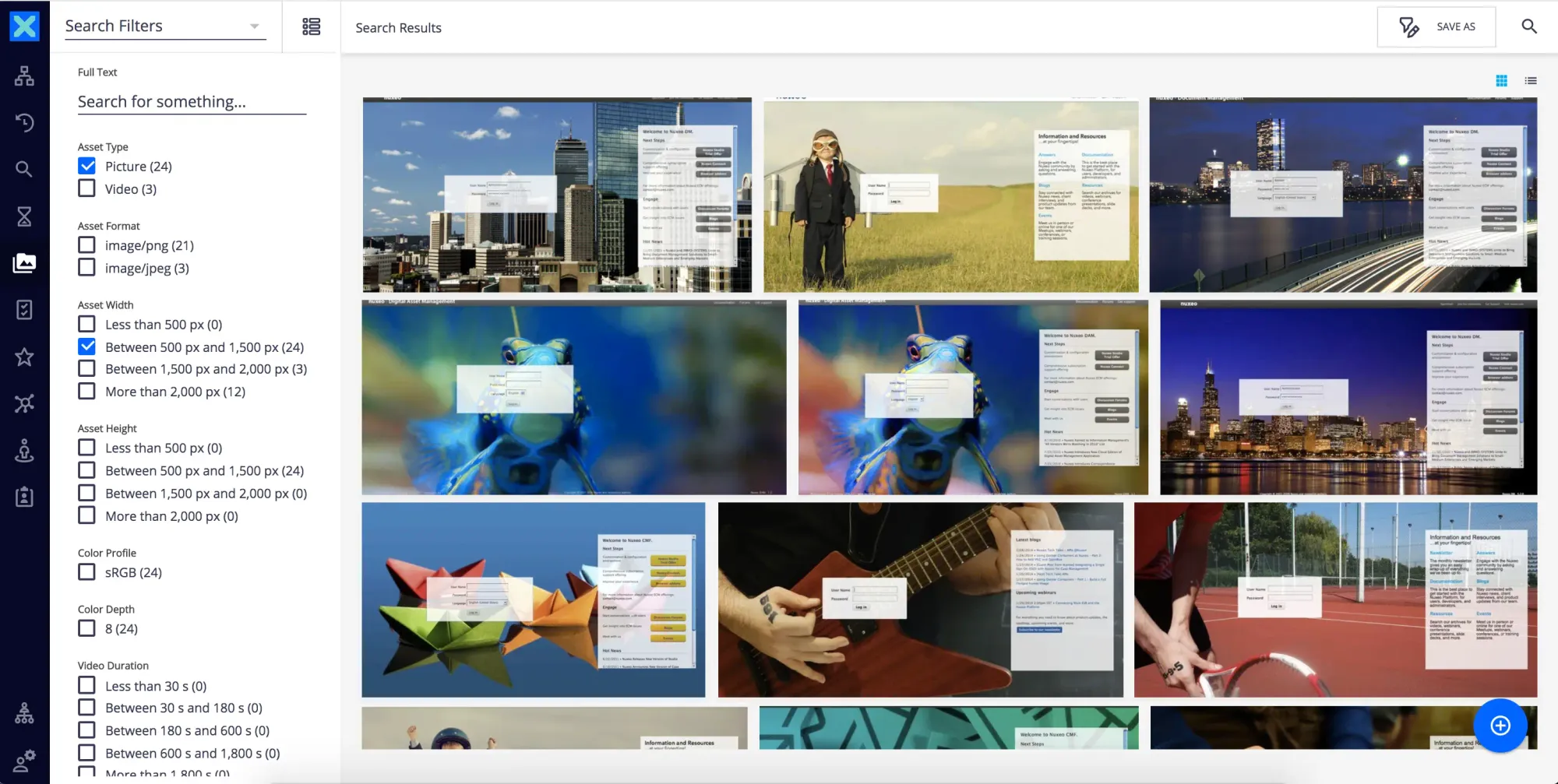 Nuxeo DAM's claim to fame is the fact that its openly available API is low code. This significantly lowers the barrier of entry for creative teams that want to add more tools to their open source DAM arsenal but do not have fully-dedicated DAM support and maintenance, developer team. Using an editor called Nuxeo Studio, anyone can build an extension of Nuxeo using a drag and drop interface. You still need to have a baseline understanding of programming logic but it definitely makes the job easier. It might be good for photographers that don't have a relevant technical background.
Open Source DAM Software vs. Proprietary DAM
So, we've covered plenty of ground on what makes DAM Digital Asset Management open source solutions an interesting choice for the enterprises that are trying to improve their media library management.
However, there still remains a question: is open source always better? Not necessarily.
Sure, open source software tends to be cheaper and also offers a more extensive way to expand and customize the offering to fit your needs better. Sometimes, customization is not what you're after.
Let's say that you're looking for Marketing Digital Asset Management software to bolster the capabilities of your marketing team. Considering how time-sensitive the modern digital marketing landscape is, you don't want to spend time transferring your marketing materials onto a new solution only then to spend a month or so tinkering with it. Even if it ends up doing the thing that you need it to, that's the month in which your marketing efforts are going to suffer. And that's assuming that your API expansions work exactly as you need them to.
That expands to every other feature that you want to expand, maintain, or bugfix. Every tweak to the code requires you to allocate resources and time that you cannot spend elsewhere. Proprietary solutions, meanwhile, provide extensive customer support service while also constantly updating and maintaining existing functionality. So, if your team does not have a dedicated software team (e.g. you're working in the .edu sector or running a travel agency), open source DAM advantages quickly begin to falter. The implied cost saving might just end up costing you more in the long run.
Advantages of Pics.io DAM System Over an Open Source DAM System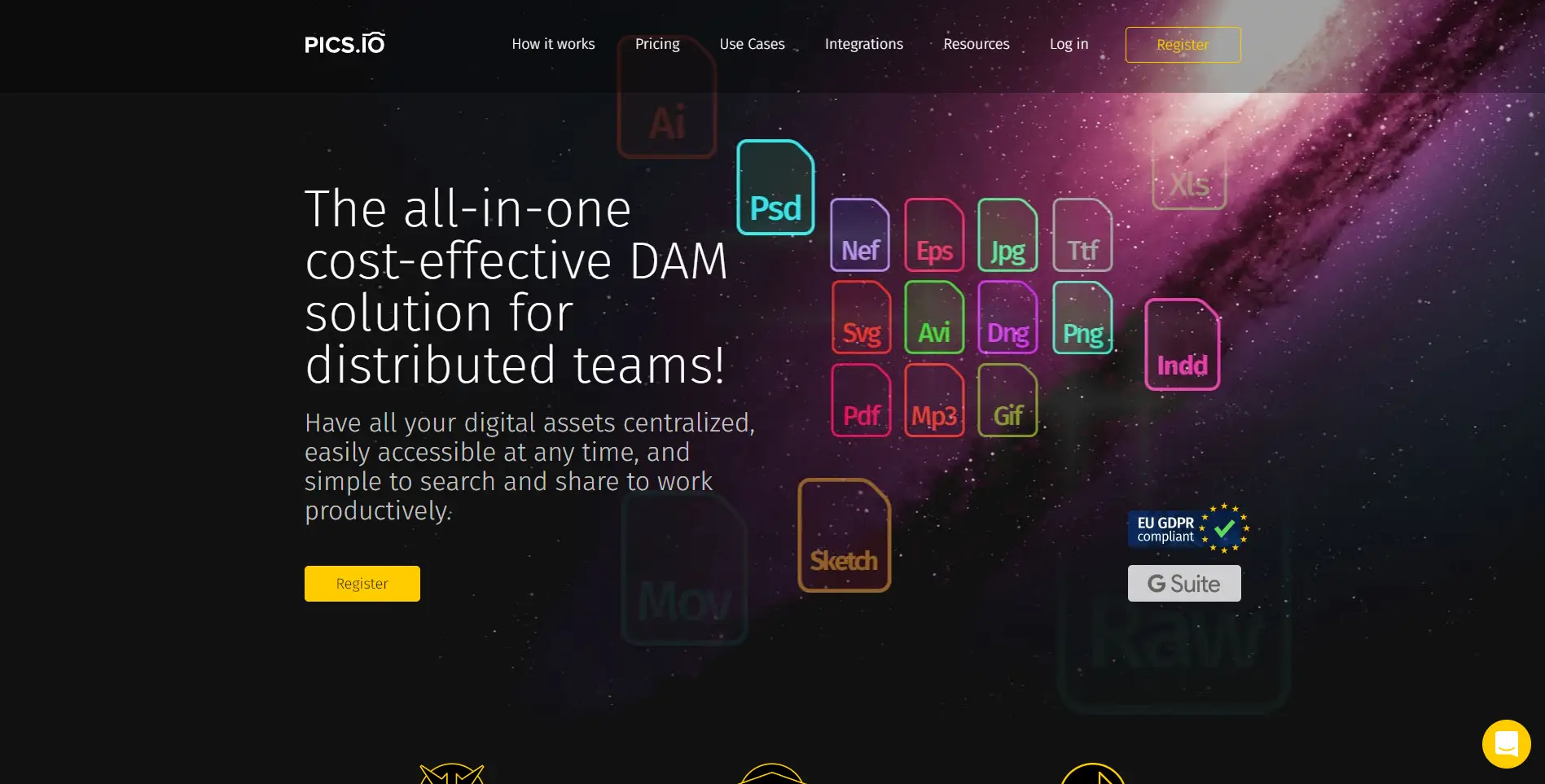 Like any proprietary DAM solution, Pics.io offers a range of highly refined media library management features that make the search easier and faster, reduce versioning redundancy and also make sharing and receiving content simple and secure.
However, Pics.io also possesses some additional features that make it stand out from the crowd.
Enhanced Video Management Capabilities
Pics.io doesn't treat videos as other static file formats. Instead, using Video Asset Management (VAM) solution capabilities, allows you to edit videos, easily crop them, and also to comment and leave visual marks directly on the timecode. It's more than just a photo DAM.
API Capabilities
Pics.io shares similarities with the open source DAM system as it allows you to expand certain capabilities and add niche features through our public API. This means that with Pics.io, you get the customization option of an open source DAM but also the full support and maintenance of a product that comes with proprietary solutions.
Sharing Multiple Assets as Branded Portals
Many DAM solutions offer an easy way to share assets outside your organization. Pics.io, however, makes it stylish. Using Websites functionality you can share entire collections in one motion and showcase assets as an interactive gallery that you can further customize with your brand identity (color, logo, background, etc.)
24/5 Support and Feature Requests
Our customer success team has a full and comprehensive understanding of the product and is ready to answer all of your questions at any point throughout the working week. If you want to get technical or want to inquire about the development of a new feature, they also have a direct line to our dev team that they can put you in touch with. In fact, many of our beloved features have been developed in tandem with our users!
You Can Bring Your Own Storage
As we've covered in our Pics.io DAM vs One Drive, Pics.io isn't just a way to store your media files - it is the way to turn them into assets and make your life easier. We emphasize this distinction by the fact that you don't even have to buy cloud space from us. While we do offer such an option, if you already have Amazon S3 or Google Drive storage set up, there is no need to part with it - Pics.io fits on top of it like a glove. In fact, syncing your Google Drive folder with Pics.io will take just a minute of your time.
Conclusion
Digital Asset Management software open source solutions offer more extensive customization features in comparison to proprietary solutions.
They also tend to be cheaper (sometimes free) and a large community can almost replace a dedicated support team.
At the same time, the baseline open source DAM offerings are oftentimes barebones, requiring you to invest time and effort into adding more features.
Lack of dedicated support and development team means that you'll have to pull out resources from other projects whenever you need to add/fix something.
Freely available code also makes open source DAMs more vulnerable to security breaches.
Proprietary DAM solutions such as Pics.io provide both the customizing options (through its API integrations) while also providing you with dedicated round-the-clock support and development teams with constantly expanding and improving functionality.
Give Pics.io DAM a try
free 7-day trial
Did you enjoy this article? Give Pics.io a try — or book a demo with us, and we'll be happy to answer any of your questions.
---
FAQ
What is an open source MAM?
Open source Media Asset Management (MAM) is a workflow engine system designed for managing and creating media assets such as images, photos, videos, and more. When we are talking about open source MAM this means that the software solution in question offers an easy way to expand upon existing functionality using public API or direct access to source code.
What are the advantages of open source DAM?
Open source DAM tends to be cheaper and freely available code means that you can modify it for your needs. At the same time, that means that open source DAM requires more maintenance and larger time and resource investment to suit your needs to a T.