"Archives are a collection of objects gathered to shape a narrative, to assert an interpretation, to evoke memory and reaction —– in other words, to make history."
Creative agencies are overwhelmed with data. Frequently, there are tons of assets related to each specific project: images, videos, logos, banners, etc. And you might have 100+ projects within your organization at a time. Once the project is closed you do not need the content related to it, but certainly plan to keep it at hand in case of urgent necessity. You definitely know that clients sometimes come back unexpectedly in search of their files, don't you? If you want to find the right asset at the right time and to hide it when you've finished your work on it - a digital archive is a good solution.
Read also our article on how to organize project files in a creative agency.
What is Pics.io digital archiving?
Pics.io digital asset management solution is happy to introduce a new feature to our existing and prospective clients - "archiving". You probably know that archiving means moving your info from a primary storage to an archive when it becomes outdated. With Pics.io, the archiving definition is slightly different.
Pics.io Archive feature presumes removing assets from the main library, so only authorized  people can access them. Once assets are moved to the archive, you cannot make any changes to them, but can easily search them if needed. The archive works as a separate library for assets that you or your clients do not plan to use for a certain period of time. This library mirrors the structure of the main library. It shows only unused assets that users are able to restore to the main library, if necessary.
That's very helpful when your project has just ended and you don't want to mix the assets from active projects with the files from the finished ones. With the Pics.io archive feature, you can always go back to the old project's files in seconds, but these files do not appear in the common library distracting  attention from files in progress.
Read about other Pics.io features to use the DAM platform to its fullest potential.
Digital asset archiving within a project lifecycle
All projects have a lifecycle and Pics.io digital assets archiving brings value at most of its steps. Let's consider the typical project lifecycle within the creative organization and see how assets archiving can be used in the process to make the company's workflow more efficient. For the case of simplicity, let's imagine the creative agency makes an advertising campaign for a new client. The agency would have to develop a number of marketing materials for the campaign, including various images, videos, presentations, etc.
Creation
The designer is preparing the presentation of the advertising campaign for the review and wants to place the client's logo at the presentation. Fortunately, it's not a new client and the designer can find the logo within the digital archive in seconds and unarchive the logo adding it to the new project.

Review
Let's imagine at the next stage the client reviews the images for the future campaign and remembers that once their company worked on the project in a similar location. The client wants to find the images of this location and asks the agency to search for them in their archive. Your designer can easily search for the archived images from the previous campaigns, find the ones related to the location of interest and easily retrieve one or all required images from the archive.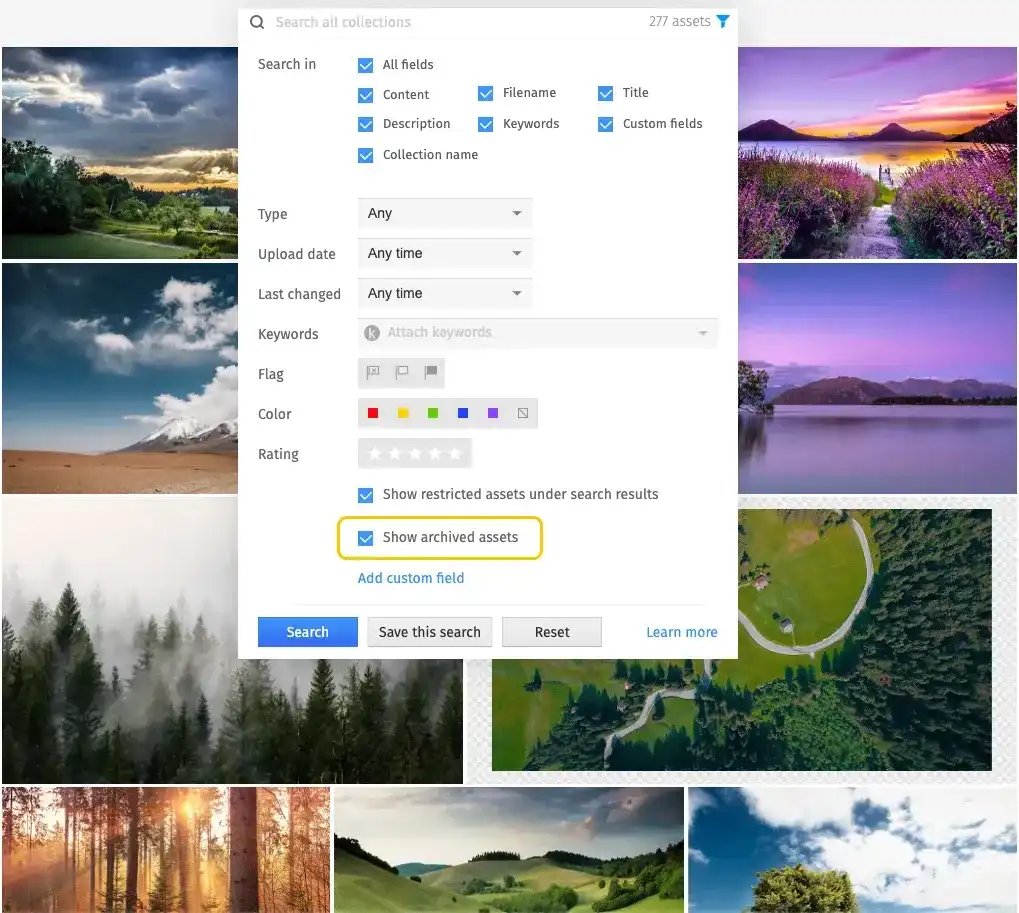 Repurpose
The project finishes and your designer sends the entire collection of files related to the project to the archive. These assets can be stored in the internal database for future reference. Once the designer works on a similar project they can be easily found.

Preservation
The project files live in your digital archive and can be easily preserved in case your client lost any assets due to some reasons or returned to you with a new project requiring rebranding. Again you can easily get back to the one file from the digital archive or even to the whole collection of archived assets related to the particular project and restore it from your archive.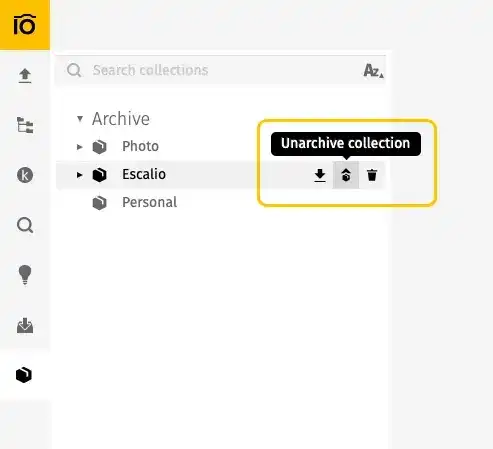 In a nutshell, at any stage of the project, digital archiving saves time and increases workflow efficiency. Let's dive into the full list of benefits the Pics.io Archive feature offers to its users.
Benefits of Pics.io digital archiving
The first thing that Pics.io users have to understand about digital archiving is that it does not impact their original storage structure (Google Drive or Amazon S3). It means that whatever users do with archived items in Pics.io archive structuring is applicable only inside Pics.io UI and affects only files' metadata and internal statuses. The storage structure will not be affected in any case.
Moreover, the permissions to work with digital archiving can vary across the team, allowing only certain team members to archive or unarchive the assets. It means that if your digital archive includes any sensitive information you can be sure that only authorized people have access to these files.

Pics.io users can benefit from digital archiving in a number of ways:
Search for old assets easily in case of urgent requirement -  your collections & files will mirror their structure in the original library;
Hide unnecessary files, separating old assets from the new ones, and keeping the library tree short and easily scannable;
Filter archived items with advanced search capabilities (keywords, custom fields, file types, etc.);
Avoid asset duplication in the digital library - with Pics.io your older assets remain intact, with different revisions preserved in asset history. It means you'll never delete any asset by mistake;
Avoid working on outdated, rejected, or disapproved assets - Pics.io can set end dates for your files & move them to an archive when getting the reminder.
If you're tired of scrambling through old & outdated data, it's time to organize your files with Digital Asset Management. Make your team more productive with Pics.io Archive feature and make your life easier by organizing your digital assets in the most efficient way.
Give Pics.io DAM a try
Free 7-day trial
No credit card required
Set up in 3 minutes or less