SaaS marketing can be challenging and expensive. Especially, when it comes to customer acquisition costs (CAC). Hence, marketers for SaaS companies try to find ways to reduce CAC and one of the best approaches is using SEO.
SEO for SaaS is a complex process that consists of different phase-by-phase stages.
But what are these tactics? How to use them correctly?
In this post, you will find out five steps that will help shape your SaaS SEO strategy perfectly.
Let's get the ball rolling!
Start with exploring your competitors on the SERP
If you analyze the SERP, you will see that not all organic search results are your direct competitors. The list is the mix of:
Review sites
Affiliates
Informational blogs
Companies that are related to your business indirectly
Don't shy away from this information. It will help you in tracking web analytics and preparing your SEO strategy.
How to find direct business-related competitors?
The most actionable way is to use the Site Explorer tool from Ahrefs. Copy/paste your domain to the search bar and go to the "Organic competitors" report. For example, your product is one of the best WordPress quiz plugins that already drives a good amount of organic traffic:
The most actionable way is to use the Site Explorer tool from Ahrefs. Copy/paste your domain to the search bar and go to the "Organic competitors" report. For example, your product is one of the best WordPress quiz plugins that already drives a good amount of organic traffic: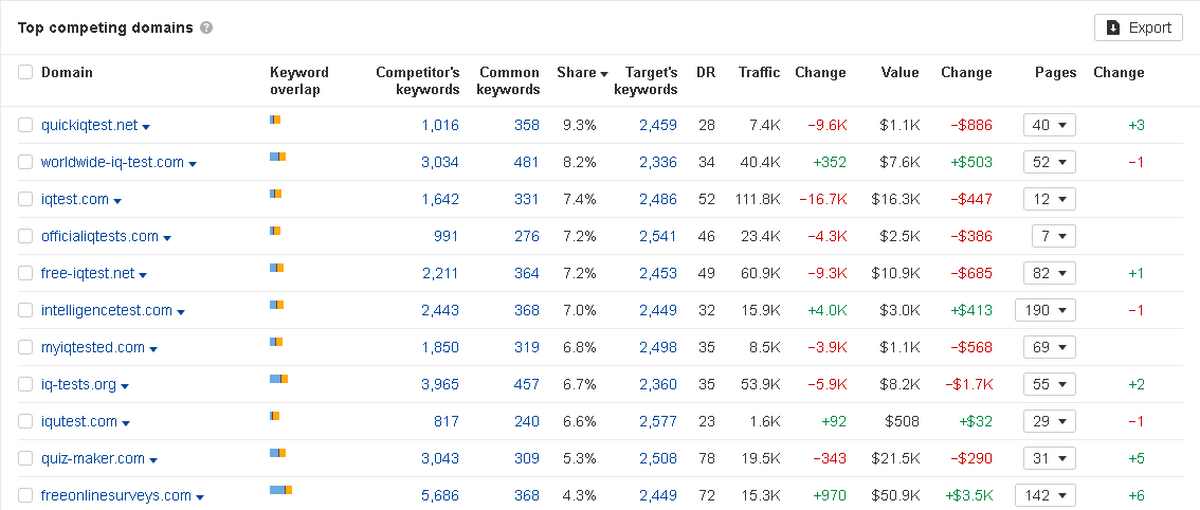 The report illustrates all websites that rank for the business-related keywords as your one. Don't rush to consider every suggested site as a competitor. Instead, repeat the same analysis with a few more competing sites. It will help you filter down the sites that don't have keyword overlaps.
Finally, prepare the list of the competing sites and move to the next stage of the SaaS SEO strategy.
Take a close look at what works for your competitors the best
Now, your goal is to analyze your competitors in more detail. In other words, run an SEO analysis. This analysis will help figure out a few important stats about your competitors':
Website sections with the best performance
Best pages
Content that catches more links (type of content)
Pay attention to the received data. Analyze ideas from your competitors and explore new ones by yourself.
Website sections with the best performance
SaaS websites drive traffic to different sections. And one section can drive more traffic compared to others. Your purpose is to find out this information. For this, you need to analyze the site structure.
How to do this?
Again, play with the Site Explorer tool and review the "Site structure" report:

Skim through the report and pay attention to what website section drives traffic significantly.
Best pages
Go deeper into details. Figure out what exact pages drive traffic the best. The "Top pages" report reveals this information for you: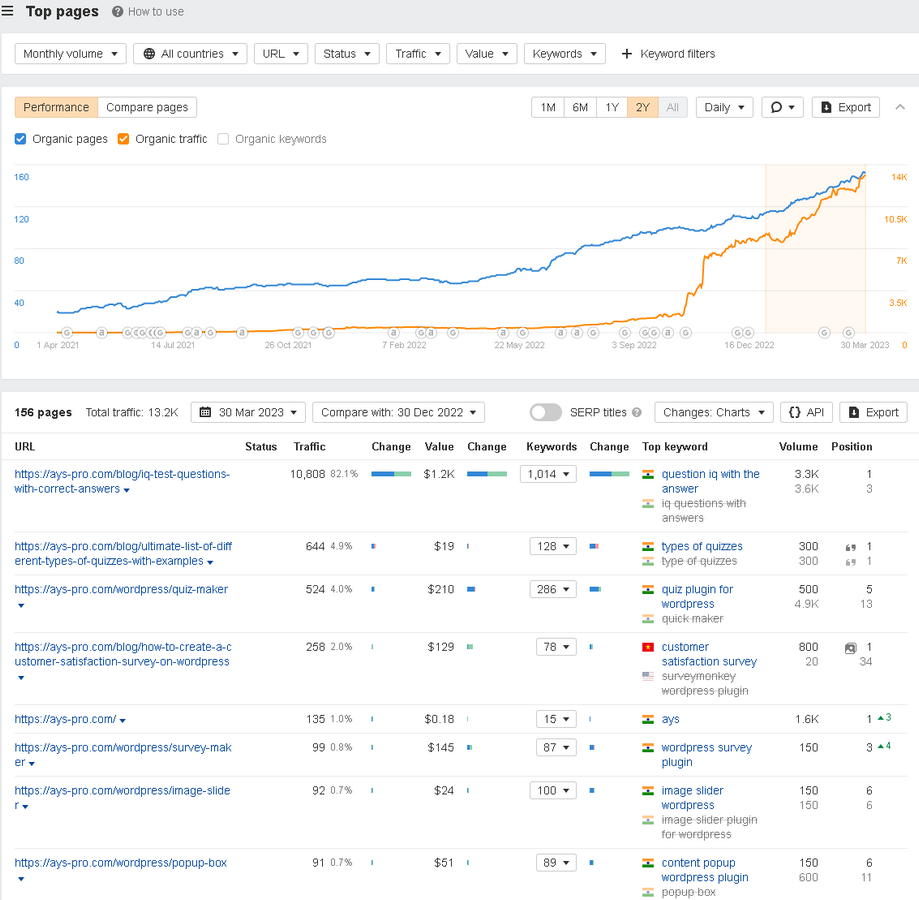 Review the topics from your competitors and borrow some ideas for your content. Keep in mind tons of traffic doesn't equal a high conversion level. The majority of them work for raising brand awareness.
Content that catches more links
If you know a thing or two about SEO, you heard that backlinks are one of the ranking factors Google considers. That's why everyone tries to build more backlinks by doing off-page SEO.
What content attracts backlinks the most?
The answer to the question is simple - link bait content. To put it simply, content that is interesting, engaging, unique, and valuable.
How to explore competing link bait content?
Go to the "Best by links" report at Ahrefs and apply a "200 ok" status for an "HTTP code" filter.
For example, you have an idea to create a post on UX research tools but don't know if this topic attracts backlinks. "Best by link" report reveals that one of your potential competitors has already covered the same topic idea and it takes a "5th" spot: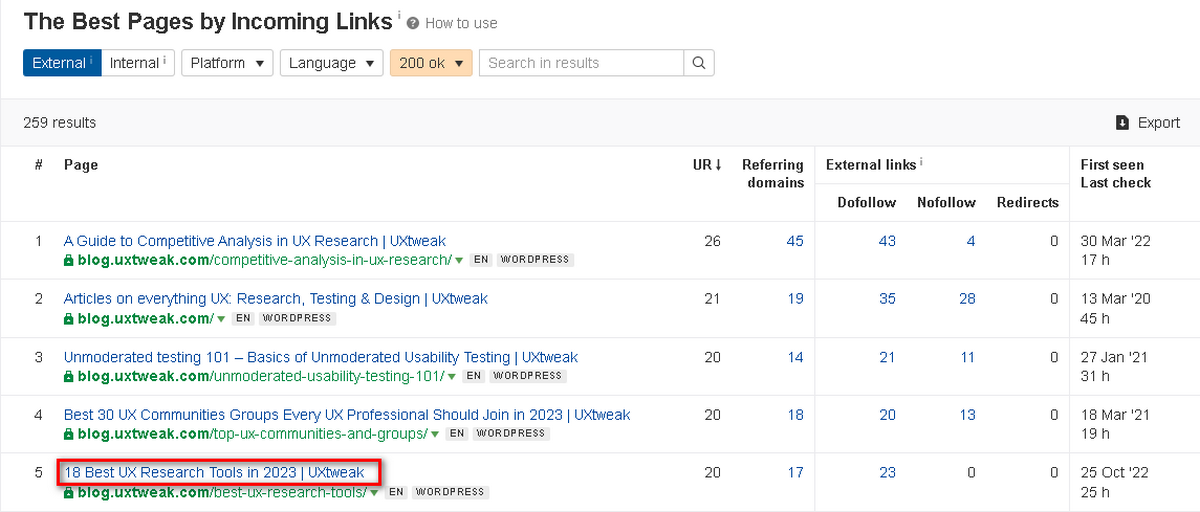 It signals you to proceed with this topic from your end.
Keyword research
Keyword research is a crucial element of SEO. Basically, keyword research helps you understand what your potential customers want to find online. And what exact search queries they use.
Keyword research is the first-to-go strategy to build a bridge between your products and potential customers.
Analyze search intent
For SaaS, keyword research starts with analyzing search intent. Search intent is a "why" behind every search query people request online. Therefore, Google (and other search engines) try to suggest the most relevant results based on the search intent of the keyword.
For example, a query like "how to create an infographic" could have several intents - informational and transactional.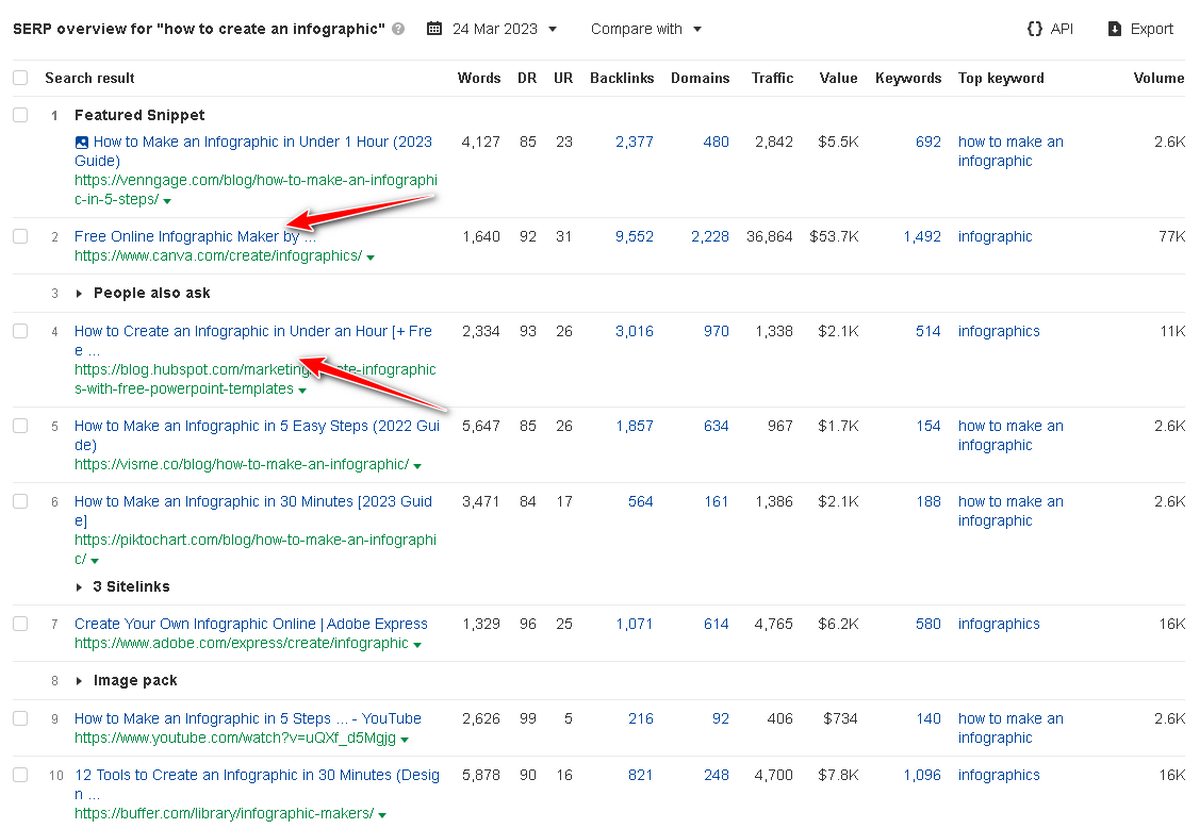 Hence, split your target keywords into groups based on their search intent. It will help you craft your content in the right direction - whether you want to make more sales directly or drive traffic by covering informational topics.
Create product-led content
When the information is collected, it is time to start creating content.
SaaS business focuses on attracting potential customers using all possible ways. Content marketing is not an exception. Therefore, SaaS content marketing should revolve around creating product-led content.
What product-led content is about?

For example, an SEO market represents different SEO tools. These tools help users with SEO-related problems - keyword research, link building, site audit, content audit, etc.
Moz's content writers create a blog post on keyword research. This piece of content describes a step-by-step process of how to run keyword research from A to Z. Apart from covering aspects of keyword research blog post offers using the Keyword Research tool from Moz.
What should you know about creating product-led content?
First and foremost, you should realize when suggesting your service as a solution makes sense. For this, you can use the metric called "business potential." This metric gives a business potential score for every content topic you want to cover.
The score has four positions that reveal the necessity of suggesting your product to solve the problem.
Let's say, you need to promote an infographic maker tool via content. And here are four business potential score positions:
"0" - you can't mention your service as it is way off the problem of the topic ("business intelligence software" this topic has nothing in common with creating visual content like infographics)
"1" - you can mention the infographic maker tool as one of the options that help ("content repurposing" this topic suggests different ways how to repurpose content into video, social media posts, podcast series, and infographics)
"2" - your product helps but users can solve their problem without it anyway ("content design ideas" users may want to accept "infographic creation" as a content design idea, or may not)
"3" - your service is the only solution to the problem ("how to create an educational infographic" it won't be possible to create this type of infographic without your tool)
Analyze potential topics with this score and promote your products wisely.
Work on creating a comparison page
A standard marketing funnel has five stages - awareness, interest, consideration, conversion, and retention. The third stage "consideration" allows you to sell a proposal to potential customers.
People want to figure out the best option for themselves at this stage. Hence, they start comparing your tool with competing ones. Your task is to help them make the right decision.
How to do this?
Create a comparison page. It is a widely used practice among SaaS companies. Here is the example from Semrush:
Semrush preferred to list its best features. The other companies underline their uniqueness. It is up to you how to share your comparison page. The only piece of advice to follow - be realistic and objective in this question.
To Sum Up
SaaS SEO is an integral part of the overall marketing strategy. It should align with marketing objectives. And help achieve other marketing goals along the way.
You have just explored five tried and tested SaaS SEO tactics that work like a charm.
If you think this post lacks other SEO tips for SaaS businesses, feel free to share your ideas in the comment section.
Give Pics.io DAM a try
free 7-day trial
Did you enjoy this article? Give Pics.io a try — or book a demo with us, and we'll be happy to answer any of your questions.
---
Sergey Aliokhin is a marketer at Visme – an all-in-one visual content platform to create visual content. Outside of work, he likes spending his time with family and friends. Fond of music, martial arts, and books on science-fiction.