The choice is a double-edged sword. It's nice to have options to pick from, regardless of what we are talking about.
But with choice, there also comes uncertainty. How to pick the right option? How do you know which option is the right one? And how do you even make sense of all the nuances?
If you believe that digital asset management (DAM) is the thing for you but you are just not sure how to pick the solution that fits you most, this article is for you.
Here, we'll discuss some of the best tips you can use for choosing a digital asset management system and how we, Pics.io, can help you in that regard ;)
Let's dig in.
What Is Digital Asset Management?
First, let's take a pause and talk about what a digital asset management system is.
Yes, we know that if you are already in the market for DAM, you know the basic marketing spiel: a single source of truth for your digital assets, a solution to help you manage and organize your digital assets.
But these questions don't get to the core of how to select your DAM.
The main purpose of DAM is to solve business problems and pains. For example, if your business is a production agency, you would be using DAM not to just find assets faster but to improve the delivery of the right assets to the right stakeholders and to streamline the communication between your team and theirs.
What we are trying to say here is that the best way of choosing a DAM system is to pinpoint the business goals it will help you accomplish. Understanding, then, what functionality you need and which one you don't can help you identify the requirements for a digital asset management system.
With that said, let's now look at a few prime tips on how can you determine your best digital asset management software selection features.
Give Pics.io DAM a try
free 7-day trial
6 Tips on How to Choose a Digital Asset Management Software
1. Identify Your Needs
Do you maybe want to create a knowledge base software with DAM or are you perhaps looking to integrate DAM software in customer experience?
While all DAMs will give you basic metadata management capabilities, the similarities tend to stop there. Each DAM has its unique strengths molded by the vendor's user base and their demands.
When you are trying to decide what digital asset management software to choose, consider the business needs your org has.
If we are talking video assets, for instance, one vendor might have only the basic ways to work with videos and treats them like static assets. Someone who gets a lot of business from video production agencies, on the other hand, will have the whole shebang with custom thumbnails, built-in editors, etc.
2. Assess the Ease of Use
A piece of software might have all the best bells and whistles in the world but if its interface looks like a cockpit of a Boeing, nobody's going to use it.
When selecting a digital asset management system, consider how comfortable your team will be with using it. Not everyone's born a tech-wiz, so if it's tricky to use, your DAM subscription will just be collecting dust as your team opts to do things the way they're comfortable with.
3. Check for Integrations with Other Software You Use
For example, your team might be using Adobe Suite extensively to edit and work on the assets. Naturally, you'd want to have a way to access your digital library directly from Photoshop, Premiere, InDesign, etc.
If a DAM you're looking at cannot integrate with the software of your choice that's going to be a significant bump to productivity and can create a digital mess where assets are stored in different places, because your team forgets to upload assets to DAM.
Basically, you'd be creating a scenario that's the complete opposite of what DAM is made for.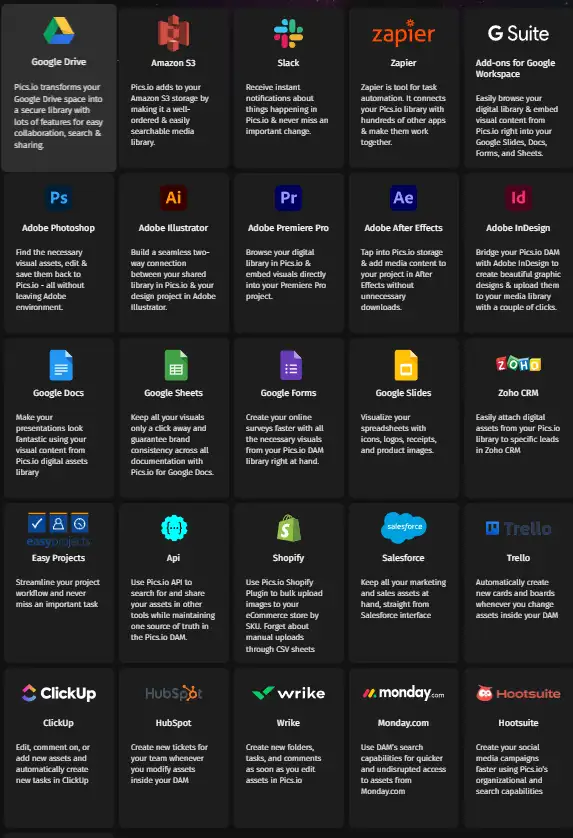 P.S. A lot of DAM vendors also offer API support and can process custom development requests. So, if there's one specific integration that your team desperately needs, consider reaching out and asking if it would be possible to implement it.  
4. Evaluate Pricing
DAM pricing can be a significant deal-breaker for the majority of teams as it might simply not fit the org's budget despite all other criteria being on point.
So, it's best to figure out the pricing as soon as possible, otherwise, you'd be going through the laborious demo and trial process only to figure out that the bang-for-buck isn't quite there.
The tricky part here is that most DAM vendors tend not to disclose their pricing and you would have to reach out to their sales dept to figure out what's what.
You probably will still have to do it, but we @ Pics.io wanted to save you just a nick of time as you can check out our actual prices at any time on our pricing page.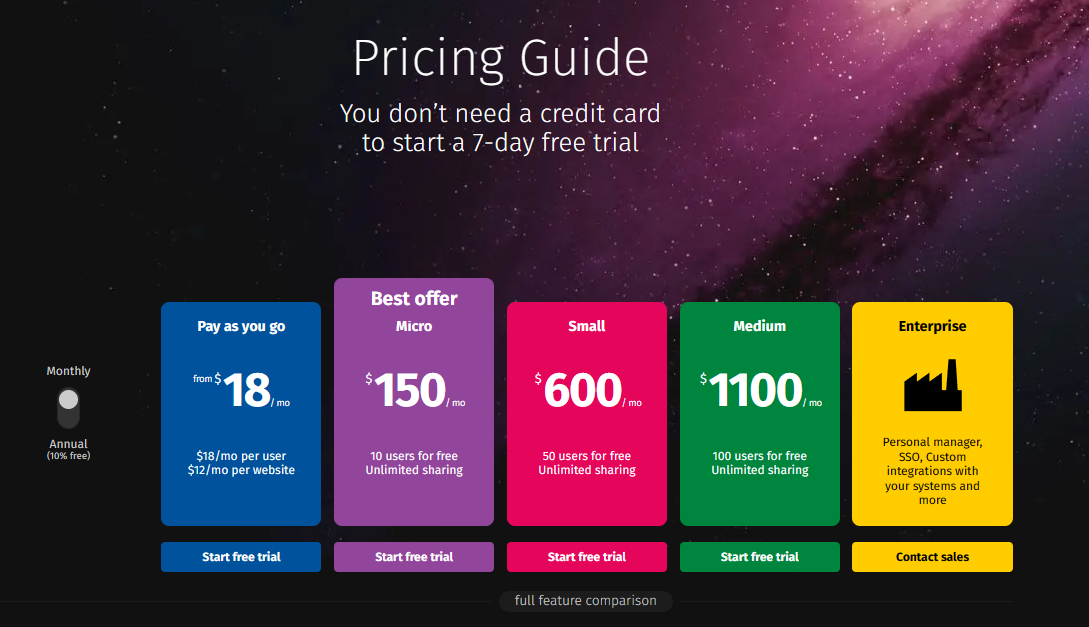 5. Evaluate the Long-term Proposition
In our experience, many teams prefer to do a DAM trial run, where they buy a subscription for a small part of their organization to see if the implementation is going to be successful.
When you eventually find out that you do want to pick the DAM solution, you may need to consider if it's going to scale with your demands.
So you'll need to know if, say, you have 15 teammates now and you want to add 15 more how much is it going to cost you and if there are any technical limitations to this approach?
Also, consider the product support long-term. There are some vendors (not us) that opt to include "development fees" which essentially means that you will have to pay when the vendor adds a new feature to their product regardless of whether you are planning to use that feature or not.
For better or worse, DAM is a commitment. It's not just the software as you need to reimagine your processes to asset management workflows and these can take a while to set up and refine. Let's just say it's a bit of a pain to spend a year fine-tuning your DAM environment only then to realize that it cannot support your ambitions long-term.
6. Evaluate Compliance with any Legal and Security Requirements
It can be something as self-evident as GDPR compliance or even something more intricate as the storage requirement. In our experience, we've had many different teams that, for one reason or another, couldn't keep their assets on the DAM vendor's storage and they had to be kept on the corporate S3 or G Drive account.
This requirement, unfortunately, can lock you out of considering multiple DAM vendors as those can offer only their storage for you to use.
We understand how disappointing that may be, which is why we want to give our users a few options to pick from. For instance, if you already have Amazon S3 or Google Drive storage, you can keep your assets there for no extra fee.
In these scenarios, you will keep your assets right where they are (we can't even look at them!) and Pics.io DAM will act as a wrapper, a comfortable interface through which you can interact with your asset library.
How Pics.io Can Help Choosing a DAM System?
We want to be perfectly honest with you. Although, as any business, we would love to have as many users as possible, their long-term satisfaction is the top priority.
It's not even about altruism, but about the fact that long-term partnerships are those where both sides win. And if we were to say half-truths to grab as many subs as possible, we would spend more time doing bureaucracy and less time actually being productive.
This is why we are offering our users both a free 7-day trial (only email required) and also an extensive demo and workshop training program.
This extensive process helps both of us figure out if there's a fit if what we can do for you meets your business requirements.  From our experience, talking also helps teams figure out exactly how they can use DAM in their workflows, sometimes in ways that they haven't considered before.
So, if you are wondering if Pics.io can meet your digital asset management software selection criteria, then here's what we'd recommend:
Take a free trial to see how DAM works from the inside. You'll get access to all its functionality so you can determine which features you need and which aren't worth the upgrade to a higher plan.
Ask us to fire our copywriter who wrote this article because they obviously haven't done a good job at explaining what is DAM if you still have questions
Book a demo where we can answer all your business and tech-related questions about how our DAM platform functions
If, after all of that, you find that Pics.io is just not quite there for you, you can use these handy tips on how to choose a DAM that is for you!
Give Pics.io DAM a try
free 7-day trial
Conclusion

Choosing the right DAM for your organization can be tricky as each team has its unique technical, legal, and business needs. Considering the complexity of DAM systems and how they require you to contextualize the way you work with assets, we suggest approaching this choice with all seriousness it requires.
Although we've provided a robust digital asset management software selection worksheet if you are going to take away only one thing from this article we recommend focusing on your business requirements. If you understand precisely what you want to accomplish with DAM, then all other considerations will come as second nature.
Happy hunting ;)
Did you enjoy this article? Give Pics.io a try — or book a demo with us, and we'll be happy to answer any of your questions.
FAQ
How to choose a digital asset management system?
The question of how to choose a digital asset management system can be a tough one to answer because "it depends." The most important criterion to look out for is how the DAM of choice reflects your business needs. For example, if you're constantly working with video assets (because that's your entire business) but DAM offers only the most simple ways to work with these assets, then it probably won't be a fit.
What do you need in a digital asset management tool?
You may need a DAM tool if your line of work expects you to constantly work with digital assets (videos, pictures, images, etc.). The type of work can be different. It can be asset distribution, discovery, creation, and whatever else. The point of a DAM system is to streamline these processes by providing you tools to quickly find those assets, communicate their status to colleagues, and to share them with stakeholders in a few clicks. So if your work involves any of that on a large scale, a DAM might be a good investment to consider.