A month ago our team figured out that many people already moved their photo collections off their unreliable computers to the cloud. The request we got most often was a quick way to add photos that are already in Google Drive.
It's now time to introduce a Sync feature of Pics.io.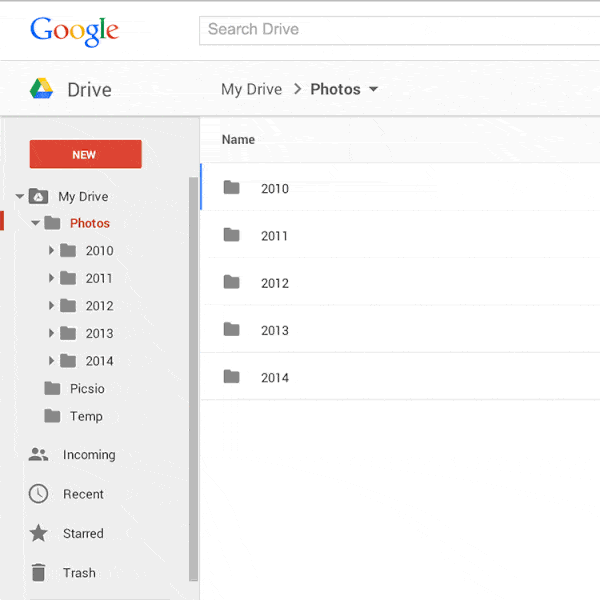 Here's a short list of things you can do using it:
Automatically add smartphone photos to Pics.io
Install Drive Autosync app, setup syncing of DCIM\Camera to My Drive\Picsio\Mobile folder in your Google Drive, and then add photos using Sync.
Add photos of interesting locations for shooting.
Install Google Drive app on your phone. Create folder Locations in My Drive\Picsio\ folder. When you see an interesting spot, take a picture with your smartphone, put it into My Drive\Picsio\Locations using Google Drive app, add to Pics.io using Sync and leave a memo for yourself in a text comment field.
Upload folders of photos
Drag'n'drop folders with subfolders to Google Drive web interface (this works only in Chrome), wait until they finish uploading, move them to My Drive\Picsio folder, add them using Sync.
Upload photos to Pics.io using Google Drive desktop client
Install GD desktop client, move folders with photos to Drive folder on the computer, wait until desktop client finishes uploading, move them in Google Drive web interface to My Drive\Picsio folder, then add using Sync.
Note: when you move folders in Google Drive interface, this doesn't create duplicating files. This won't affect your storage capacity.
To try it out just login to your Pics.io account here. If you have troubles using this new feature, please, let us know in the comments or on Twitter (@toptechphoto). Just recently, Pics.io has also released its own storage & become an all-in-one DAM solution. Be among our first users who will give it a try!

---
Also, don't miss our full guide to uploading files to Google Drive.
Give Pics.io DAM a try
Free 7-day trial
No credit card required
Set up in 3 minutes or less