"A picture is worth a thousand words" is a lesson real estate managers learned firsthand. According to statistics, if you upload 5-7 pictures of a property online, it'll stay on the market for 60 days. Make it twenty - and you'll find a buyer twice as fast.
So real estate managers upload. And upload. And upload. Adding more pictures for every asset they put on sales up to the point when it becomes next to impossible to navigate between all the photos the team has ever created.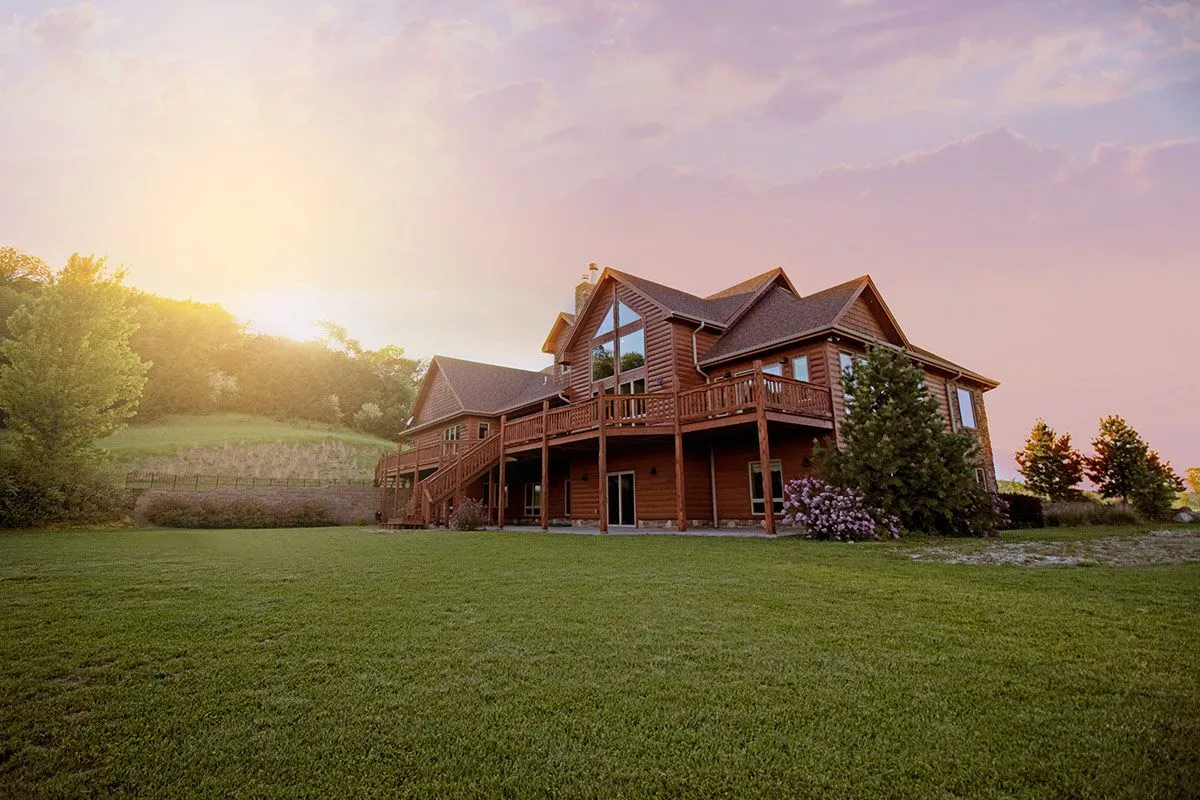 Without a proper file management infrastructure, the time needed to publish a listing increases - so does the risk to make mistakes or misplace pictures. That's why an increasing number of real estate managers turn to DAM software.
At Pics.io, we support dozens of companies in the field - here's how Pics.io helps them solve file management problems.
Beyond the Boiling Point: What Made Real Estate Firms Choose DAM
Eventually, we got curious to find out, at which point real estate teams understand that they can no longer remember precise names and locations of their digital assets. We asked our clients what led them to consider digital asset management tools - here's what they had to say.
Reason #1. Limited organizational features of cloud storages
All real estate managers we surveyed listed an overwhelming number of assets as their chief reason for switching to DAM tools. With terabytes of data to handle, using organizer tools for local storages no longer made sense - business owners had to switch to cloud tools, be it Google Drive, Amazon S3, or Dropbox.
However, these platforms don't come with a wide array of organizing features. Among the hurdles of Google Drive, there are:
Limited permission control - it's way too easy to move files around, share them with people outside your organization, or delete them accidentally.
No way to establish and control file naming conventions. Google Drive doesn't offer a strict versioning making it harder for managers to monitor performance.
No support for Adobe Creative Cloud or Sketch files.
Limited revision and approval toolset - tracking who made changes in thousands of files via Google Drive or Amazon S3 is next to impossible.
Reason #2. No single source of truth for assets
Another problem real estate managers are facing is having assets scattered across different storages or folders on the server. It's hard for team leaders to keep all files together, keep track of who uploaded new assets, and how to find them.
Our clients started using DAM tools hoping to establish a single source of truth that could be accessed by teammates, property managers, and buyers. This way, they no longer have to create robust tool sets for data organization and sharing.
Reason #3. Need for location-based management
Some of our clients pointed out that creating a property asset map would be the best way to navigate between countless videos and pictures.
If an agent wants to show a client a picture of a house in Nebraska yet doesn't remember the location nor the name of the file, knowing the location is enough to find a needed asset in seconds.
Sharing such interactive maps with clients comes in handy during customer acquisition as well - a prospective buyer can look for property in his area using a navigation map created via a digital asset management platform.
Reason #4. Poor permission control
When it comes to real estate, not all team members are equally involved in asset management. Some, like marketers and designers, actively participate and oversee all processes - uploading, editing and publications. Others - photographers or clients - only need to view or upload files.
Real estate managers who reached out to us acknowledge the potential digital asset management has in permission control. DAM solutions help agency managers:
Create user roles with a pre-built list of permissions;
Create custom permissions for users who don't fit predefined categories.
Save onboarding time by assigning roles to multiple teammates at once.
Reason #5. Navigation bottlenecks
Once real estate businesses start scaling, there isn't enough time to enter metadata labels or assign keywords manually. The need for automation becomes clear - and DAM is the most convenient way to set it up.
Here are the features that were important to our clients working in real estate:
Automated keywording - this way, team managers wouldn't have to organize thousands of assets manually.
Collaboration tool integrations - getting Slack or other social media notifications whenever an asset is modified eliminates the need for tracking changes manually.
Uploading files and adding new teammates in batches saves teams' productive time and helps accomplish more in a day.
These are the main reasons why real estate managers switch to digital asset management. The real question is - once they've made the switch, how did their workplaces, day-to-day workflows, and lives change? Let's find out.
How is Retail Transforming Real Estate?
Digital asset management makes the difference. Here's how it helps real estate teams reach their peak efficiency.
1. Tagging and labeling - improved efficiency of day-to-day operations.
Problem: While small-scale agencies might not struggle a great deal managing assets, as businesses scale, the number of files to handle increases exponentially. Eventually, real estate managers start having trouble locating and sharing assets.
Solution: digital asset management systems make it easier to locate a needed file in seconds. A DAM platform gives business managers full control over the file system. With the help of tags, custom, and AI-generated keywords, navigating the library is effortless and efficient.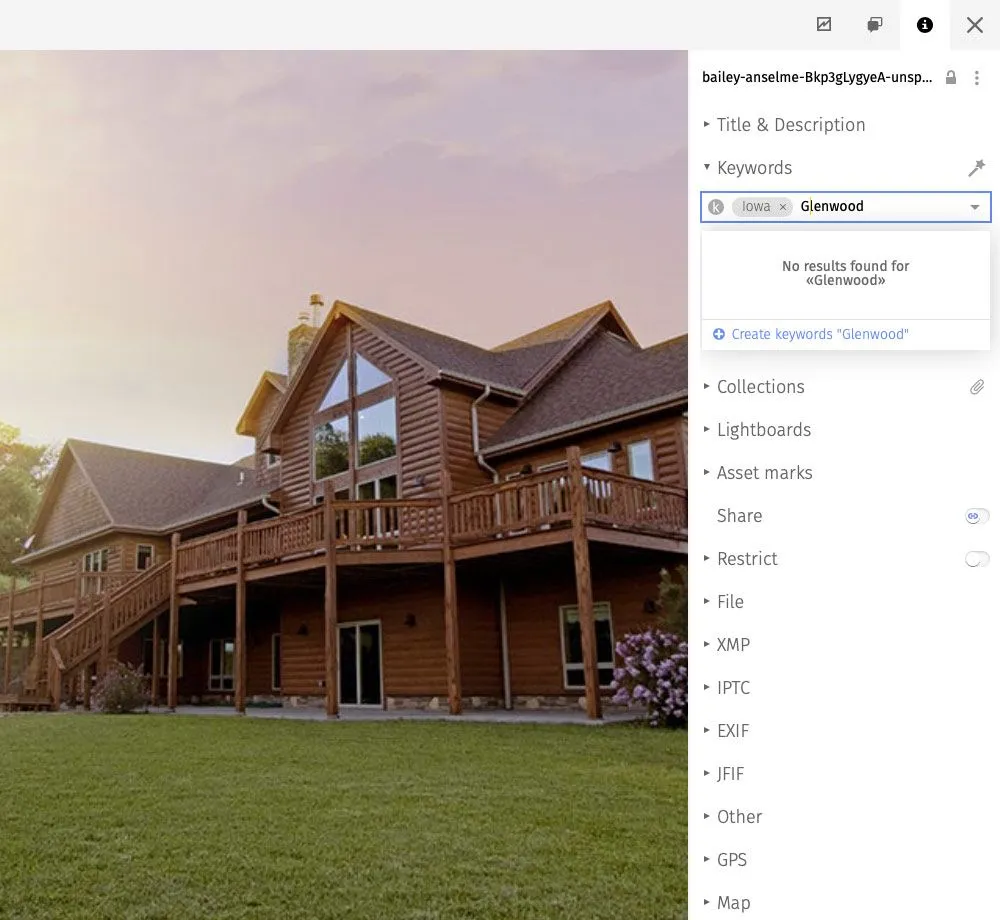 Here's how your real-estate team can use tagging and keywording:
Curate a custom list of favorite keywords.
Let artificial intelligence scan for keywords and choose them for you.
Create keywords lists that meet the same conventions.
Add custom metadata tags to label assets.
2. Map-based view - seamless navigation
Problem: whether a real estate agent wants to sort listings by areas or help a client find a property that matches his needs, having a map-based view of all offers would be highly convenient. However, most file management and storage platforms don't offer geotagging.
Solution: Pics.io offers an easy-to-navigate map-based view of your assets. It's convenient both for real estate teams (who can navigate between listings without having to remember exact file names or tags) and clients (they will get a location-based property catalog that makes it easy to sort through listings for target areas).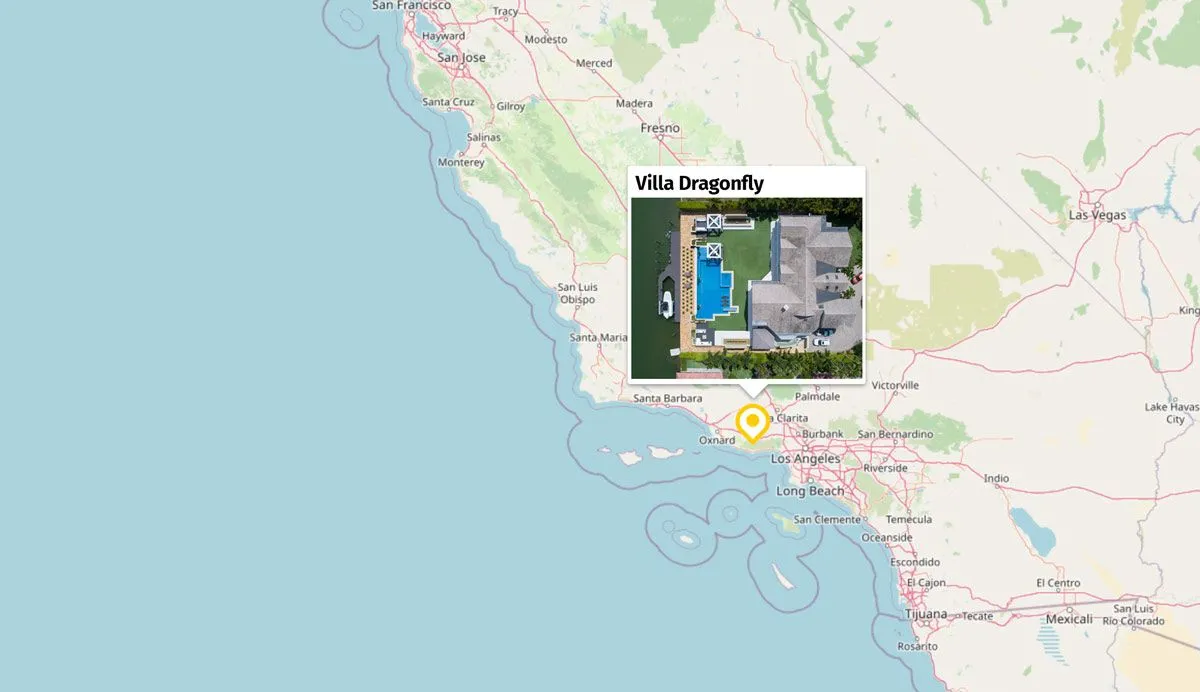 3. Branded websites fuel customer acquisition
Problem: Real estate managers are always trying to go the extra mile and represent all property in its best light. However, they have no infrastructure to present objects to clients in a memorable way.  
Solution: The idea of creating a branded catalog and using it to communicate with prospects helps business owners communicate with prospects and clients. It's a great alternative to presentation or paper materials since it encourages communication, there's no need to exchange emails or download files. Other than that, it helps real estate agencies stand out among competitors.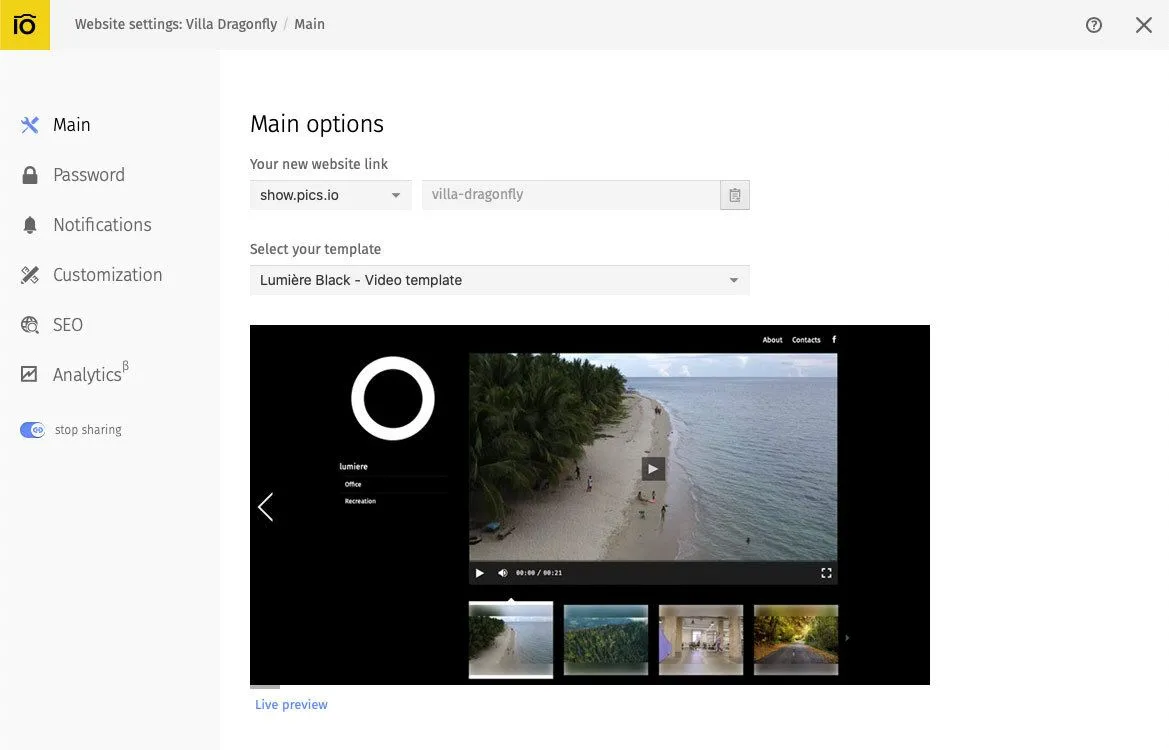 Here's how Pics.io can help your team acquire and onboard clients:
Facilitate file sharing - create a shared folder or grant others access via a link.
Create a custom website that'll make your property photos and videos stand out.
Connect your website to Google Analytics to monitor traffic and track the effectiveness of your marketing efforts.
Password-protect your website to make sure an outsider can't visit it.
Use a map-based asset view to help prospective buyers browse property offers in their location.
4. Inboxes - streamlined third-party collaboration
Problem: Not every person on a real estate team needs full access to files. It's common for agency managers to work with freelance contractors. Being able to moderate the content they upload would come in handy.
Solution: Pics.io has become a reliable way out for small-scale real estate teams: The inbox feature allows photographers, videographers, and third-party freelancers access to upload files. However, when it comes to editing or downloading - they will not have permission.
This way, real estate managers can protect intellectual property and make sure competitors don't take advantage of our assets.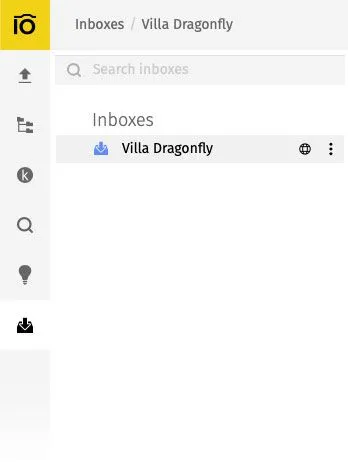 Here's how Pics.io can help you collaborate with third-parties: use inboxes to moderate an external content from non-Pics.io users before moving it to your team library.
5. Version control and change tracking - improved communication
Problem: large-scale real estate companies might struggle to streamline collaboration with photographers, designers, and marketers. With no one-stop-shop for asset sharing, editing, and change monitoring, making work-related decisions takes a lot of time and effort.
Solution: Pics.io helps teammates stay in touch, make edits, and approve new design versions. This way, real estate managers make sure that photographers and other creators don't overwrite each other's work. You can keep everyone who handles visuals in the loop regarding what's happening to assets in the moment. Also, integrating Pics.io with Slack is a good idea since it lets you know when someone edits a picture or new assets are created.
Here's how Pics.io can help your team streamline workflows:
Assigning flexible permission to teammates and creating user roles.
Establishing clear team policies and file management conventions.
Leaving comments and monitoring asset changes.
Integrating Pics.io with collaboration tools - Google Workspace, Slack, and others.
Conclusion
Digital asset management tools help real estate agents work faster and more efficiently, convert reluctant leads into shoppers, and keep track of all assets they upload.
After choosing a DAM platform, business owners no longer had to hold back when preparing property listings - now, they can upload a lot of pictures to accompany every description without messing up daily workflows.
If you are running a real estate business and would love to optimize your team's performance, scale effortlessly, and create a well-defined file management system, give Pics.io a try. Sign up for a free trial or book a demo to find out how the platform can make a difference in your company's day-to-day workflows. If you are already using Pics.io, we encourage you to share your experience on social media - we are happy to feature the best stories on our corporate pages.
Give Pics.io DAM a try
Free 7-day trial
No credit card required
Set up in 3 minutes or less
Curious? Learn more about Pics.io or book a demo with us and we'll answer all of your questions!