The holiday's coming. And big sales & discounts will come with it. Last year, Black Friday & Cyber Monday sales hit $7.2 billion in digital sales in the U.S. alone. This figure more than doubled ($20 billion) globally – consumers abroad also took place in this shopping fever, even if they didn't have Thanksgiving as a national holiday!
Of course, retail is the first to benefit from Black Friday, being the pioneer in this field. But B2B companies, SaaS included, no longer watch from the sidelines either. Year after year, they were learning from e-commerce strategies. And recently, many SaaS companies have taken the initiative and are READY to please the prospects with the best ideas & limited-time-only offers.
Today we're speaking about Black Friday & Cyber Monday in SaaS. How did it start, what are the trends and basic statistics? We have surveyed a list of companies to answer all these questions & many others. As a bonus, we share the best SaaS Black Friday & Cyber Monday deals for 2020. So feel free to make the most out of each.
What is Black Friday / Cyber Monday & How it all started
Raising the curtain behind BF & CM
Let's start from the very beginning, okay? As the US national holiday, Thanksgiving Day ranks in its top 10 most celebrated holidays. It's held on the first Thursday of November and aims to give thanks and celebrate the harvest and blessing of the past year, following a nice tradition of American pilgrims.
Black Friday, in turn, appeared as an after-Thanksgiving sales & highly promoted discounts. It marks the beginning of the Christmas shopping season and is a gold mine for marketers and salespeople :) At this time of the year, consumers' spending increases by 70%. And every next year beats the former in total sales, with an average annual growth of 3.4%.
But getting back to the origins, Black Friday appeared in the 1950s when people started playing hooky to buy the best gifts for their family and friends. They lied about being sick at work – and so they got 4 days off instead of 3 (from Thursday/ Thanksgiving Day up to Sunday). And since stores were opened, this was a nice opportunity to be the head of the shopping cart race.
What's with the name?
For years, Black Friday has retained a negative connotation. This is all due to associations with the 1869 stock market crash and the beginning of the Great Depression in 1929.
And then, there also was this story printed in the press in 1966 describing the shopping chaos at Philadelphia downtown stores. The police department complained that shoppers generated traffic accidents & even violence while looking for the best Christmas gifts. For obvious reasons, the newspaper referred to this shopping euphoria as Black Friday. And then the term went into masses.
And what's about Cyber Monday?
For what it's worth, Black Friday has become an unofficial US shopping holiday & rooted deeply in the US tradition. It has even given way to another big shopping event known as Cyber Monday.
Planning to prolong the shopping fever as long as possible, e-commerce has come up with their own idea of the year's biggest online shopping day. And this is when Cyber Monday (following Thanksgiving again) came in handy.
At some point, Cyber Monday has even surpassed Black Friday in terms of total sales. For example, Cyber Monday 2019 sales reached a point of $9 billion as compared to $7.4 billion earned during Black Friday 2019.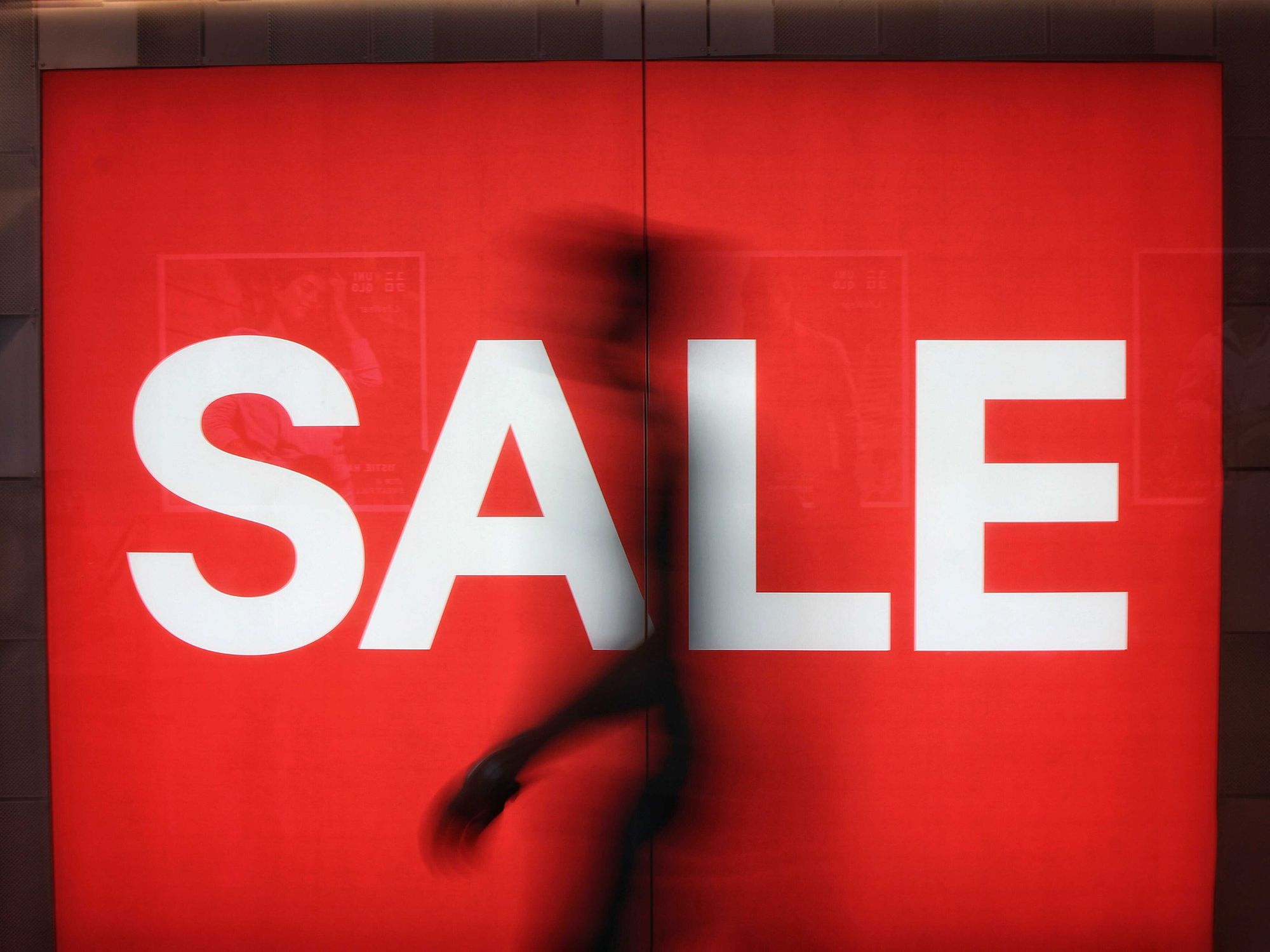 And this isn't surprising at all, regarding increasing the dominance of online shopping & e-commerce in general. Biggest online retailers like Amazon, Best Buy, and Walmart are only holding buyers' interest, offering 70% saving discounts.
But this is all about retail – the biggest business player during holiday seasons. Let's learn how it's going down in the SaaS niche specifically.
Black Friday & Cyber Monday in SaaS
The changing nature of Cyber Monday in SaaS
For a long time, SaaS companies have stood aside from the shopping chaos on BF & CM. The stereotype prevailed that consumers "switched" to the holiday mood during this time of the year and spent on nothing else but gifts for their family & friends.
But recent trends & research proved them wrong. While consumers' spending is indeed running through the roof these days, their need for your services doesn't just go away. Business owners still have to supply their teams with the necessary tools one way or another. So if you offer a discount on the occasion of Black Friday, it could be a big help to them.
B2B shopping then and now
Only in 2013, 88% of B2B buyers complained that they'd shop online on BF & CM once they had an occasion. But most B2B suppliers ignored this holiday & usually had little to nothing to offer them.
The same study by Hybrid also found that most SaaS buyers wanted suppliers to make their holiday deals more like B2C. In other words, corporate purchasers dreamt about more personalized & relevant offers.
They also wished for more generous offers from SaaS companies. The holiday-related shopping fever expanded for everyone, regardless of whether the user was going to buy goods or services.
And so SaaS companies have heard their customers! With every new year, more B2B sellers are actively joining Cyber Monday & pleasing their buyers with unique offers.
Surveying 50 SaaS companies, we found out that 8 out of 10 businesses are getting on board with BF & CM. Precisely half of those companies participating in Cyber Monday work in technology. And Pics.io is one of them :)

What are the motivations for SaaS companies to join Cyber Monday? This list is inexhaustible, and here are just a few reasons:
Generate new leads;
Improve sales;
Increase brand awareness;
Beat up the competition;
Encourage your prospects to take action faster;
Recycle offers that businesses already have.
Meet Cyber Monday 2020 trends & best deals in the SaaS community
2019 vs. 2020
The driving change is noticeable yearly. According to our own survey, 68,8% of companies participated in Cyber Monday in 2019. This year it's 86%. And at least 3 respondents asked us to contact them the next year. So this number will obviously increase in 2021.
Of course, Pics.io DAM also participates in Cyber Monday 2020 – we just couldn't miss all the party. Our big deal is 50% off for the Micro plan subscription for the first 3 months for new users only. (But if you want to subscribe to a higher plan, just drop us a line). Don't waste your time – the coupon will be valid for 24 hours only.
Most popular deals on BF & CM in SaaS
There is a wide range of rock-bottom deals to reap your B2B sales. Here's a shortlist just to get you started:
A limited-time only promotion for subscription/consultation/demo/most wanted features;
A lifetime discount;
An additional bonus (e.g. buy one, get two);
A giveaway – 'tis the gift season so you may offer a free ebook, trial, demo, tip sheet, or just a small gift to please your BF & CM clients;
Limited-in-time discounts for existing users just to make them feel special during this time of the year.
| Company | Activity | BF & CM Deal |
| --- | --- | --- |
| Adaface | Technical screening software to automate your recruitment process | Unlimited credits for all new PairPro subscriptions until Dec 31. |
| Apploye | An all-in-one time tracking, employee monitoring, scheduling, and payroll management software | A 25% discount for lifetime on every plan both monthly and annually subscriptions. Use the promo code festivefriday2020. Sales date: from Black Friday to Cyber Monday. |
| Appoint.ly | A tool that helps you to schedule 1-on-1 meetings quickly and easily through the integration with calendars online | 50% off yearly subscriptions (for 1 year) & 50% off monthly subscriptions (for 6 months) |
| Better Proposals | One of the best proposal writing softwares nowadays, which enables you to create beautiful, modern proposals in minutes | Premium and Enterprise plans for 50% off. Deal dates: from 27th until 30th of November. |
| Blogvault | A reliable & secure Wordpress backup plugin, plus inbuilt free staging and bulk site updates | 30% off on all plans. A bonus: Every 10th, 25th and 50th customer gets their purchase for FREE, plus a giveaway of the hottest courses, e-books & templates in a special raffle (everyone's a winner)! |
| Botsify | A tool to create automated online chatbots on Facebook, your website, SMS, & Slack, so you could boost your sales & reduce the pressure on customer support | A $99 LTD discount valid for Dec 16, 2020. |
| CanIRank | An advanced SEO tool, powered with AI functionality | 50% off the first 6 months of any subscription using the coupon code better_seo_2021 |
| Chanty | The best team collaboration software ever, with unlimited messaging for free | A big 50% discount on an annual subscription. |
| CloudTalk | A cloud call center software for SMB used by sales and customer service teams across the globe | A 10% for the first 5 payments by using the promo code BLACKFRIDAY20. |
| Cloudways | An intuitive cloud hosting platform that will help you to grow your e-commerce or agency | A 40% for 4 months with the promo code BFCM2020 from Nov 23 till Dec 2nd, 2020. The promo will be applied on the first 4 invoices. |
| Contact Pigeon | An omnichannel customer engagement platform offering automated personalized interactions | 20% off on all annual plans, for 1 year. |
| ContentStudio | A multi-use content management tool that helps you to find,create, and distribute the best content only. | 70% off as Black Friday and Cyber Monday deal. |
| Delesign | A simple, powerful, and integrated marketing, sales, and support platform with free CRM for startups and growing businesses | 70% off as Black Friday and Cyber Monday deal. |
| Docsify | An advanced email tracker for Gmail/Gsuite that lets you track emails, links, and attachments, plus create and use your own text shortcuts and track your team' email performance | 40% off deal for any annual plan with promo code blackfriday2020. |
| EngageBay | A promising graphic design company, with a variety of samples, unlimited custom graphic designs, and more | 40% off on all plans for first-time purchases. |
| Finteza | An advanced webmaster analysis software to track and analyze your traffic, conversions, and different marketing campaigns | A 30-day free trial plan to save up to 82% on your advertising budget until Dec 31, 2020. |
| Glorify | An all-in-one design app, developed specifically for the use of e-commerce marketers | The LTD special offers: Pro Solo for $97, Pro Startup for $197, Pro Enterprise for $397. LTD offers go hand in hand with our massive level up to the 2.0. Available only for the month of Nov, 2020. |
| Groupboss | A Facebook group automation software consisting of chrome extension and dashboard | A 25% discount with the coupon code GB-SPECIAL25%. Deal's Validity: Nov 27th - Dec 27th, 2020. |
| IdeaBuddy | An innovative business planning software that helps aspiring entrepreneurs build a business model, create financial projections, and get a modern business plan | A lifetime deal. |
| Infinity | A customizable work management platform to keep all your projects in one centralized place | A pay-once lifetime deal instead of regular $9 per user/per month. |
| LearnWorlds | A good platform to create, sell, & promote your online courses | 35% for annual Learning Center accounts, resulting in $1,255 in total savings |
| Pics.io | An advanced digital asset management tool that will help you to store, organize & distribute your data the most productively | 50% off for the Micro plan subscription for the first 3 months for new users only. The coupon will be valid for 24 hours only. |
| Referral Candy | A wise tool that helps brands setup and run a customer referral program | $50 off after your 30-day free trial to start your own referral program. |
| Replug | An all-in-one link management tool for link shortening, embedded call for actions, and others | A lifetime discount. |
| SE Ranking | An SEO software that will help you with keyword tracking, monitoring competitors, & spotting technical errors | Enter the promo code BLACKFRIDAY2020 at checkout once you've signed up for the free trial to get a 30% discount on any subscription plan. Sale dates: Nov 18th – Dec 2nd, 2020. |
| SendX | An intuitive, affordable & feature-rich email marketing software for marketers & business owners | 40% off on all annual plans. |
| Sitechecker | An advanced website checker for a detailed SEO analysis for your website | A 50% off discount for the first sale of any subscription (monthly or annual) with the code blackfriday2020. The code expires at the end of 2020. |
| Sixads | A tool for automated Google, Instagram, and Facebook ads | +10,000 extra impressions when buying a Premium plan with the promo code PantsOnFireBFCM |
| Social Pilot | A simple & cost-effective social media management tool to strengthen your brand presence | A flat buy one get one deal on Small Team and Agency plans until Dec 3rd, 2020. To grab this offer, start the trial. |
| SMSAPI | A worldwide bulk SMS provider, supporting both marketing campaigns & daily notifications | +10% to the first top-up (up to 500 EUR) with the code 10BLACK2020. |
| SuperMonitoring | A tool to monitor uptime & proper functioning of your website and web applications, plus providing you with timely alerts and on-demand reports | 50% off on all plans, only for new customers with the coupon code BFCM2020. Valid from Nov 27th – Dec 15th, 2020. |
| Wishup | A trained virtual assistant to get your work done remotely | 7.5% Discount on 3 months plan & 10% Discount on 6 months plan. Valid until Nov 30th, 2020. |
| WPHacked Help | A free custom WordPress Security Scanner for detailed analysis of your website | Flat 40% off on Wordpress malware cleanup with the coupon code WPHHBF. Additionally, free secure wordpress hosting till the end of 2020 (after that 40% off forever) and WP maintenance free till the end of 2020 (after that $20 per month forever) |
| Yourbrowser.is | The software that will help you create a custom checker page, provide the link to the user, & receive a comprehensive report on their browsing environment | An annual PRO subscription for $105 instead of $209. Sale dates: Nov 27th – Dec 15th, 2020. |
Popularity of a limited-time only discount in SaaS
In 2019, most SaaS companies (69%) preferred giving a limited-time-only discount. 15% chose an additional bonus. And only 8% of companies had a giveaway and/or a lifetime discount.
The situation is a bit different for 2020. The great majority of SaaS businesses (62%) chose to use a limited-in-time promotion as their biggest offer. And 14% offered a lifetime discount. Generally speaking, offers are more diverse this year.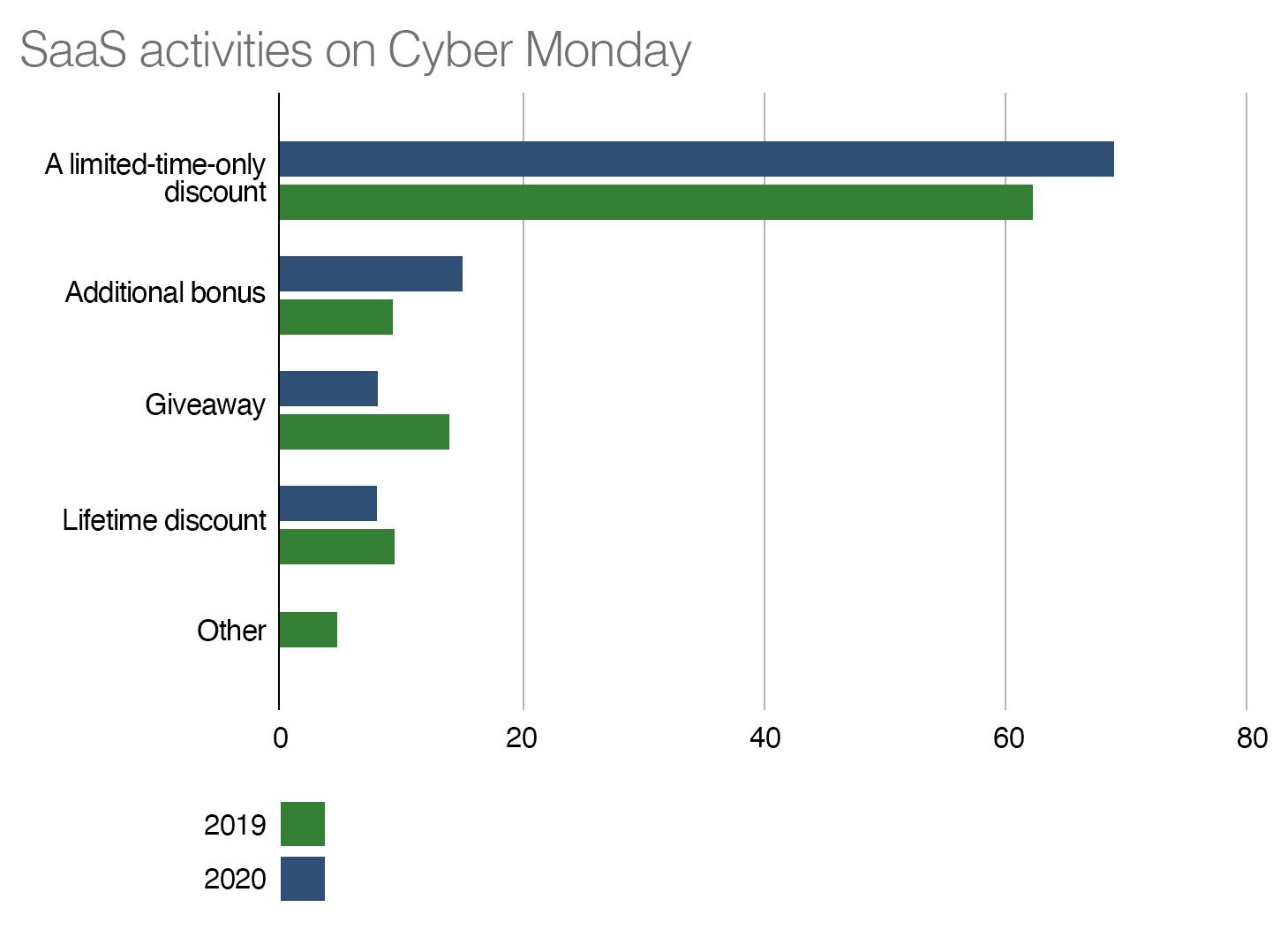 Only 9.5% of companies in SaaS offer an additional bonus and/or giveaway in 2020. And 5% have other promotions such as discounts for existing users. Still all these are used most in tandem with a limited-in-time discount.
So a one-time-only promotion is obviously the most preferred in SaaS. And this trend doesn't come as a surprise. Discounts are a good lead magnet, are easy to manage, & add flexibility in pricing. All in all, more than 50k vendors offer up to 30% discount in SaaS on a regular basis.
2019 results & 2020 expectations
We've mentioned what motivates SaaS companies to join BF & CM big deals. And business owners are right when they agree on this adventure. According to our survey, 2019 Cyber Monday activities in SaaS resulted in increased sales (47%), new prospects engaged (32%), and increased awareness about the company (21%).
None of the respondents said that their participation in BF & CM 2019 was in vain.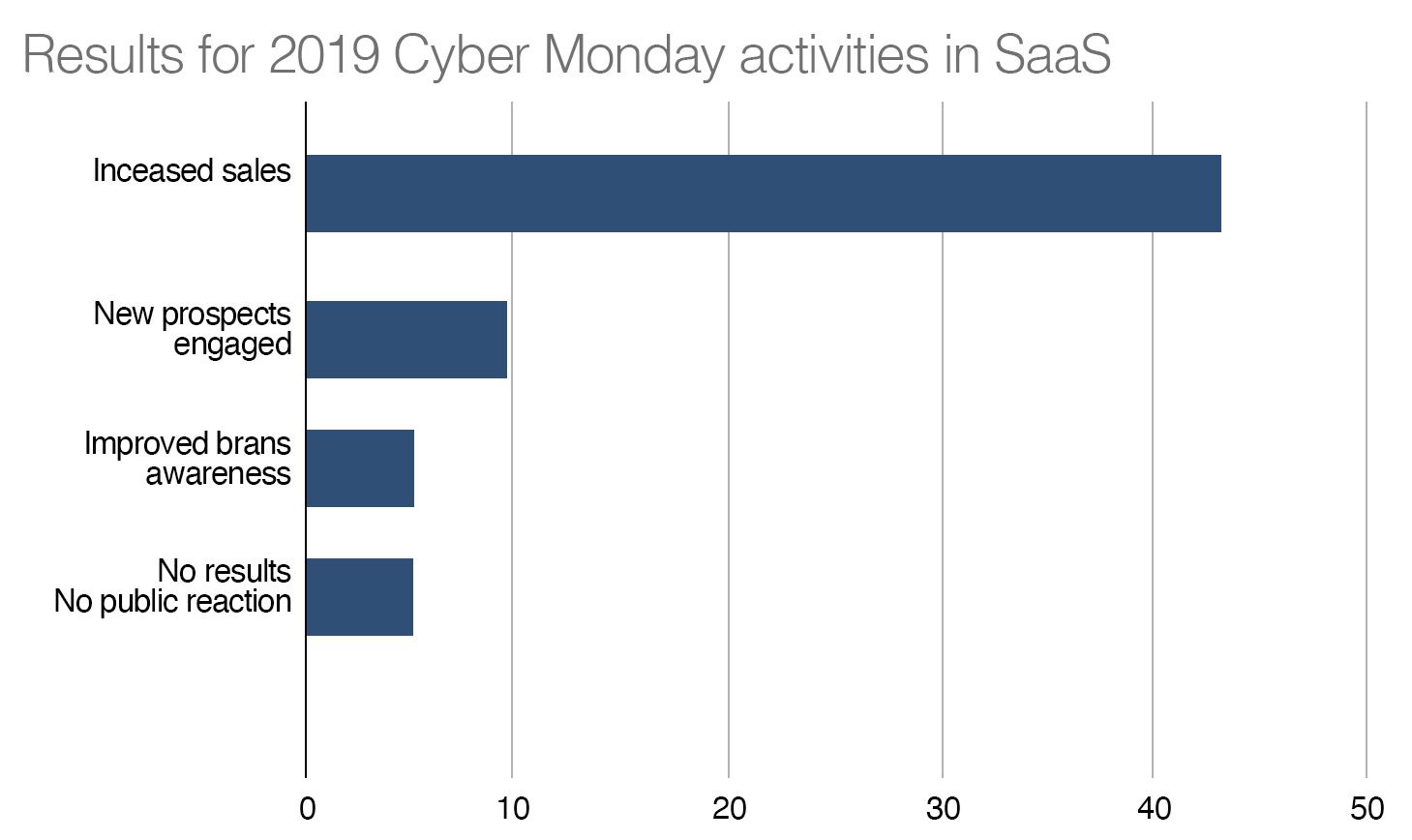 These results generate high expectations for BF & CM 2020. More than half of the respondents (60%) were confident that Cyber Monday 2020 would differ from 2019. 20% weren't sure in their answer. And 17% didn't have high hopes for this year.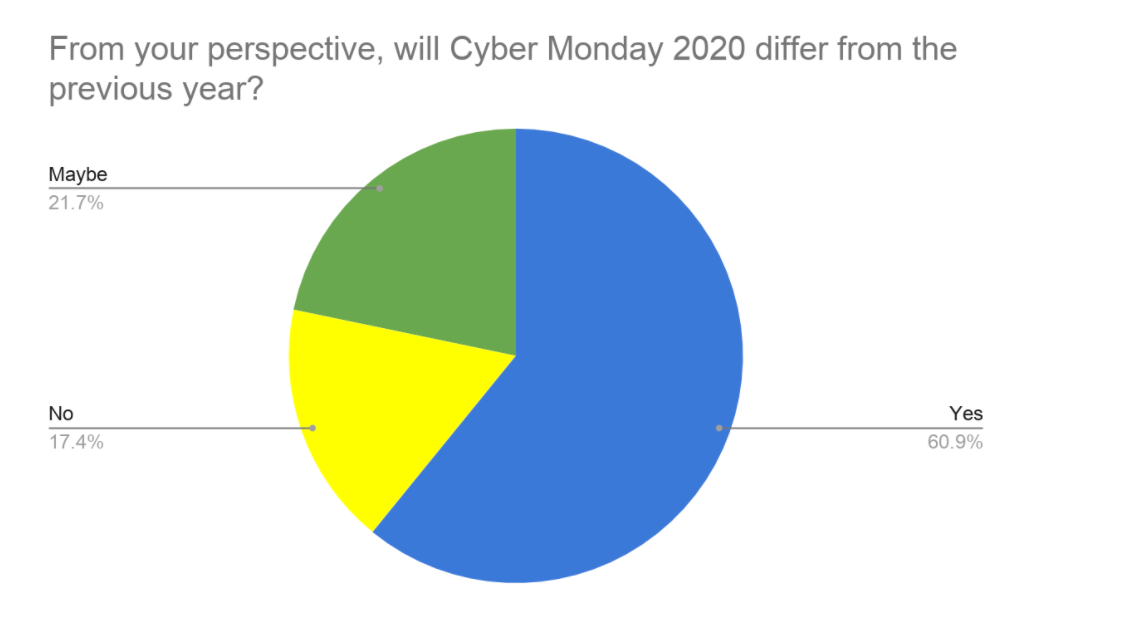 We also asked those 60% about their specific expectations. And 47% of respondents agreed that "CM 2020 will be bigger than in previous years." 35% stated that "CM 2020 will allow companies to engage new clients." 18% also assumed the need for SaaS to adapt their CM 2020 strategy to win the competition.
So will Cyber Monday 2020 break the record?
Definitely yes! And here's why…
1) Online shopping is now more popular than ever
Numbers don't lie, right? And numbers show that e-commerce is worth a total of $3.5 trillion in the US right now.
Of course, we're speaking about retail again. But who said that SaaS cannot benefit from the mainstream? It's online too & can use this demand for online tools for its own profit.
As one of our respondents aptly said,
"Companies now seek help from SaaS during the pandemic. More businesses are now operating/marketing online which means they may rely more on SaaS/remote employees for their marketing or design tasks."
2) Covid
There is actually a cause-and-effect relationship between the first two points. Covid is the direct cause of the online shopping boom. And at least half of our respondents mentioned the pandemics as the reason why Cyber Monday 2020 would be different in their industry.
The representative person from Replug.io commented,
"Due to COVID-19, most of the businesses are truly remote now. Therefore, it is going to be a bigger opportunity for business to increase their sales during this Black Friday period."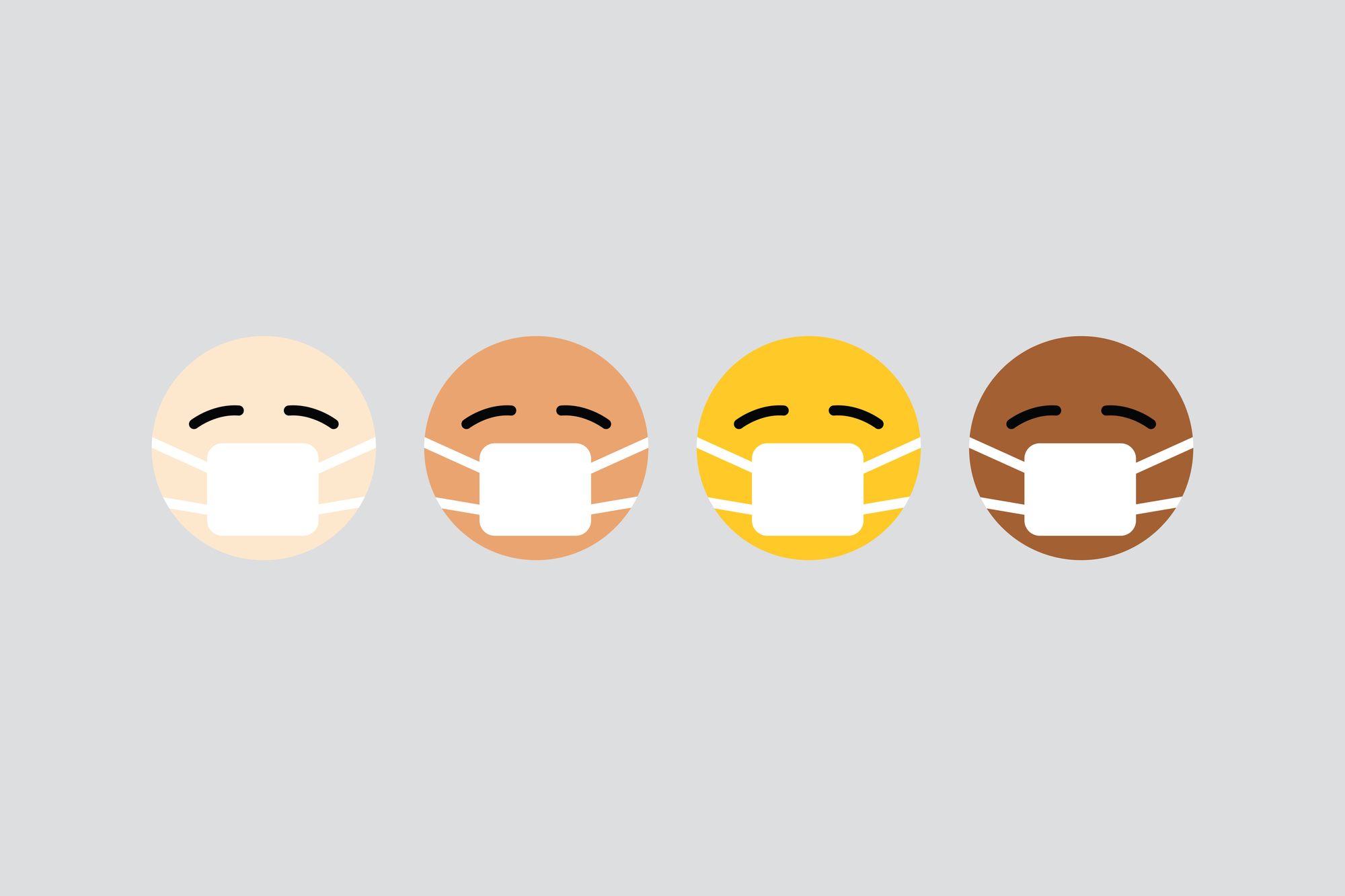 3) Remote work
The growth in popularity of teleworking is understandable. It's easy & convenient, you become more independent and don't spend all your life in traffic (actually the main advantage for me). By March 2020, there had already been 7 million Americans working online.
As one of our respondents commented,
"Remote hiring tech is taking a steady pace."
And then Covid again! Due to coronavirus, the number of people working remotely increased by 44%. Sounds impressive, right? Here's what one of our respondents added:
"The reason [why BF & CM 2020 will be different] is that remote work is more popular than ever before and will continue to grow. Tools like ours [SaaS] will see even more use in the months and years to come.
4) The popularity of BF & CM
The hype behind the event itself could also help. Black Friday has been a US national phenomenon since the early 1950s. Who doesn't love gifts after all?
As one of our respondents said,
"BF & CM is attracting new customers and vendors every year, and businesses are expecting huge sales every year."
Cyber Monday is a bit younger but has all chances to beat Black Friday. The reason lies in young shoppers' behavior who choose online shopping over offline. And SaaS is in the winning position here again.
5) E-learning, economic uncertainty, & so on
There are other, less important reasons which make BF & CM 2020 more promising for SaaS companies. For example, the demand for e-learning grows, and so many companies in the industry are using this trend.
One of our respondents also mentioned the state of the economy as a driving force,
"The pandemic has accelerated the transition to online commerce while economic uncertainty increases the appeal of discounting."
Security is another aspect to consider. Our respondent from WP Hacked Help shared the following opinion on this matter,
"In our industry [security], during COVID-19, there has been large number of incidents of website hacking and malware according to industry reports. Security aspect is something which has been ignored till now but now the awareness has grown many folds."
Wrap up
As you see, Black Friday & Cyber Monday have a long and well-established tradition in retail. We cannot say the same about the SaaS industry. But we're working hard to catch up ;)
So which Cyber Monday deal will you choose? Hope our post helped you navigate through all the discounts & unique offers. Don't miss Pics.io 50% off for Micro plan subscription for the first 3 months either (for new users only).
Pics.io is an advanced digital asset manager. The solution will save you from hours spent browsing your media library in search for your files. It'll also help you organize & distribute your assets in the most productive way.
Give Pics.io DAM a try
Free 7-day trial
No credit card required
Set up in 3 minutes or less