Google Drive is the to-go option for anyone in need of a no-brainer cloud storage space and file management. It is fast and convenient, and everyone knows how to use it.
So, when you hear a suggestion to change things up and try a different approach to your file management, the obvious question is: why? After all, Google Drive works for you and everyone is comfortable with using it. Why fix something that isn't broken?
Well, there might be a few reasons. When you produce or depend on high-quality digital assets, you don't want just to store them. You want to easily find, improve, re-use, and share visual assets with third parties. Google Drive does not let you do that, whereas the Digital Asset Management (DAM) solution does.
But we understand that the complexity of DAM systems might not be for everyone. In this article, we will break down the benefits of each service so you can decide which one is a better fit for you.
Let's dig in.
Google Drive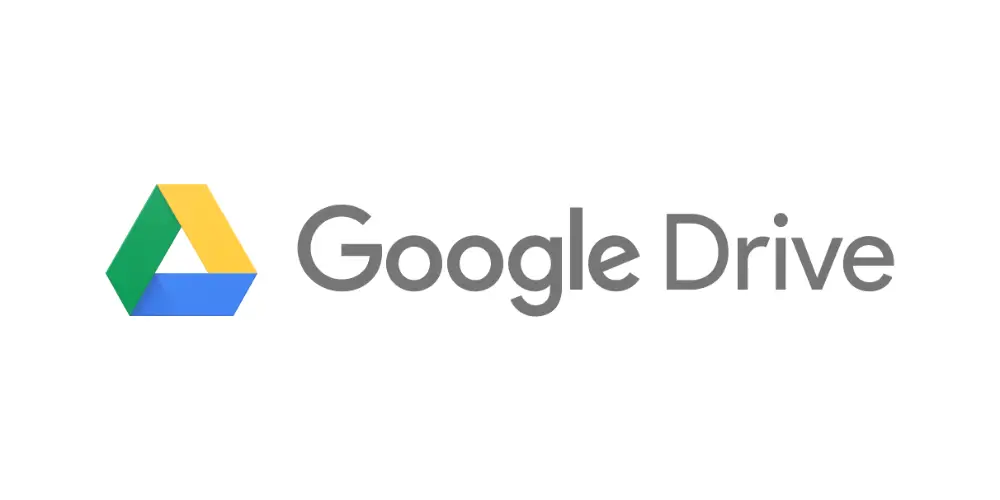 Google Drive doesn't need any introductions but just for the sake of formality: it is a cloud-based storage service that comes with a free plan of up to 15 GB. It is used by individuals for personal use as well as all organizations of all sizes due to its accessibility, ease of use, and simplicity.
Google Drive Benefits
Stable and reliable
Let's be honest: if Google goes out of business, we'll have more pressing issues than figuring out where to keep our files. When you're using Google, you know for sure that your digital files will be safe, and secure, and will stay so for a long time.
Cheap
Google Workspace starts at $6 per user which gives you 30GB for each signed-up member. So, with a team of 10 people, you'd be paying $60 monthly, which isn't that much, especially considering all the extra benefits that come with a Workspace subscription. For the full breakdown of Workspace pricing and suggestions on which one to pick, you can read our comparison write-up.
Integration with other Google services
Google really wants to keep you in its ecosystem, and the robust integrations with its other services ensure that you don't want to look elsewhere. Gmail, Google Docs, Google Slides, etc. - you can easily access all of your stored files directly from those other services or save them to your Google Drive for later use.
Easy to share files securely
Google Drive gives you a no-nonsense way to share files securely with others through straightforward link generation. For text files and presentations, there are even built-in collaboration features that let you work on the same project in tandem with others.
Google Drive is neat because it gives you a little bit of everything. Storage, collaboration with others, file sharing, and with how ubiquitous it is, you never have to worry that a new colleague doesn't know how to use it.
Google Drive Disadvantages
Poor Discoverability of Digital Assets
Here's a scenario for your consideration: let's say you're working with hundreds of visual assets daily. There are so many of them (and they change so fast) that you really cannot keep all of them in your head. And if somebody asks you to find that one asset that your team discussed a week ago that you wanted to tweak?
Google Drive won't be of much help here, due to how limited its search is. You can only search for digital assets by basic things like file name or last edit's date. If you don't precisely remember the asset that you're looking for, you're out of luck.
Limited Permission Control
With Google Drive, you can either make files accessible to anyone, your organization only, or to specific people. For simple purposes, such simplicity is more than enough. But what if you have a complex hierarchy where you want some people to view one set of files, review others, and do whatever they want with the third batch? Setting it all up with Google Drive can get awkward.
Hard to Keep Track of Revisions
As Google Drive mimics traditional folder structure, the only way to maintain different versions of the same file is by storing them next to each other with names such as file, file(1), REVISEd_file, etc. You can imagine that if you have hundreds of assets, such a convention can get overwhelming and confusing fast.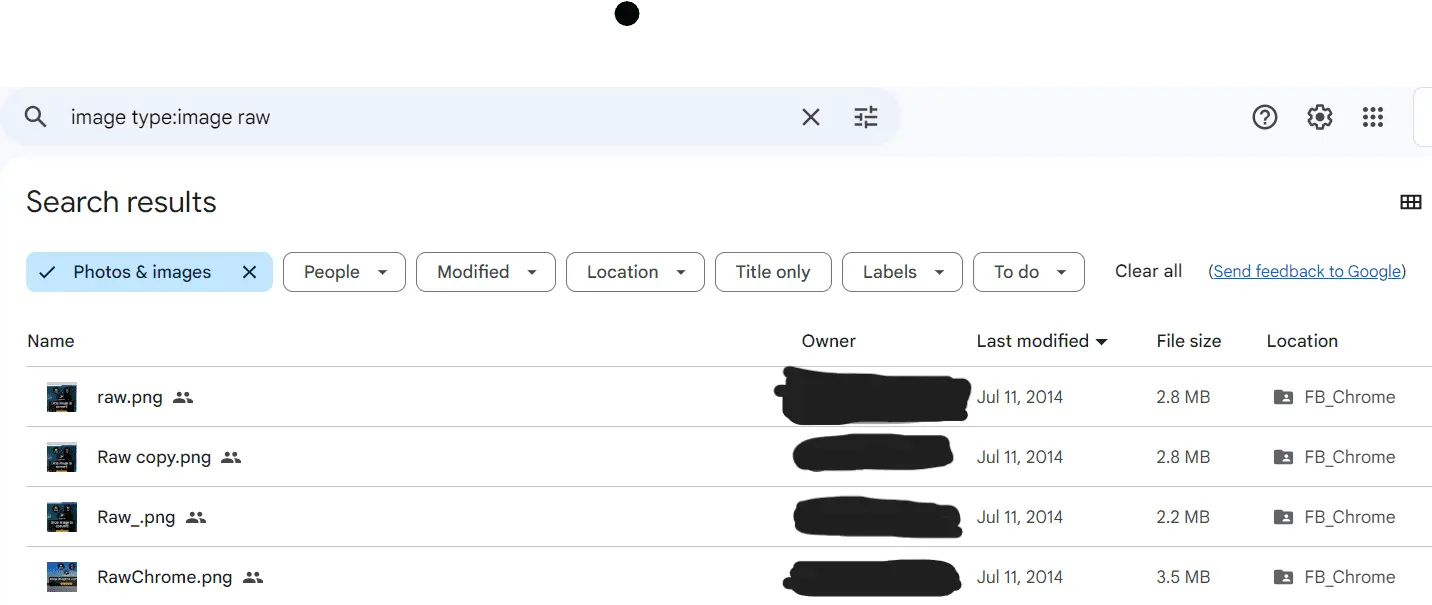 ---
So, if you ever used Google Drive and found it lacking in those particular areas, you should turn your attention toward DAM solutions that were designed to manage and process a large number of media assets.
Digital Asset Management Benefits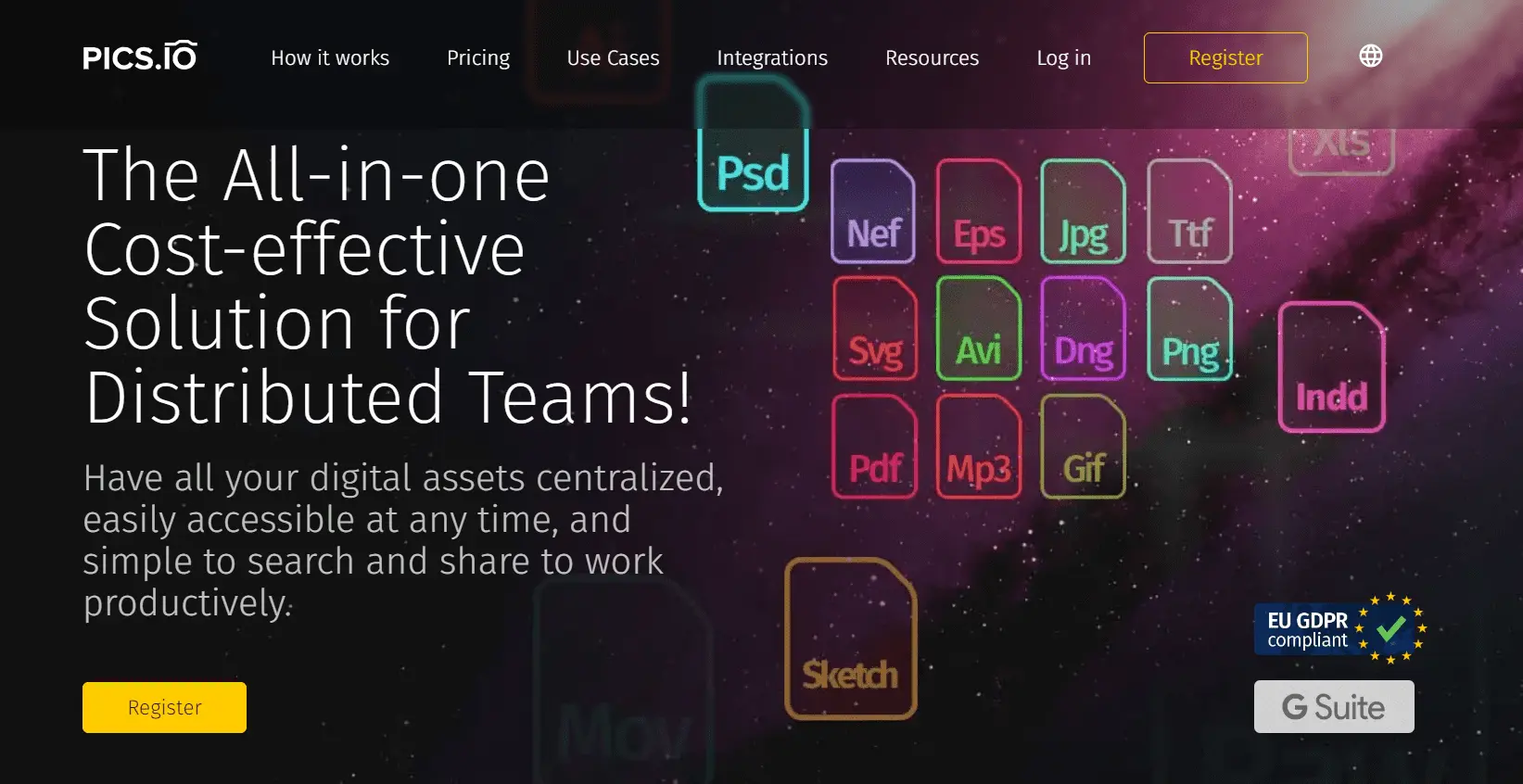 Improved discoverability
DAM systems utilize digital assets metadata (keywords, tags, technical information, etc.) to make brand assets easier to find. So, instead of remembering the exact file name, you can just search by descriptors or for brand assets that have been flagged for review and instantly find the ones that you need. On average, DAM is going to save you 10 hours/mo per user in search time. These are the hours that users would have spent searching for assets that they can dedicate to something more productive.
Version control
In DAM solutions, all revisions of an asset are kept under a single thumbnail. So, you'll never lose track of them, and you can easily switch between versions and even compare them side-by-side.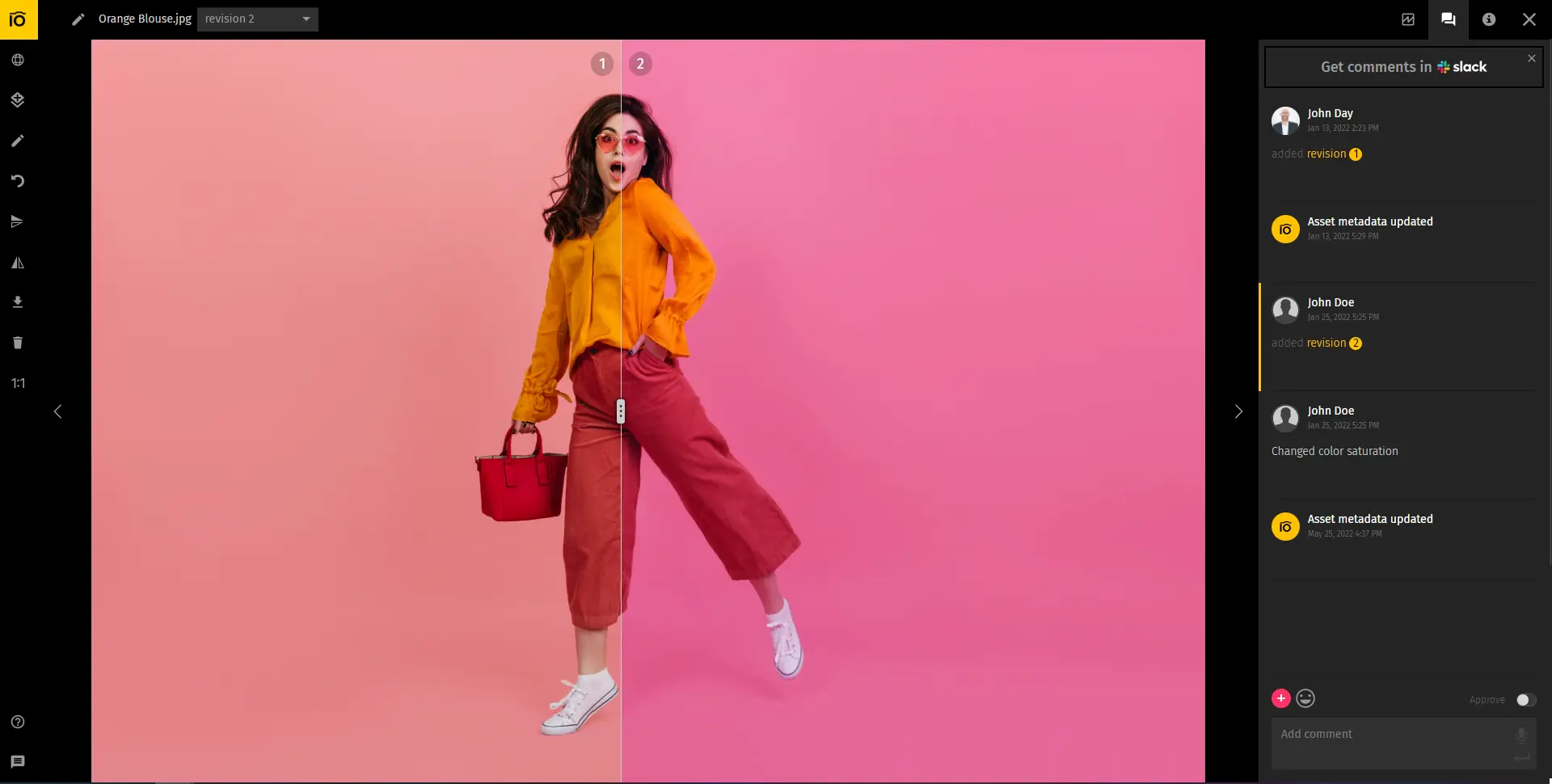 Improved collaboration features
Google Drive nailed collaboration on text documents. But as for videos and other media assets? It is somewhat lacking. The DAM solution has dedicated features to help your team cooperate while producing a video or an image as you can leave comments on the timecode and add visual tags directly on images. Thus, DAM facilitates collaboration for both internal and external partners.
Better permission management
In the DAM system, it only takes a few clicks to set up permissions for each individual role and after that, you don't have to worry about somebody accidentally taking a peek at the file that they should not have. For instance, it's possible to restrict access to some assets and manage editing access options for different users.
Even better sharing
Google Drive lets you share files in one click. The DAM system can do that… and more.
For starters, let's take a look at Websites - branded portals that let you share entire collections of rich media files. Anyone with a link to your Website will see an interactive gallery where they can view, search, and comment on assets the same way that you would in your DAM solution. That's a far cry from how Drive lets you share multiple files as there you only get a list where you have to guess which file is the one that you need.
Plus, there are Inboxes that let anyone else upload files directly to your DAM. So, you don't have to permit them or download a file from somewhere else just to upload it to your storage. You can just send them a link, and the new asset will be waiting for you in your DAM as soon as it's ready.
Give Pics.io DAM a try
free 7-day trial
Google Drive vs DAM: Which One is Right For You?
So, on one hand, you have simplicity, widespread adoption, and free storage. On the other hand, you have advanced metadata management, version control, permission management, and more.
If you have to choose only one…what would it be?
Well, the good news is that you don't have to choose.
Pics.io's Google Drive DAM combines the best of both worlds, letting you keep Drive the way you love it while also enhancing it with all the power of Digital Asset Management solution functionality.
So, how does that work in practice?
DAM Integrates on Top of Your Drive Storage
When you sign up for the Pics.io account, there will be a prompt for you to sync up the Google Drive folder with Pics.io digital asset management solution.
Once the sync is complete, all your files and the folder structure will be available to you inside Pics.io digital asset management software. So, you can enjoy all the enhanced digital asset management capabilities while keeping your assets right where you left them.
The same would apply if you were using S3 storage instead of Drive - keep assets and security offered by Google or Amazon while enjoying free sync with your digital asset management (DAM).
Keeping Your Storage is Free
With digital asset management (DAMs), there is always a caveat that you have to buy the provider's storage. So, if you already have Google Drive, you'll have to double-dip or abandon your existing solution so as to not overpay.
With Pics.io's DAM Google Drive offering that is not an issue. You get to keep your storage and you don't have to pay extra for the privilege. So, if at some point in time, you will not be needing DAM anymore, you won't have to worry about transferring files back and forth, as they would be right where you left them in your Drive folder.
That said, if you are only getting started and don't have a meaningful amount of Google Drive storage, you can buy your own. The choice is yours.
Expanded Integrations with G Workspace Products
Users deep in Google infrastructure probably cannot imagine their workflow without seamless integration between Google's range of products. We cannot either, and that's why we made Pics.io Google Drive digital asset management solution even better.
Using plugins as a connection, you can access your DAM library straight from Google Workspace or Adobe Suite products. It is as simple as using native integrations with the added benefit of improved metadata-driven search. So you don't have to scroll through a tangled web of folders and just find the right asset in seconds. Per Pics.io's report, DAM solutions can improve your search results by 270%.
Conclusion
Google Drive is a popular cloud storage service because of its widespread adoption, affordability, integrations, and simple-to-use interface.
Due to its intended simplicity, Google Drive becomes an awkward tool to use when you're dealing with hundreds of media assets that must be maintained, updated, and shared regularly.
Digital Asset Management solution is a better choice for the management of complex media libraries thanks to metadata search, version control, and expanded collaboration features
A lot of the time, users have to choose between Google Drive vs DAM, sacrificing either functionality in the process.
That is because most DAM providers do not offer integration with Google Drive and expect you to buy their storage. This makes maintenance of both services complicated from a management point of view as well as fiscal considerations.
Google Drive DAM such as Pics.io integrates on top of your existing storage and that integration comes at no cost.
With Google Drive DAM integration you get to enjoy the benefits of both products without any compromises.
Give Pics.io DAM a try
free 7-day trial
Did you enjoy this article? Give Pics.io a try — or book a demo with us, and we'll be happy to answer any of your questions.
FAQ
How to use Google Drive as DAM?
By itself, Google Drive cannot be a proper alternative for Digital Asset Management system. However, certain DAM providers offer a seamless way to integrate your Google Drive library with DAM functionality. Usually, this is accomplished through a data sync through which you can interact with your Drive assets using DAM's interface
What is a better way to organize the Google Drive library?
Google Drive has limited options for the management of your media library. For starters, it does not allow you to interact with files' metadata in a meaningful way, thus limiting your ability to search or keep track of your assets. Digital Asset Management (DAM) is software better suited for such needs. To gain the most out of both offerings, you may consider looking for a DAM provider that can act not only as a standalone solution but also as an that integration on top of your Google Drive.