If you ask a designer to name their favorite working tools, Adobe Photoshop or Illustrator will appear among them. In 2017, Adobe Creative Cloud already had approximately 12 million users worldwide, and this number is projected to reach 20 million by 2024.
The success of Adobe products is unsurprising. Designers and creative agencies trust Adobe, knowing it as a unique product that meets all the requirements of their everyday tasks. There is no indeed for an alternative to Adobe Creative Cloud when it comes to photo and video editing.
At the same time, offering the best-in-class design tools, Adobe Creative Cloud's file management functionality is not equivalent to the comprehensive digital asset management solution. At the moment, Adobe users are dealing with multiple challenges when trying to use Adobe to organize assets and collaborate on projects.
Let's illustrate these problems with an example of an imaginary creative team workflow and explore step-by-step the challenges they meet when using Adobe alone in their workflow. We'll show how the integration between Pics.io DAM and Adobe creative cloud can streamline the creative process and let you do more with your digital assets.
Phase 1: Initiating the project
Any project, small or large, starts with the idea, then you come to planning, setting assignees, and sharing responsibilities. Top-notch DAM software like Pics.io has a diversified role and permissions feature, which allows creative teams to assign a design to someone in the team, overview the details, and track the progress. The tool will also help to make sure that everyone has access to the materials they need.
Of course, Adobe's Enterprise package has similar functionality, but it's less intuitive at some points and comes at a higher cost in comparison to Pics.io, which is crucial for many organizations.
Phase 2: Completing the project
Access content easily
While working on the project in the Adobe tool, the creative team members have to sift through the content without actually opening other programs. For example, a designer needs to add some images to the design in Photoshop or a videographer requires additional graphics in After Effects.
Adobe indeed allows access to files from some apps like Adobe Lightroom or Adobe Bridge, though with lots of limitations.
With Lightroom, a designer can open PSD files, but they won't have access to indd or pdfs simultaneously.
Switching to Adobe Bridge won't solve the problem either. Although the tool has a wider variety of formats to work with, it's more complicated too, especially if a user doesn't have much background in photo-editing.
Now let's compare these options to DAM. Thanks to its powerful integration with Adobe CC, Pics.io grants the team access to their media library from any Adobe tool with no limits in file types or formats. A designer can open or add the assets without leaving Photoshop or Illustrator, edit them, and then just save them back to DAM.
Search for assets without any limits
Creative team wants to find required assets in seconds as it's crucial for the project's in time completion. Consequently, the search functionality is a must for their creative tools.
Adobe tools might offer keywording, metadata, and thumbnails. Aside from this, Lightroom also offers ratings, colors, and other visual elements to filter through the data.
However, DAM software like Pics.io has some advanced search capabilities, making the working experience unique:
AI keywording - to label assets faster and search for them more effectively
Controlled vocabulary - to standardize a keywording strategy
Linked assets - to let related assets stick together
Custom fields - to build metadata tags based on the specific company workflow
Search by content - search by the information in word or pdf files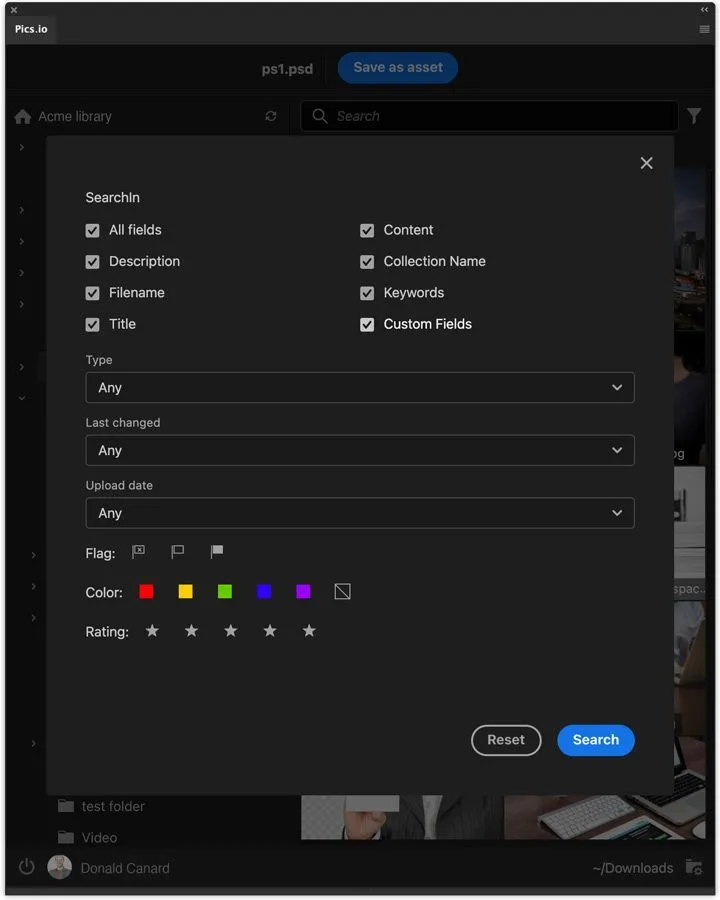 Keywords search, for instance, is an extremely useful feature that allows for granular search. For example, if you constantly need to sign pdf files, you can add keywords such as signed and unsigned to easily filter for documents that have been already processed and those that still need editing.
Aim for user-friendliness
The usability of Adobe search is not perfect. The search isn't as integrated into the interface as the creative team might expect. Unlike in DAM where search feels like a core piece of functionality, search in Adobe Bridge, for example, is like a more comprehensive Finder tool on one's Mac. As a matter of fact, to find assets in Adobe, a team member has to know where to look for it.
The situation is completely different with Pics.io DAM. As one of our trial users said, "I'm using the tool only for a week, but it feels like I know it forever". The search, as well as the whole app, is very intuitive and tries not to overload the user with extra complexity.
Phase 3: Discussing the new design
As soon as the first sketches are ready, our designer asks the team for feedback. Collaboration is not the strongest feature of Adobe Cloud. The tool was designed for individual users, so adding comments or tagging teammates is impossible there, unless your team has an enterprise-level plan.
In contrast, traditional DAM tools are collaborative apps in their essence. The creative team will be able to go on with the discussion of the new design in Pics.io very easily. The users can leave comments, tag colleagues, and mark specific areas on the image they'd like to give their opinion on.
Besides, the designer can add as many revisions as needed in the process of editing. Thanks to simple, but efficient version control, all the revisions will lay one onto another, with the last one to be the current. Teammates will get updates about the changes that came into place through email, app notifications, or Slack.
Only a few Adobe apps have versioning, and as Adobe puts it, they keep revisions on the server for a limited time. As a result, the designer might be surprised, finding the empty project's folder once deciding to make some changes to the client's logo the next year.
An Adobe user shouldn't also forget about syncing designs, and creatives know how exciting the creative process could be when a person dives into it and forgets about it all around.
Phase 4: Approving the design
Our designer is making final changes to the file and wants to send it for review and approval. There is no surprise that he'll meet one more challenge if sticking to Adobe tools again. Neither Lightroom nor Adobe Bridge offers an efficient workflow if a reviewer is not the same person as creator.
Surely, our creative team can use a workaround and just log in under the same credentials. But here's the catch: when multiple users try accessing the same file under the same name, there is a high risk of corrupting data. And Adobe doesn't have an audit trail to see what happened nor a backup to restore the assets.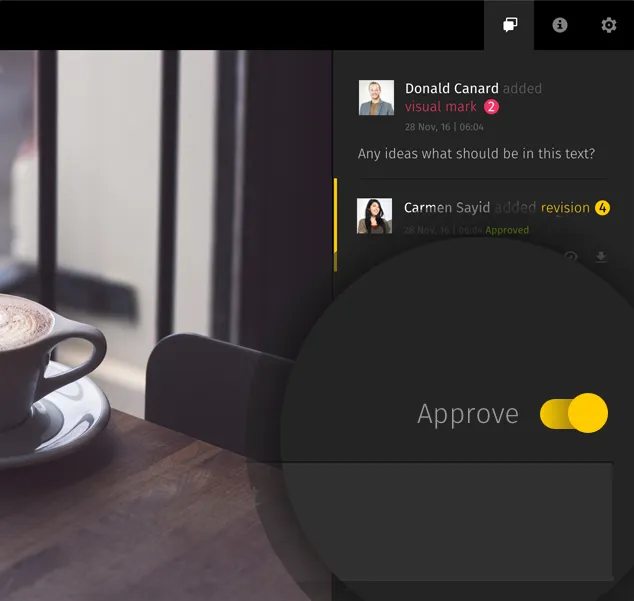 Reviewing designs is Pics.io won't be so tiresome. Our designer will just save back the file from Photoshop, InDesign, or whatever Adobe tool he's using. Then, he'll assign the reviewer. And once everything is agreed, the team will approve the version that they liked most, just moving the switcher on the Activity Panel.
Here's one more good news: the team can use a built-in visual diff tool to compare the two versions side by side and see the changes made in detail.
Phase 5: Sharing the file with the client
The design is completed and it's time to deliver it to the client. Shareable Albums in Lightroom have such functionality. This is the easy way to share a collection of assets while also presenting designs in a professional manner. In addition, the client can give feedback on the project right in the tool and even "like" certain designs like in social media.
But Pics.io DAM offers more innovative sharing functionality. The creative team can share a collection of files or a single design via Pics.io websites and get feedback in the same way as in Lightroom. But the shareable website is more customizable in comparison to Lightroom, bringing your company's brand look and feel to the design. For example, the team can add branding elements like logos or colors or change the website's layout.
Phase 6: Archiving the project
Once the project is finished, the creative team might also want to save it for future reference. Creating assets takes lots of time and effort so it's nice to have a chance to reuse older designs when possible.
And here's another limitation of Adobe Cloud coming in. Most of its tools are desktop apps, which limit the storage space to the one available on the hard drive. And this is without taking into account how dangerous it is to store working files on local servers. One technical glitch – and the company's important data are lost forever.
The creative team can experience completely different scenarios once they adopt DAM. The solution is not only offering one source of truth for all company's digital assets, but it also has effective archiving to preserve the old designs excluding them from the actual media library. In addition, Pics.io works on top of the cloud so the creative team shouldn't worry about accidental data loss.

Finally, our creative team can access assets from desktop and mobile devices. DAM is a mobile-friendly app, which means that a designer can check the feedback from his/her colleagues or a manager can approve the assets while on the go. Not all Adobe tools allow this, and some of them like Adobe Bridge don't have a mobile version at all.
Ready to Boost Your Adobe Potential with DAM?
Adobe Creative Cloud is a must in your team's tech stack, and it solves individual tasks perfectly like creating designs or editing projects. But it's not the ideal tool when it comes to managing and collaboration on assets.
Pics.io DAM will deal with digital asset management tasks much faster and better. And with Pics.io's first-rate Adobe integration, you don't have to abandon your Adobe tools or suffer from switching apps and windows. You streamline the existent workflow, bringing the power of both solutions to your fingertips. Also, don't forget other DAM features and integrations which might be useful to you.
If you're a huge fan of Adobe tools think about adopting a DAM solution to manage your assets in a more efficient way. Don't hesitate to schedule a free demo with us to have all your questions answered.
Give Pics.io DAM a try
Free 7-day trial
No credit card required
Set up in 3 minutes or less