"So much to do, so little time" — this thought is bound to have crossed every content marketer's mind at some point.
Content creation is a time-consuming process. To add to it, the fast-paced environment and growing competition certainly don't make it easier.
You can either churn out content like a machine or develop a strategy that's focused on creating meaningful content at scale without compromising on quality.
If you're interested in the latter, this article's for you.
A concrete content production plan and the right communication tools can help you scale up your content marketing efforts and product quality content. Let's take a look at how you can achieve that.
1) Devise a content strategy
You can't scale up content creation on a whim. You need a proper plan and strategy in place. Start with assessing your business goals and see how you can use content to meet those goals.
Some examples of goals include creating brand awareness, increasing revenue, building loyalty, or even supporting the launch of a new product.
Once you get a better understanding of the bigger picture, you can work backward and create a content roadmap that includes:
Goal(s)
Content formats (eg. blog posts, digital flipbooks, infographics, videos, etc.)
Distribution channels (eg. social media, email marketing, forums, etc.)
Measurement metrics
Team members and responsibilities
Timeline
It's also important to create detailed audience personas at this stage which includes your audience's demographics, goals, pain points, motivations, and buying behavior. This will help you understand your target audience better and create relevant content that answers their questions.
Here's an example of a visual audience persona template you can create.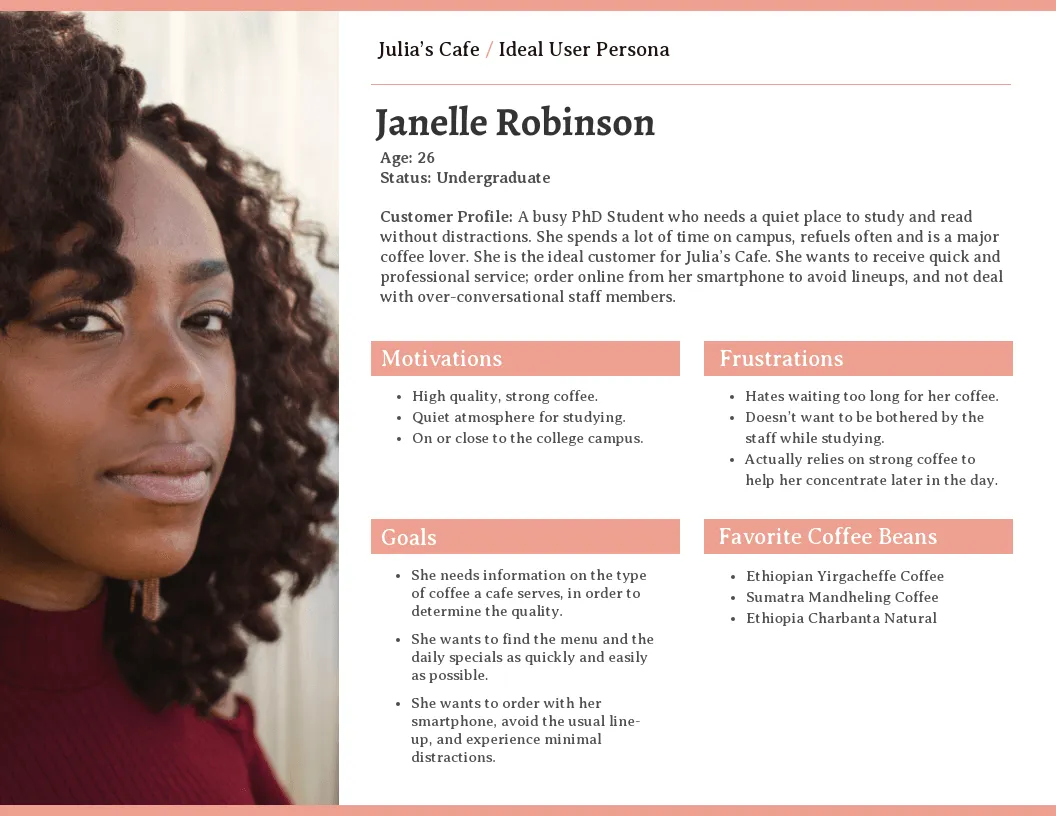 2) Develop a workflow plan
The strategy is laid out, but how you approach it will be determined by your content workflow plan.
Content Marketing Institute defines content workflow as "a set of tasks that a team needs to complete for a given client or content type."
Developing a workflow lets you approach content creation in a more organized manner, helping you maximize the team's potential and streamline production. It boosts productivity, improves efficiency, and increases return on investment.
A typical content workflow includes:
Brainstorm ideas
Outline and write
Design
Review and approve
Publish
Promote and distribute
Here's a project management flowchart example you can use to visualize your content workflow plan and assign responsibilities to keep your team aligned.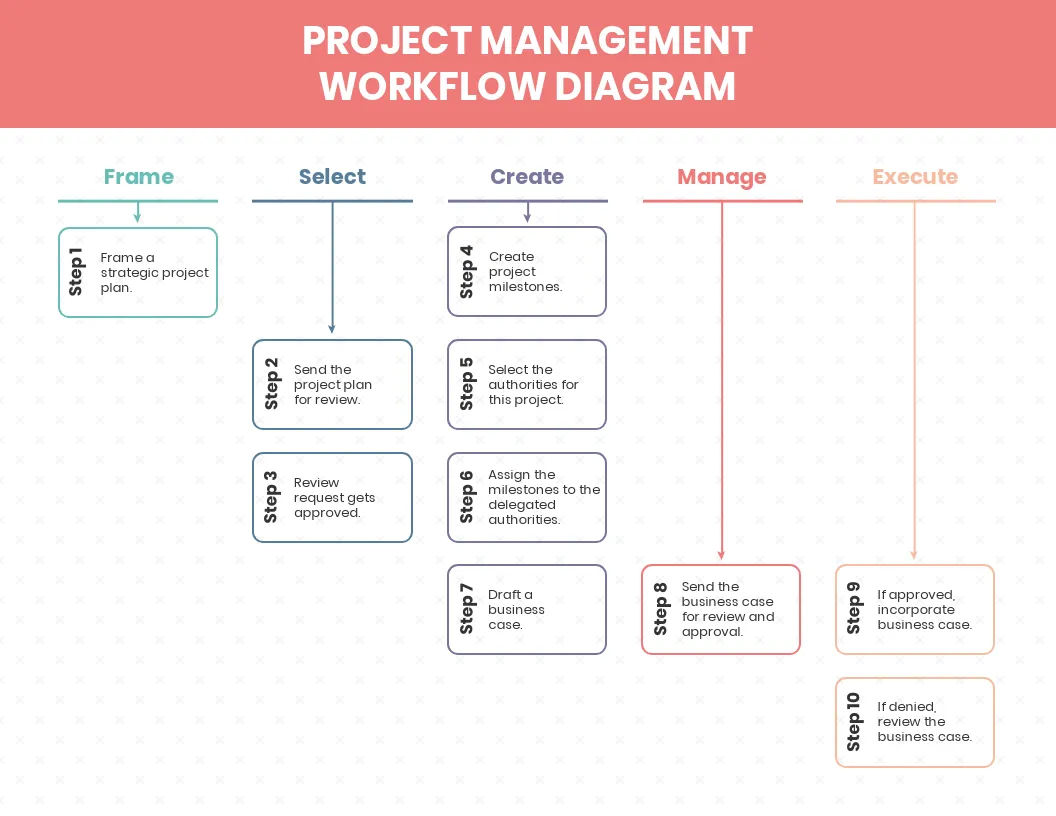 3) Establish guidelines
Your team will change with time. People will come and go. But your brand needs to stay consistent.
Consistency is not just limited to the visual elements such as the colors, logo, and font styles. It also refers to maintaining unity across your brand's core messaging, tone, and voice.
Apart from delivering a cohesive experience, establishing a brand style guide also helps you create content at scale because it serves as a starting point for anyone who is part of your content marketing team.
Whether you're hiring a new resource or outsourcing to a content agency, this style guide serves as a powerful training tool as it sets the foundation and helps everyone stay on-brand.
Here are some key elements you can include in your brand guidelines:
Vision and mission
Tone and voice
Brand personality
Value proposition
Language and grammar
Formatting rules
Logo
Colors
Fonts
Mailchimp is an example of a brand with a comprehensive style guide. It covers a wide gamut of elements that one needs to consider while creating content for Mailchimp.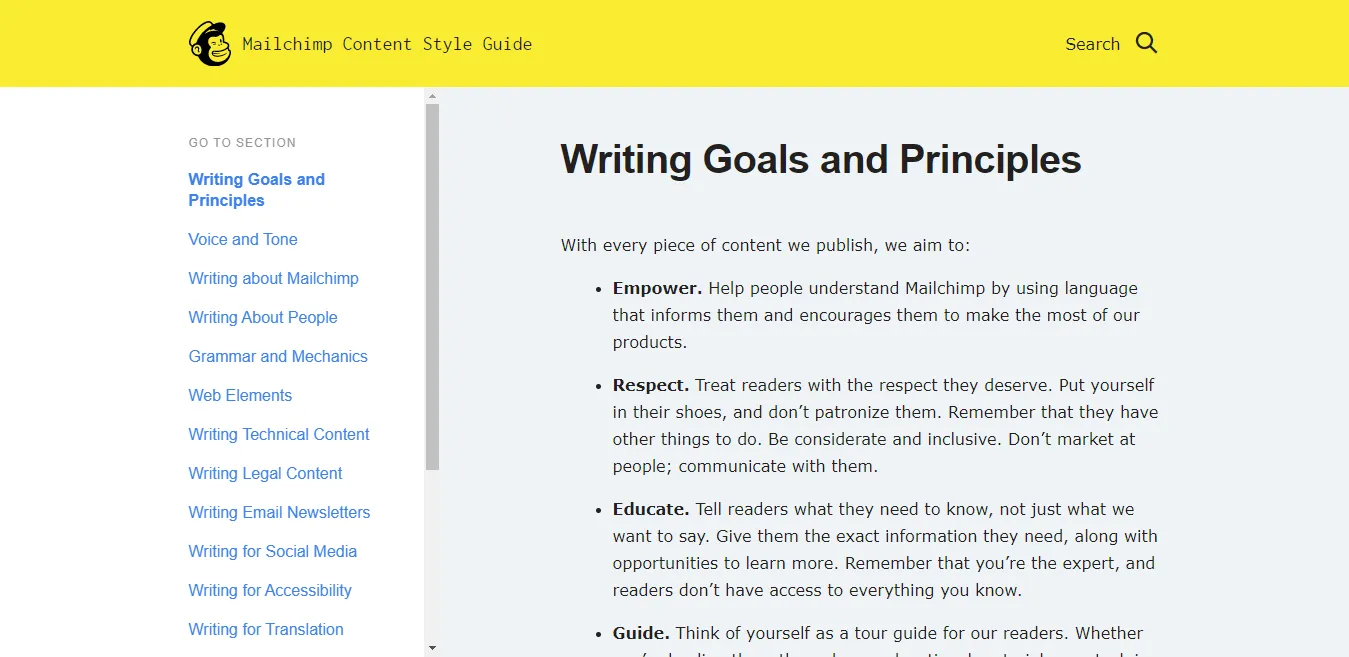 Of course, you'll need some source of truth to keep all your brand elements in place and easily accessible. Pics.io Digital Asset Management is the best tool to accomplish this. The app is designed to organize and distribute your content, it also suits best for revision and approval workflow before you publish your articles.
To get you started, read more about content management platforms here.
4) Outsource content creation
As much as you'd like to keep the entire content marketing process in-house, it's not always the most viable solution. You might be strapped for time or not have the right resources to create quality content. In such cases, it's a good idea to outsource content creation to experts.
This lets you focus on the larger aspects of your role while producing content at a greater scale. You can outsource tasks such as writing, editing, designing, publishing, or even project management.
When it comes to outsourcing, you can either outsource to a content marketing agency or work with freelancers.
While it entirely depends on your needs and marketing budget, here are some factors you should consider while outsourcing content creation:
Cost
Availability
Scope of work
Working process
Areas of expertise
Regardless of the option you go with, make sure you communicate your business goals, content strategy and induct them into your company. Use collaboration tools to maintain open lines of communication and manage expectations.
5) Repurpose existing content
"You don't have to create content, day in, and day out. You just have to work on getting the content you already have… in the hands of more people," says Derek Halpern, and rightly so.
Most content marketers are too focused on creating new pieces of content without maximizing the potential of the existing ones. Not only does this save you time but it also helps you create content at scale and reach new audiences.
Start with conducting a content audit and identify top-performing content or evergreen content to repurpose.
Some examples of content repurposing include:
Combining blog posts to create an in-depth eBook or guide
Publishing infographics as mini-infographics on social media
Turning videos into GIFs
Converting a blog post into a podcast episode or video
For instance, Gary Vaynerchuk repurposed one keynote address into 30 pieces of content. The result? He received over 35 million views across 20 different platforms.
6) Crowdsource content
Another effective way to create content at scale is to include crowdsourced content in your content marketing mix.
Crowdsourcing content involves gathering opinions, information, or data from third parties. This is an effective way to create authentic and credible content while scaling your content marketing efforts.
It also lets you network with industry experts, brands that speak to a similar audience, and influencers, helping you tap into their expertise and audience base.
Here are some examples of crowdsourced content:
Create round-up posts
Accept guest posts
Create content with user-generated content (comments, testimonials, reviews, etc.)
Curate data for reports or infographics
Take a look at this crowdsourced content example. It's a round-up post by Databox where they've got 30 marketers to share their LinkedIn marketing strategies.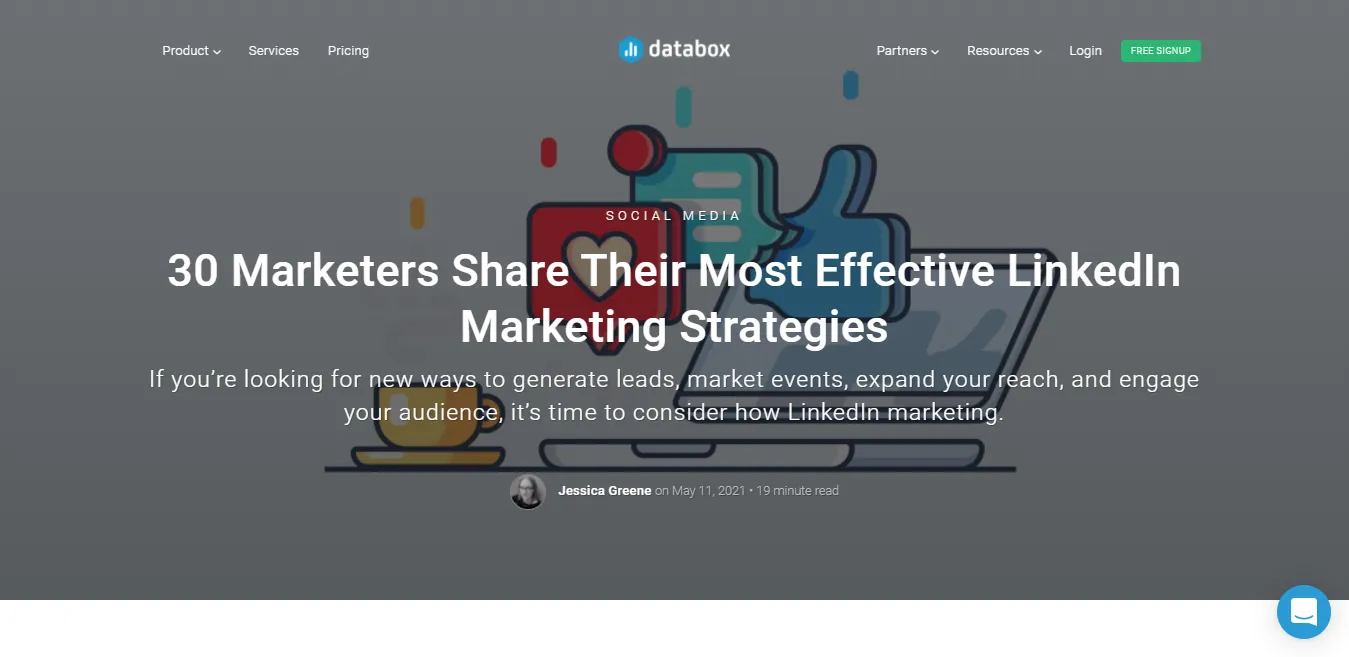 7) Leverage Technology
In the ever-evolving digital landscape, you can produce more content in less time by embracing innovative technologies, like AI writing tools. These tools have the potential to help you create content at scale by generating high-quality content quickly without compromising on quality.
For example, "Content at Scale" stands out as a transformative solution in AI writing. With this tool, you have an automated writing assistant, a partner who can create SEO-optimized content based on keywords, existing blog URLs, or media in minutes.

If you're considering incorporating AI writing tools into your workflow, consider these factors:

Functionality
Integration
Cost-effectiveness
User Experience

Remember, technology is there to aid you, so ensure you use it strategically to meet your content goals.
The takeaway: Create content at scale
While every content marketer dreams of scaling up their content creation efforts, it's important to not lose sight of quality. If the content you create doesn't resonate with your audience, none of your efforts will materialize.
These six tactics will help you develop a scale-up strategy that helps you create meaningful content without sacrificing quality.
Still worrying about organizing your content and not losing a piece of it? Incorporate a DAM platform, and you'd be able to keep your assets neat and in order as well as reuse your content multiple times.
Give Pics.io DAM a try
Free 7-day trial
No credit card required
Set up in 3 minutes or less
---
Author
Simki Dutta is a content marketer at Venngage, a free infographic maker and design platform. She writes about all things marketing and communications. Find her on Twitter and LinkedIn.