Hello there everybody!
We've recently added a new feature to our platform and wanted to share the news with you: Pics.io now supports customizable labels for your projects and files!
For software developers, a label is pretty much the same as a commit message. It's fairly useful because now you can make your designers add a description for each change they do, just like on GitHub.

Why is that important?
Take us for a quick example. We work with our designers from several distinct places and platforms (GitHub isn't always the best option, as it focuses more on coders, rather than other professionals). So, to optimize our workflow, we just add labels to our files. This way both our designers and developers can easily keep track of all the tasks that need to be finished. In the long run, this minimizes possible waste of time and makes all the team so much more productive.
In fact, a label is a mark that allows further systematizing of your files and upcoming tasks. For example, let's say that you're planning to "change the colors of the buttons in several input forms." When the designer makes the changes, all he needs is to add a respective label to the modified files.
It could look like this:
Label name: "Change the button's colors in several input forms."
Label description: "The buttons are hard to see, and their text isn't easily readable, so we need to change the button's color from yellow to green in the forms Purchase, Make Changes, and Submit Form."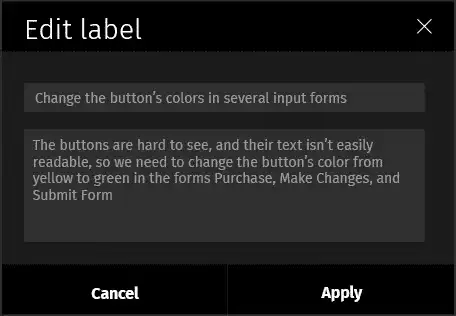 When the developer in charge of making these changes logs into Pics.io, he or she needs to open the labels panel and click on the label "Change the button's colors in several input forms." — and Pics.io will show all the files that were modified, or need to be!
This way the developer won't need to manually search for the assets related to the changes in question. Another great thing about labels is that all of the modifications become descriptive, so when you're browsing through the "Activity" panel, you'll easily see why the team changed the color of the buttons. To find out, just read the text of the label — it's easy as that.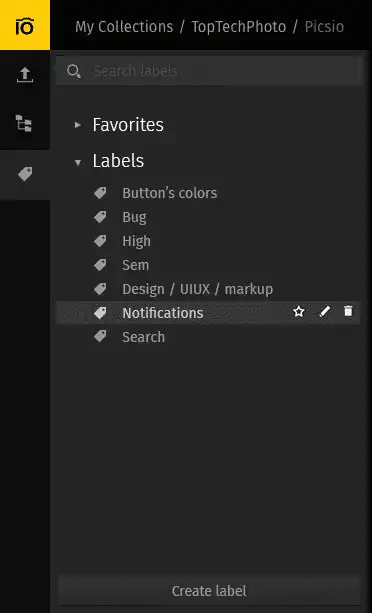 Anyway, we're excited to hear what do you think of the Pics.io labels! Have you tried them out already? Are they effective for you or maybe you think that something needs improvement?
Also, don't forget to check other features in DAM.
We love hearing from you, so join the discussion in the comments section or write directly on our email!
Give Pics.io DAM a try
Free 7-day trial
No credit card required
Set up in 3 minutes or less