Everything's going mobile. Keeping pace with the times, your employees use mobile devices for work purposes more often. And this doesn't end with checking email or answering important phone calls.
No, your employees are using phones for their usual work-related activity. And they may run pretty important operations on them. For example, statistics say that 71% of employees spend over 2 hours a week accessing company information on their smartphones.
And this is where Digital Asset Management comes into play. Pics.io helps you access and distribute assets without extra effort. And if you need to do it on the go, then we gladly adapt to this ever-growing mobile trend. And so we present to you our newly released Digital Asset Management for Android and iOS.
Now learn how our portable DAM solution will help you manage your assets.
Keep all your digital assets at hand
A "bring your own device" policy is getting popular in the IT environment lately. While allowing employees to use their personal devices at work, companies succeed to cut costs on purchasing and replacing technology as well as on a long learning curve. The trend also adds to employee satisfaction and productivity.
Accessing DAM content from personal mobile devices has its extra benefits. Now you and your teammates could respond quickly to any work-related questions. And all you will stay productive, regardless of locations.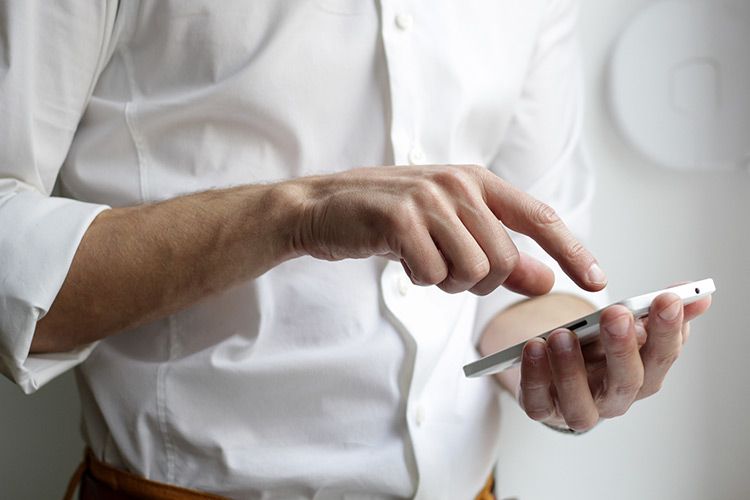 Marketing and sales teams are those who benefit the most from Digital Asset Management for Android and iOS. With digital content at their fingertips, the team members can do their job at any moment and increase the conversion rate. The client or partner wrote to you while at a meeting? Just access your stock library and send design files, presentation pitches, or spreadsheets they're asking for in a minute.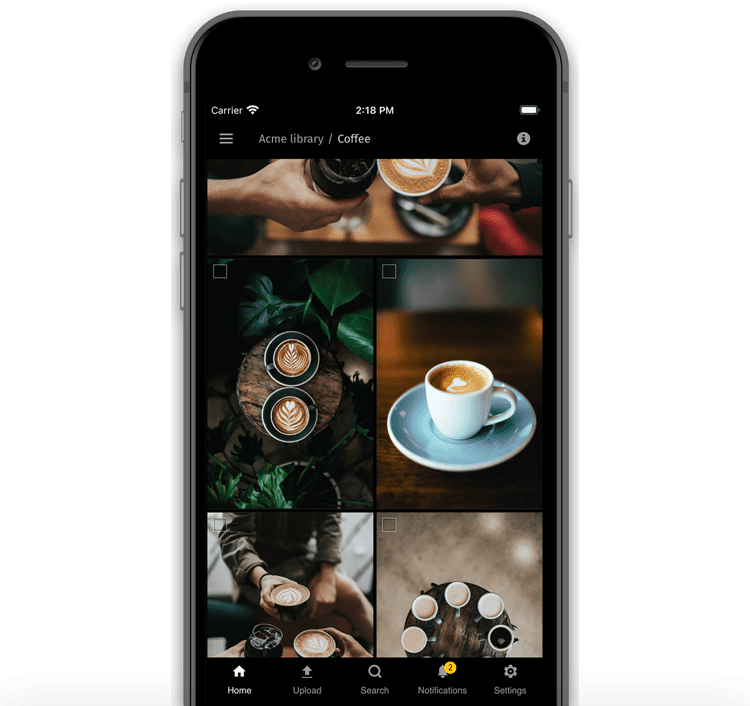 A DAM solution in your pocket will also come in handy to your team when out in the field. Not all work can be done at the office desk. Sometimes, you're going on a field trip or visiting a corporate event. And it's nice to know that as a salesperson you'll have seamless access to all your marketing materials whenever any extra questions arise.
Lastly, you've got stuck in a traffic jam, and your boss is asking for a feature brief you had to prepare for today's meeting? No worry! Pics.io mobile app allows you to filter through your library based on file type, rating, etc. Then, search for the brief using keywords, descriptions, content, whatever and send it to the supervisor.
Upload from your smartphone or tablet
After a business trip or a field trip, your smartphone could be filled up with photos, videos, and documents. Free up space (and update your team) at an easy rate by uploading them to the media library from your phone. No need to play around with uploading back and forth first to your computer and then the storage.
The Pics.io mobile app solves one more problem. How many times did you forget about the content on your phone? So you have a nice photo from the latest field sales presentation to use in the next marketing campaign. But you don't do it because of simply forgetting about the image.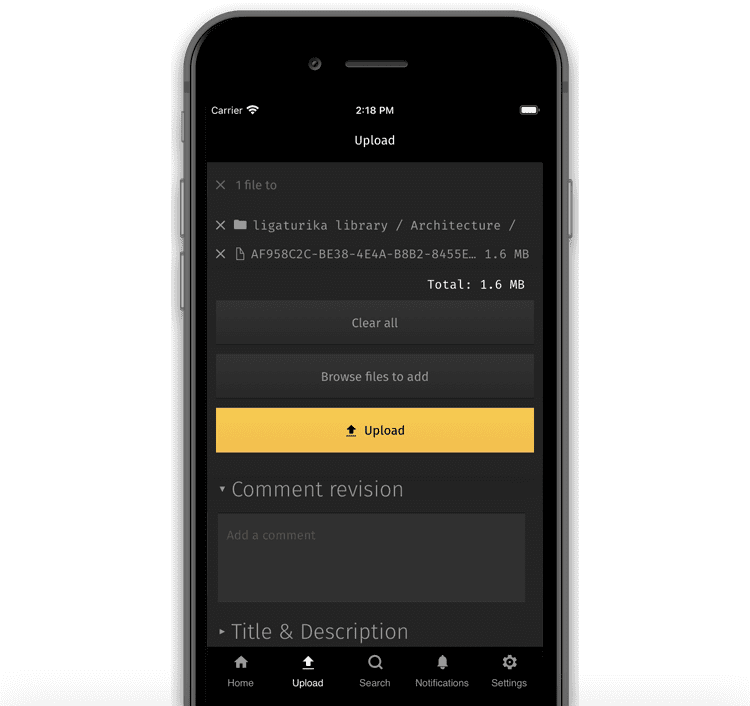 I bet the nonprofit industry will be the first to relate to this upload opportunity. Employees in nonprofit are regulars of different volunteering events. And their phones are full of digital content. But to source donations, it's best to go to market with this content as quickly as possible. And with the Pics.io mobile app, those on field trips will be able to transfer the photos or videos further to marketing right away.
Share content anytime, anywhere
Mobile asset management with the help of DAM doesn't end at accessing and viewing files. Sharing is also a very important feature, the same as in the desktop version.
With Pics.io, you'll be able to distribute your assets while on-the-go. Are you commuting, on vacation, or sick leave, and your manager contacts you with a request to send them the presentation/ brand asset/ or video? It's as easy as ABC. Just find the asset in your DAM library and share the link with them.
As a designer, you can help your team by not only pointing out the right asset. Using your mobile, you can download the image in the best resolution and size and then get back to the team with this file.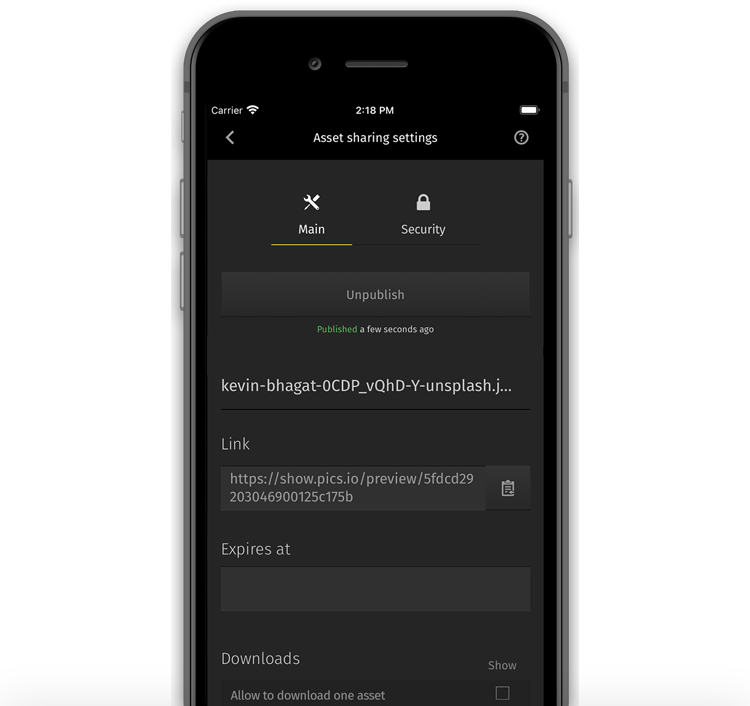 There won't be any problems if it's an external party sharing either. You can distribute files with external collaborators in the most presentable way using Pics.io websites. Nonprofit organizations will be especially happy in this way. They could post content from live events and, thus, be more productive in inspiring future donors.
Access brand and marketing materials at any moment
Of course, all the "serious marketing work" continues to be done at a desk. To write a blog post, schedule a marketing campaign, or develop an outreach strategy, marketers will need their monitor, keyboard, and mouse.
But structuring the materials and adding some petty edits could still occur on phones. Moreover, the most inspiring ideas come in the most unexpected places. And it's great if the content producer writes them down and uploads them to their Pics.io media library.
Besides, DAM for Android and iOS could become an ideal white-label solution for you. DAM will allow you to send the corporate logo and other brand deliverables whenever your partner needs them. Zoom on the collateral to check the brand image or video before sharing it with your external collaborator.
Collaborate with your team on the move
Another opportunity that the mobile Pics.io app brings to you is to stay connected with your team. Keep track of the project progress by receiving notifications about any file uploads, comments, or approvals.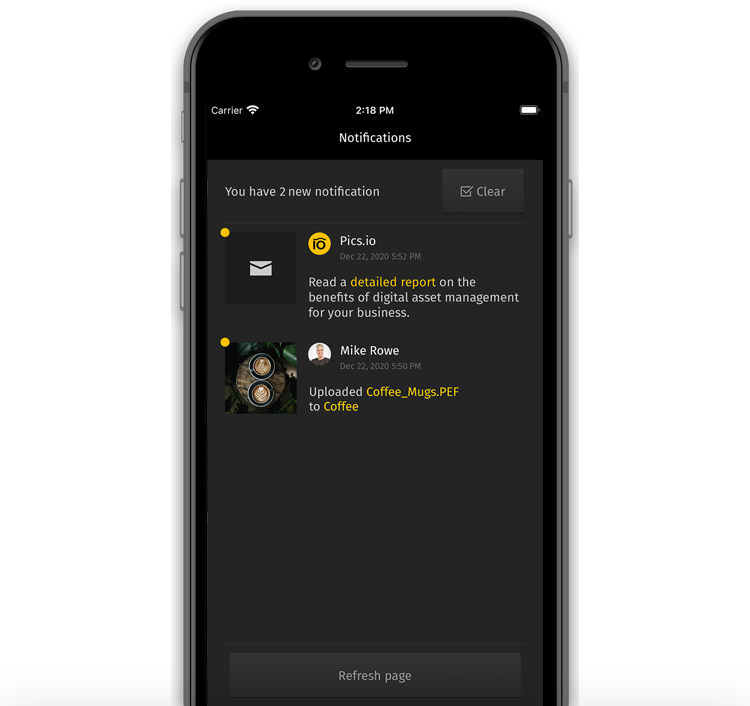 You'll be able to speed all the processes if you get instant updates when someone tagged you in DAM, asking for clarification. No need to wait until you're at the computer again – you can drop a line right after you received the message.
It's especially useful to avoid any bottlenecks when your colleague is waiting for your approval. With the mobile phone, you access your DAM solution and check the document or image. After viewing the file, just move the switcher to "Approved" and get back to your personal affairs.
Enjoy a mobile video experience
Statistics indicate that over half of video consumption is taking place on mobile devices. Personally, I prefer mobile over desktop as it's more convenient for me. I can choose a relaxing pose or go to another room and take the phone with me. And this doesn't change if I'm watching work-related content.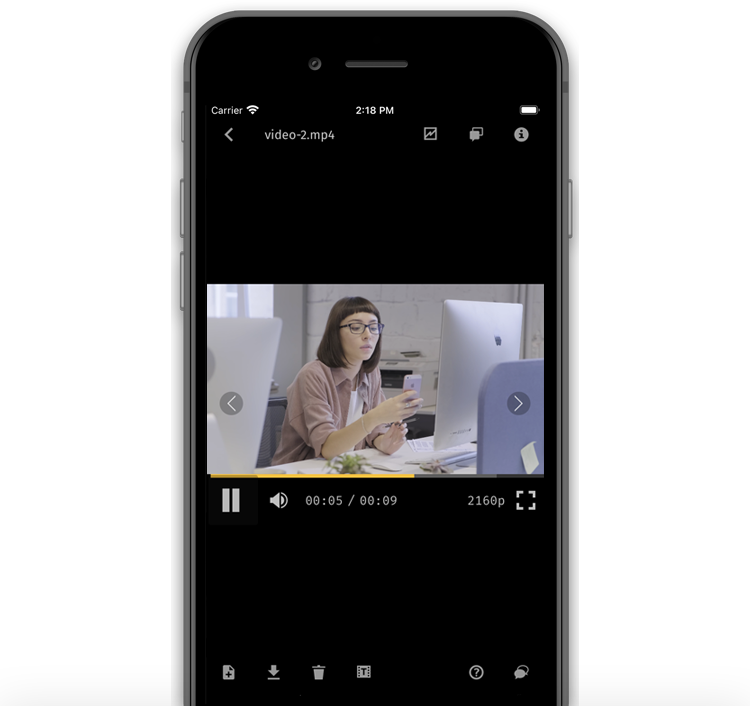 This is why mobile-powered DAM should attract your teammates. With Pics.io, they'll be able to play video content on their phones and have a more enjoyable mobile video experience.
The Pics.io mobile version also allows you to consume video content outside your workplace. So when your manager caught you off guard, asking your opinion about the latest marketing video, you could take a look at it and refresh your memory prior to answer.
Videos are not the only content that may be more convenient to watch from your mobile phone. Sometimes, when you have to go through lots of photos, you prefer your mobile over the laptop as well. With the Pics.io mobile version, you'd be able to watch, zoom, and flip pictures with common mobile gestures.
Go mobile with Pics.io right now
If you're already using desktop Pics.io, hurry up to download the mobile version. We have two separate apps, for Android and iOS users. But if you're still looking for a good mobile file manager, don't hesitate to log in to Pics.io as well.
Enterprise mobility could still be in the early stages. But the DAM industry is keeping pace with the trends and allows companies to have easier access to their files. Thus, it helps organizations to improve & centralize the point of engagement with their clients and employees.
Our Pics.io is an advanced DAM solution that will grant you easy access to your assets, file organization & distribution. And this truth doesn't change whether you're using our desktop or mobile version.
Give Pics.io DAM a try
Free 7-day trial
No credit card required
Set up in 3 minutes or less