Let's state the obvious — video file format is the content format of the future. Whether you are a creator or brand manager, talking to clients and audiences via a camera is the most engaging and fastest way to make a connection. But the question remains: which video format to choose?
What type of video file formats should I add to the website? In what file formats can you upload videos to YouTube?
Since all social media support video content and have different requirements for publishing clips — length, orientation, and others — choosing the right file format to share content can drive anybody nuts.
To spend less time and effort on re-uploading videos and ensure a top-notch viewing experience for your audiences, let's have a look at this review of top video formats and social media posting requirements.
Give Pics.io DAM a try
free 7-day trial
Video File Formats, Codecs, and Containers: The Difference
As soon as you start researching video formats, dozens of unfamiliar words and expressions show up — resolution, frames per second (FPS), and others. Three concepts of video creation are particularly confusing — understanding how "codecs" and "containers" fit the definition of video files formats.
Let's take a closer look at what creators mean when talking about, containers, formats, and codecs.
Video Formats
A video format is a concept that defines the full structure of your clip. If you compare two popular formats (mp4 and WMV, for example), you'll realize that they are different by multiple characteristics.
All types of video file formats include these elements:
Compression — reduces the number of pixels in the video file, saving memory and bandwidth. Minimum or no compression guarantees highest video quality.
Interframe vs intraframe coding — some digital video formats create partial frames in a clip while others don't — this makes a difference when editing a video.
Subsampling (compressing colors to reduce the memory load) and bit rate — the amount of data in the frame.
Resolution — standard or high definition, as well as the fps rate.
Containers and codecs associated with the video clip.
Video Containers
A video container is a digital box that stores all the data that a video contains - video and audio files. So if we are talking about a container video file we are referring to a video that is encapsulated in a specific format.
Other than visual and audio data, a container holds additional technical information (metadata) about the video. Thanks to containers, creators and asset managers can find out:
What is the video's FPS
Which lens was used
The specified camera settings
The location and geodata of where you were shooting
Video Codecs
A video codec lays videos out frame-by-frame so that editors can tweak them in post-production. With some formats, a video supports a single codec — others hold data in a range of codecs. Every codec of a video is stored inside its container.
When choosing a codec for shooting, a videographer needs to take dozens of factors into account. To make the selection process easier, we nailed the criteria down to processing speed, memory consumption, and resolution.
What Is the Difference between a Video Container and a Codec?
These two terms are often confused and are used interchangeably.
It's easy to understand why, because their names, sometimes, are really close.
For example, MP4 is a video container whereas MP3 is a codec. The best way to think about it is that a container is a box while a codec is an algorithm that delivers the uncompressed contents to the box.
But wait, you might add, if MP3 is just a codec, then how come we can play MP3 files?
By the definition, containers can have different audio formats inside them. So there can be an MP4 video container that has an audio track encoded in MP3.
However, you cannot put a video inside an MP3 file.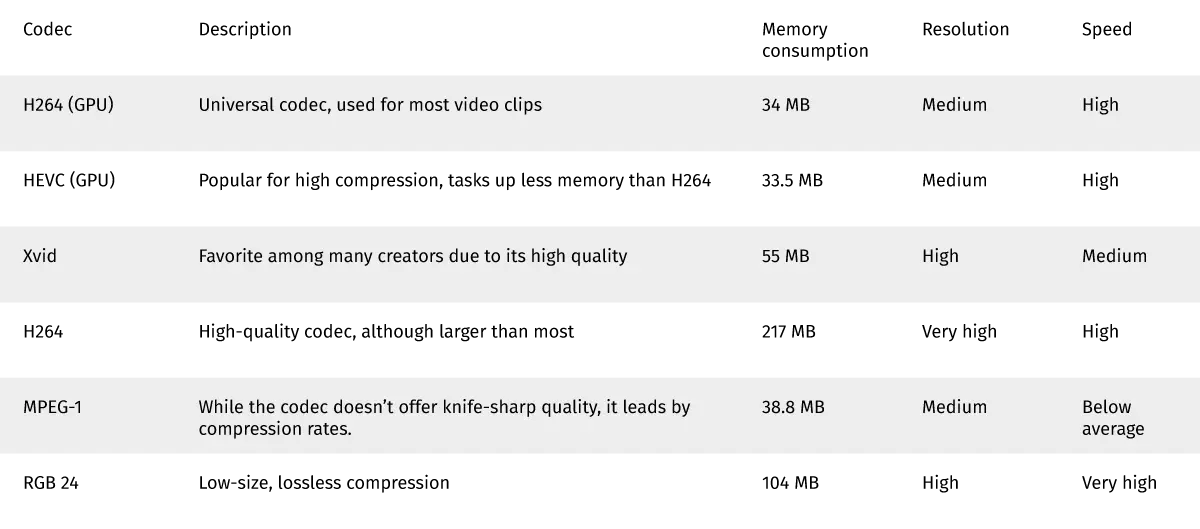 Comparing Top 6 Common Digital Video Formats
Although it's tempting to think that there's a one-size-fits-all video format, it's not that simple. There are many video file formats, with the best fit depending on your priorities — resolution, loading speed, memory consumption, etc.
Understanding video file formats and what is the best video format for you is not all that easy. Let's take a deep dive into digital video files comparison.
1. MP4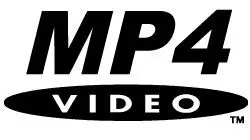 MP4 is the golden mean among all types of common video formats when it comes to file size, loading speed, and compression. It doesn't go hard on bandwidth, supports overlay texts, and ensures lossless compression. That's why it became widely popular on the web. Now, most websites, social media platforms, and multimedia players use it as an almost universal standard.
Pros:
High degree of compression
Contains metadata
Versatile, with two extensions (mp4a and mp4v)
Cons:
Codec-depending
MP4 file formats don't protect creators from copyright infringement
2. MKV

MKV is one of those video recording formats loved by video editors and creators because it's an open-source format — you can use whatever codec you want with this one. Lossless compression and high resolution also are MKV's strong suits.
MKV can store captions, audio files, and high-quality video as a single file making it a popular option for the playback of lengthy videos such as movies. Due to the larger file size in comparison to MP4, however, MKV is more frequently used for downloads and DVD/Blu-Ray playback rather than streaming.
Pros:
Open-source offers more editing freedom
High-quality video
Supports all codecs
Cons:
Few mobile players support MKV
Slow loading speed
Large video files
3. AVI
5–7 years ago AVI formats used to be some of the most popular video formats out there. Although it got dethroned over time, the video type still gets credit for its high compatibility. For instance, it's one of the few formats you can run both on Windows, Mac, and Linux devices.
The main issue with AVI is its poor compression as it severely damages the quality of the video file. So, AVI files are usually larger than the rest making it a better option for storage, not so much for streaming.
Pros:
Keeps the audio files quality high even after compressing the clip
There's a wide range of AVI-supporting codecs
One of the top DVD management formats
Cons:
File compression results in visible quality losses
Unreliable soft subtitle support
No user interactivity support
4. MOV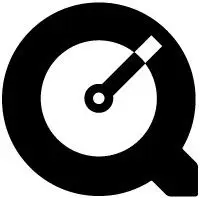 MOV files are known as the "video editing software friendly format" among different formats of video files. It was designed by Apple with creators in mind — that's why adding different overlay layers to MOV videos is a piece of cake. Other than that, MOV clips are known for laser-sharp quality and high compatibility with other video formats.
Pros:
Simple container design
Compatible with most formats
Facilitates HD video making
Cons:
Large file size
Lossy video compression
Not compatible with all popular players
5. AVCHD

AVCHD spells its main advantage in the name - HD. Created in tandem by Panasonic and Sony, this file format was designed specifically for camcorders. Since camera operators usually want the highest quality of their RAW footage, AVCHD seeks to fit that niche and does that perfectly.
Pros:
Impressive image quality
Leading format for blu-ray videos
First-rate sound quality when combined with the Dolby Digital AC-3 codec
Cons:
Large files, the size can stretch up to 1000MB
Not compatible with most players, as well as mobile devices
6. WEBM

WEBM is a Google-backed video format created for web videos. The format supports HTML5 and focuses on keeping clips as small as possible — this way, it won't slow the page down. Most marketing teams use this format to embed videos into a homepage slider.
Pros:
Open-source and free of royalty licenses
Lossless video compression
Small file size
Cons:
Relatively low video quality
Limited support for mobile devices
No Mozilla Firefox support
Considerations For Publishing Videos
Choosing the right format depends on the type of content you are publishing. There are considerations creators should take into account when releasing content (Youtube video formats and such) — let's take a closer look at these.
Social Media
Every social media tool, like a business name generator tool, has its own design specifications for video creators. If you create content for several websites at once, make sure to convert clips so that it meets every platform's requirements.
To make video publishing for social media a piece of cake, take a look at the table below.

Web
If you want to add a video to a website to improve the company's credibility, make sure that the clip doesn't compromise the performance of the web page:
Use 16:9 aspect ratios.
Keep the player 576x320 size.
Avoid using autoplay — it increases the loading time of the page
Optimize the video player for mobile devices.
TV
In most countries, TV broadcasting standards are determined by a set of universal standards. In America, the television industry abides by ATSC regulations — let's take a closer look at what they say:
TV channels broadcast content in 720 and 1080 resolutions
16:9 — standard aspect ratio for TV broadcasting.
Recommended surround sound format: 5.1 channel Dolby Digital AC3.
Supported containers: MPEG-2, H.264, MPEG-4.
Which Video Format is Right For You?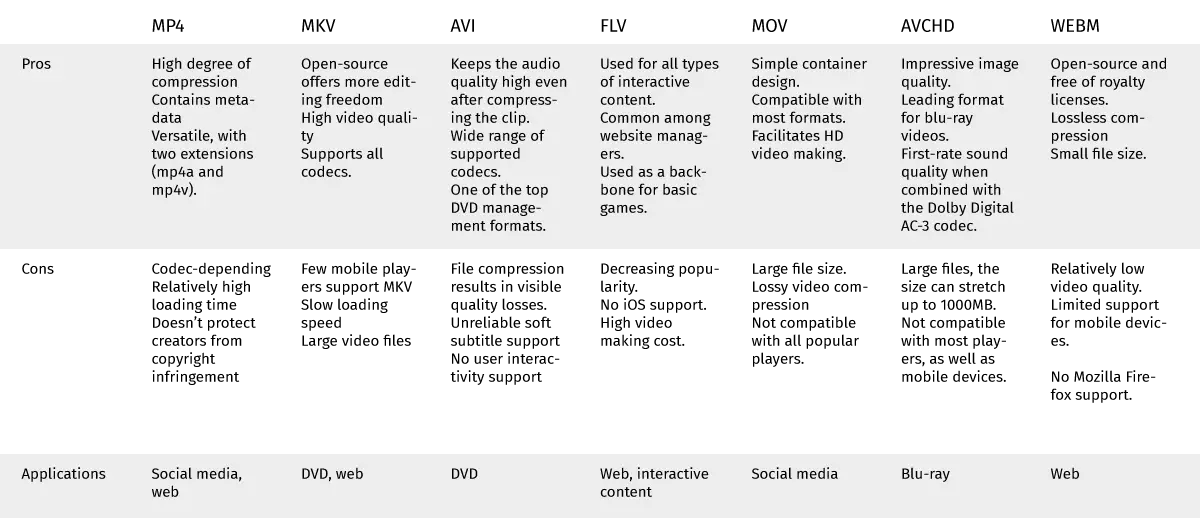 How to Share Large Video Files and Store Them: DAM
Whether you are a creator, a marketing team representative, or a business owner, you know how tiresome storing videos often is. When saved to the hard drive, these files take too much storage space, and the risk of losing your work is too high!
Read also our article on how to handle large video files.
To keep all files in a centralized location, edit and approve videos in teams, business owners use video asset management platforms like Pics.io.. Here's how these platforms make a difference in the way teams handle video files:
Flexible storage. Depending on the best video format you choose, a single clip can take up to 1000 MB of memory space. That's why file management solutions are extremely handy — they work on top of large cloud storage platforms — Google Drive or Amazon S3.
Can be integrated with top creative tools. You can connect a video asset management tool with Adobe tools: Photoshop, Illustrator, After Effects, and Premiere Pro and other platforms your team uses on a daily basis. With the right connections, a marketing creative can easily open their favorite Adobe application, search for and open digital assets from the DAM, and save final versions back to the DAM, without ever needing to leave the Adobe interface. This way, a DAM solution will seamlessly integrate into your team's day-to-day work.
Helps see the difference between two versions of the same video. DAM solutions allow creative teams to play two clips side-by-side and keep track of the changes. The feature doesn't apply to videos only — you can compare images and documents as well.
Makes it easy to add markers or time stamps. With digital asset management platforms, rewinding videos and finding the right shot is a piece of cake. For this purpose, Pics.io proposes Timestamp Markers and Areas of interest functionality. It takes a few clicks to mark the needed frame — this way, your entire team will be able to find it in no time.
Takes file sharing to the next level. Once you start using DAM, there will be no need to send clients and partners links to your cloud storage. Instead, how about you publish all your work as a custom, sleek website? Pics.io DAM has public websites functionality that lets your clients access digital assets from anywhere at any time. You have a variety of customizable websites to choose from, which all work on any device and in any browser. We recommend using the Lumière template for publishing best video files. It is the best theme to show your videos to clients or teammates. Still, if you need to collaborate with your clients, the Proofing template is for you. It allows the people who visit your website to interact with you using comments, ratings, etc.
Built-in video editor. With digital asset management tools, teams can view and tweak videos — crop a clip, take a screenshot, or generate a custom thumbnail.
Version control. With video editing, duplicates eventually pile up on your computer. Then, finding the right file in the sea of "draft1", "draft2" videos becomes next to impossible. Luckily, digital asset management platforms are exactly the solution you need to avoid duplicates. Save all versions of a video under the same user name, compare them, and make edits. You can view a file's entire editing history to track the team's decision-making process and monitor productivity.
File backup. You'll no longer have to worry about losing the latest draft of a file due to a power outage — digital asset management platforms back files up automatically so that you and your team can access the latest edits.
For more comprehensive knowledge, read our review of the best video management tools.
Give Pics.io DAM a try
free 7-day trial
File management software makes it easy to store and locale files of different video formats.
To give it a try, go to Pics.io — a top-notch digital asset management platform for SME managers and start a 7-day trial. You can book a demo as well to get a face-to-face walkthrough of Pics.io from our team.