51% of marketers agree that video is the best type of content to improve your ROI. The brand comes alive through video marketing, and it's more interesting to watch a short clip than scrolling through texts or staring at still images.
There is a flip side, though. Videos are usually the biggest form of content you create. And even if you ignore how expensive and time-consuming large video production is, there is always a challenge of how to store and manage large videos.
In this post, we're speaking about best practices to work with large video files. In case you own a great collection of marketing videos, we'll tell you a few options where to store your large videos, how to send them, organize and manage them right.
How large is large: When your video becomes large
Just two decades ago, 2 GB was the barrier when the video file was called large. At that time, most computers were running on 32-bit operating systems, and they couldn't handle video files larger than 2 GB.
Fortunately, we've transferred to 64-bit processors, but the 2 GB restriction remained for some services. For example, you cannot upload videos larger than 2 GB to browsers other than Google Chrome and Opera or Dropbox cloud storage space.
When it comes to different services, what you consider a long video file differs greatly. For instance, you cannot attach video files larger than 25 MB in Gmail, and you hardly find a video of a smaller size. The service automatically loads your video files to Google Drive, and here you can upload a video with a maximum file size of 5 TB.
Compare the most common video file formats, and you'll know that the average length of a marketing video is under 2 minutes. Still, its size might reach 2 GB and more, depending on the resolution. And with better cameras and more innovative editing, videos grow larger, eating up a lot of storage space in the digital library. Today we have full HD and even 4k resolution videos, and a 2-minute 4k marketing video file will take you 11 GB of storage space on average. Just one video clip, can you imagine?
Now let's get back to the fine points of managing large videos. We'll speak about storing, sharing, and then cover 5 best practices of how to manage large videos.
Where to store large video files?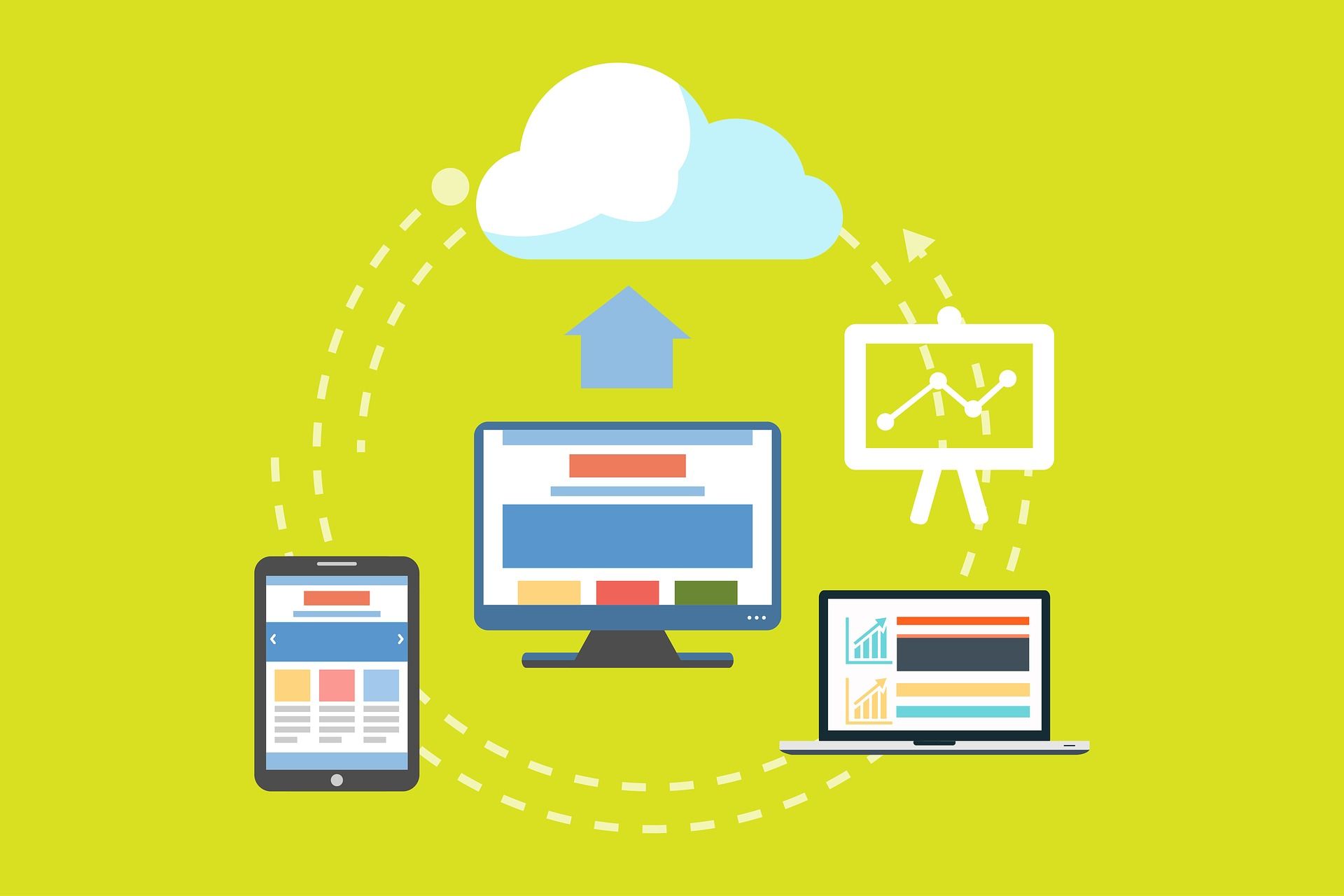 Local storage
Local storage includes any physical hardware where you can store videos. This could be local computers, external hard drives, flash drives, etc. Easy access to content is probably the main reason why to choose local storage. You're not dependent on the internet connection nor you have to wait until the video file is processed.
Pros
Easy to use
Great variety of devices, and you can choose the size of your storage (1 GB, 1 TB, etc.)
Quick access to locally saved videos
Complete control over the way you store info and who accesses it
Cons
Very expensive – the more space you need, the more devices you buy
Useless if working in the team
Costly backup
No disaster recovery plan
NAS
NAS or network attached storage is an internet-connected device placed in your home or office and used for data storage. For one thing, videos become accessible from anywhere on the condition your NAS is connected to WiFi. For another, large videos upload faster since you have a direct connection to the device.
Pros
High scalability
Access by multiple users at the same time
Centralized storage but with full control over access and authorization
Cons
Implementation and maintenance costs
Not intuitive and user friendly
Dependance on a large amount of network bandwidth in case of storing large videos
Cloud storage
With the development of cloud computing, more videographers have shifted videos to cloud storage. This is the best way to access and distribute content as well as to locate a video file in a few seconds. For an additional price, you also get unlimited storage space with the top 7 cloud storage alternatives today.
Pros
Extremely easy to access, retrieve, distribute, and share large video files
Increased collaboration
Flexibility and scalability
High-rate security
An opportunity to cut down unnecessary costs with the pay-as-you-go model
Cons
Dependance on the quality of Internet connection and cloud service provider
Less control over your data as compared to local storage or NAS
NB: Read how long it takes to upload large videos to the most popular cloud storage today.
How to send large video files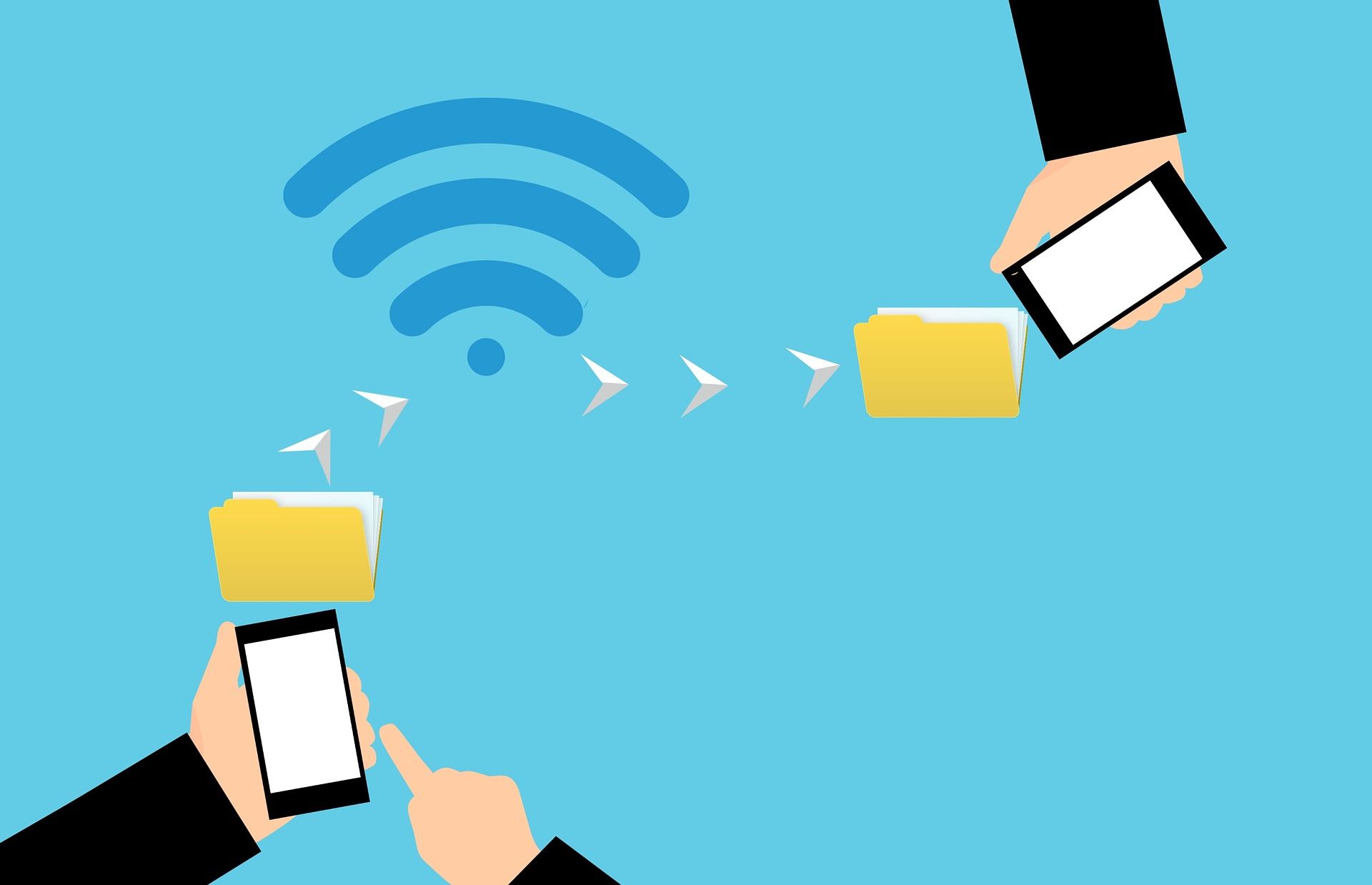 Cloud storage
Sharing the video file via cloud storage is probably the easiest way to distribute info. Most cloud storage services like Google Drive or Dropbox allow you to create a direct link to the video and send it to the client. The receiver will get a chance to download the content or stream it right away if the cloud storage has a decent video player.
Besides, cloud storage doesn't compress large videos or change their quality in any way. It affects the download time, but at least the client could watch the video file in its original quality on-site. Another problem is related to security issues. How many times did you see this "You need permission" message? And then, if the link occurs in the wrong hands, your private content might be available to anyone across the internet.
When to choose cloud storage for sharing?
You don't send or own very sensitive information
You want to share video files in high-quality
Your teammates and you know how to use cloud storage permissions right
Pics.io websites
Public websites are a great feature available in Pics.io Digital Asset Management. These are so-called shareable collections where you place large videos (the size doesn't matter) and send a link to the client or partner. A proofing template is a lifesaver if you need to get feedback – the website allows viewers to leave comments, rate videos, and mark the areas on the video that they would like to adjust.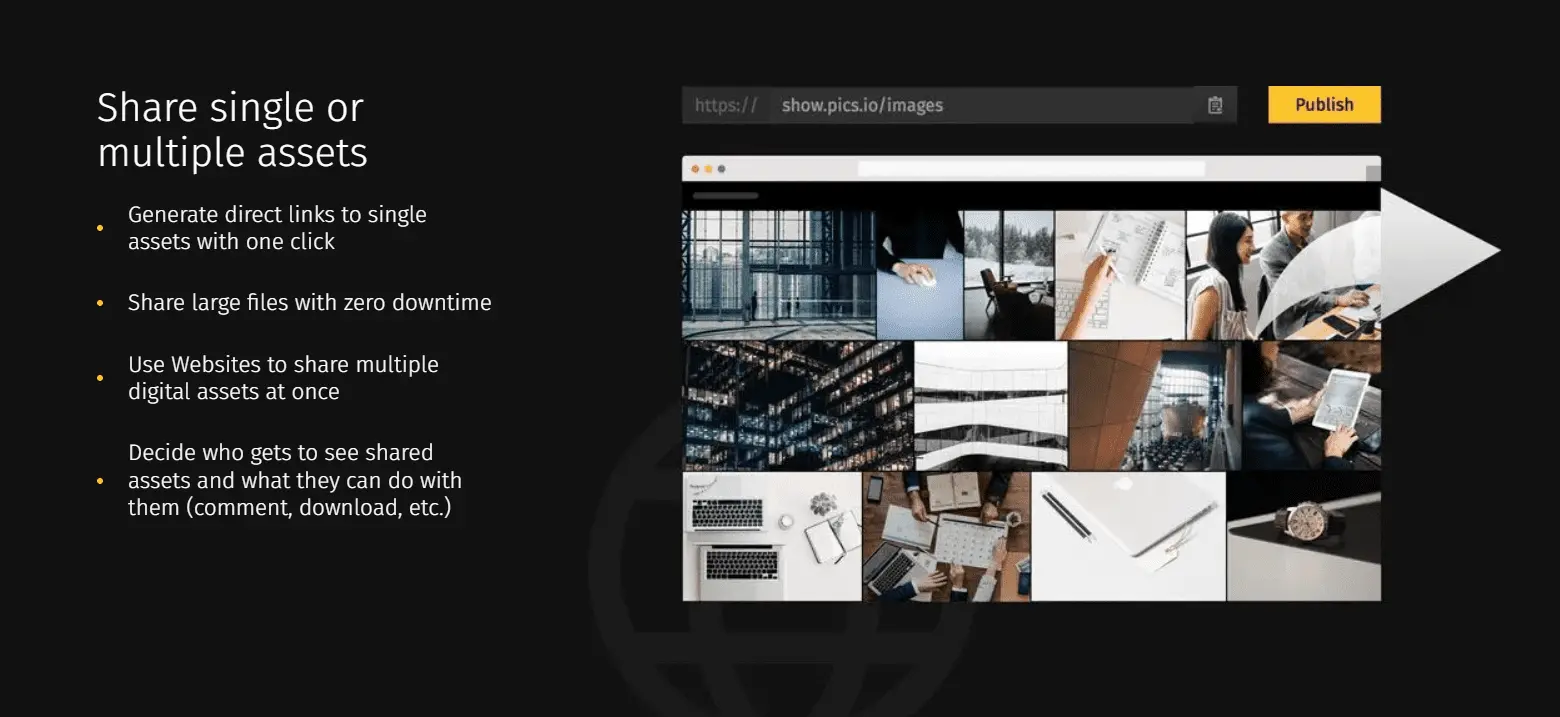 Also, don't forget about customization. You can add brand elements such as the logo or color palette to make the website look more professional and recognizable to your clients. You can also experiment with the "About" page or the way videos are presented on the website.
When to choose Pics.io websites for sharing?
You need to present videos in a more professional way
You want to add customization to sharing
You want to get feedback from the receiver
The same goes for receiving videos from external parties. With Pics.io DAM, it's possible using the Inboxes feature. Think of it as the reverse of websites. If you're looking to get videos from a videographer, send them a link to your branded inbox. They can simply upload files through this link.
Once uploaded, these videos are directly accessible in your digital asset management (DAM) system, ready for management and use. This method not only simplifies the transfer process but also ensures that your assets remain organized and centrally stored from the get-go.
Give Pics.io DAM a try
Free 7-day trial
No credit card required
Set up in 3 minutes or less
Video hosting service
A less popular alternative is to upload large videos to a hosting service such as YouTube or Vimeo. You can publish content as "unlisted" i.e. make it unavailable to everyone online. Another option is to make a video private and send the link only to those who should watch it.
Video hosting sites compress videos, though. Thus, your content will slightly lose quality after the upload to YouTube or a similar service. Also, there is no direct download option there.
When to choose video hosting websites for sharing?
You want to make large video files public one day
You don't want the video to be downloaded
You're okay if your large video will be slightly distorted
File transfer service
The main advantage of the file transfer service is that you can send large videos quickly and easily. Services like WeTransfer allow you to attach a video, enter the receiver's email address, drop a line or two if needed, and send the content in mere seconds.
Still, file transfer is great as a one-time thing. You send large video files, the receiver downloads them, that's it. The content is available only for a particular period, and you'll have to pay again if you need to send the same file twice someday.
When to choose file transfer services for sharing?
You have to send a really large video file
You don't share video files on a regular basis
You don't need receivers to preview the video file – just to download
How to manage large videos
#1 Group videos by tags and folders
When large videos are nicely organized, it's much easier to find and access them, especially if you're working in a large video production agency that manages thousands of video clips. The least you can do is to categorize videos by collections and tags. Build the folder system based on how you structure daily tasks e.g. by clients, deadlines, statuses, requests, etc.
Another recommendation for organizing your video library is to use tags and keywords. Attach the most important information about videos such as when it was created, by whom, what's in the video, etc. And then, use this metadata to look for your content easier and faster.
#2 Rely on video previews
The best video management software also makes it possible to easily navigate between videos, and this is hardly possible without previewing. You don't have time to open and close each video every time you're looking for a single video clip. Much easier it will be if you can see what's in there from the beginning. And this is why you need previewing.
The most powerful thumbnails will let you retrieve other information about the video as well. For example, Pics.io DAM also shows the collection where the file is stored, its rating, color, availability of comments, and who the video is assigned to. For sure, it'll help you be more productive and navigate video assets quicker.
#3 Use version control
Version control will also be a great addition to your video library. During the video creation cycle, your agency produces different clip versions, which might differ only slightly. Instead of keeping them all around, simple version control will allow you to centralize revisions and place them one onto another.
With version control, your team will also be able to track changes in videos. Sometimes, it happens that the preceding version was much better than a new one, and you can return to this revision easily with version control.
#4 Get a file comparison tool
With versions produced weekly, it's great if you can compare different revisions without extra effort. The best video management tools like DAM allow you to compare two videos run side by side. This will considerably streamline the design process since you will see the slightest change with the naked eye.
Also, if a great idea comes to your mind while watching the video, feel free to place a timestamp and tag the colleague to discuss it.
#5 Don't forget to back up your content
Videos are the type of content that is very difficult and time-consuming to reproduce. That's why you need to think about backing up videos in advance. (Ideally, develop a disaster recovery plan in case your whole media library is ruined.)
The simplest but most reliable solution is to choose the storage that offers a sound backup option. This is one more reason to opt for cloud storage, taking into account that the majority of the top cloud storage solutions such as Google Drive or Dropbox have a backup.
NB: Read more about the best practices for managing video files.
Empower your video library with DAM
Video stands at the core of your marketing success. Videos are entertaining and easier to perceive, but it's also a powerful way to transfer a brand message as well as to attract new leads.
With more companies seeing the potential in video marketing, the need for an effective video manager becomes urgent. Video asset management is an ideal tool to handle large video files, as well as any other types of content.
Give Pics.io DAM a try
Free 7-day trial
No credit card required
Set up in 3 minutes or less
Pics.io DAM can work on top of your cloud storage (or offer its own cloud storage), but it's also a great tool for sharing and managing video files. Get a chance to empower your video library with DAM:
Access and find files easily with metadata and tags
Distribute video assets via shareable websites
Keep revisions together with version control
See the difference between videos in one click
Collaborate on video files easily
Don't hesitate to give Pics.io a try right now!