There was a time when people could only use CDs, DVDs, not to mention floppy disks to install programs. There were no other options. Nowadays, not installing the software is not only a simple way to use it without storing data — but it is also one of the most successful business ideas called SaaS, and that's what we are going to discuss in this article.
What is SaaS Marketing?
The abbreviation stands for "software as a service," which means the software that users "rent" in its current state instead of buying and installing it. It is a SaaS project if:
You can use it on different devices, it is great for remote work
A few members of one team can use it simultaneously
A customer pays a monthly fee or the price that is directly proportional to the number of operations
The cost of support services is included in the fee
Updates are part of the process, and the customer gets updated, optimized versions of the product with added functionality regularly.
There are a lot of overwhelmingly popular SaaS projects. Let's take a look at the most obvious yet prime example — Google Docs, the cloud computing service that is used literally everywhere in the world. All users can work with documents without disk drives, downloads, drivers, and other things that usually make life complicated.
All you need to do is to create an account and start writing, editing, sharing your documents, and browsing other users' documents if they grant access to them. You can work with your colleagues in one doc even if you are on different continents. Another benefit of using Google Docs instead of Microsoft Word is that you can open a particular document on any device, including a mobile phone or tablet, and change whatever you want — the data will be saved automatically.
Generally speaking, this is a perfect example of a great SaaS as it should be. Now, let us move on to SaaS marketing. It is the type of marketing that sells SaaS, i.e., the subscription-based programs, platforms, and other products.
The Benefits of the SaaS Concept
Some may argue that the example of Google Docs does not really prove anything — this is just one incredibly popular product. It says nothing about other SaaS products that are not so popular. In fact, though all SaaS concepts are different, there are some common benefits of all subscription-based products, and they are as follows:
Lower prices & trial periods. Most customers prefer to use SaaS products because they are cheaper and because you can stop using it at any time. There is no need to pay a big amount for something you will use for a month. Moreover, most companies offer free trial periods to test their services, so it is a win-win for a customer, and it is very easy to promote & advertise.
No downloads, access on any devices. This is one of the main benefits for a user — you don't need to store any data, but they are still available on any device, in any place with Wi-Fi.
Customization. Every user can change the settings and choose the services they really need. In fact, this matters a lot for everyone: no matter what you use, Google Docs or SEO tool, you can change the setting once, and it will be saved automatically.
Integration. Such projects are usually cloud-based, and that means that they can be integrated with a lot of other apps and platforms. Upgrades. Once you are ready to pay more and get more, once you realize that you need additional useful functions, you can upgrade your subscription plan. This is a huge benefit for beginners who realize that they will need some premium features in the future but cannot afford them now.
"Today we should spend more time on investigating our customers' needs and present the best features effectively that can be useful for them," said Judy Blackwell from Hasner Law. "In the end, we can get more satisfied clients who will stay with us longer and grow together".
8 Marketing Tools to Manage and Optimize Your SaaS Business
What are the best tools that can help you improve your SaaS business? There are many of them, and if you use them properly, you can boost your sales, avoid plenty of problems, and determine the right priorities. Each of them is useful in its own way.
1. SE Ranking
If you are not in Google's top 10, you may need the right SEO tool. SE Ranking is an all-in-one platform that has some of the most budget subscription plans on the market. This, however, doesn't mean that the services are not as high-quality as services provided by its competitors — many of them are even better.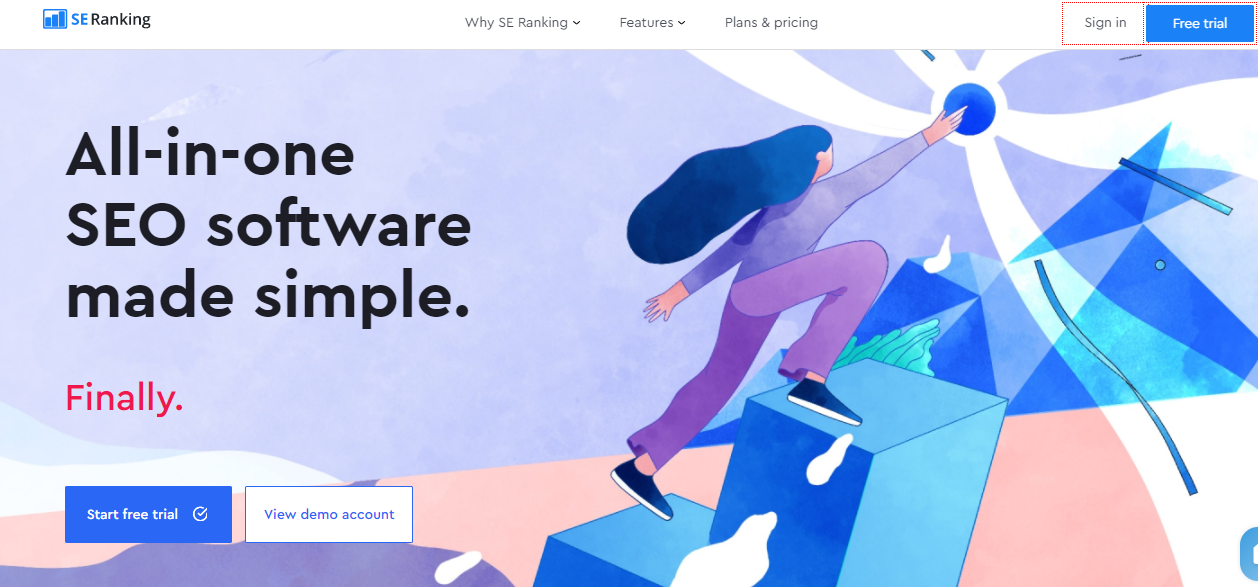 Here are some of the top features:
Keyword tracking - check keyword rankings in the most popular search engines for any location and device.
Website audit — find all errors, missing tags, broken links, and other problems on the website to fix them.
Backlink checking and monitoring — check and monitor your own and your competitors' backlink profiles.
Do keyword research — find the most relevant keywords, see the difficulty score, the price of PPC and CPC data, and group keywords, if necessary.
Marketing plan — outline your marketing strategy.
There are also B2B and Social Management features that may also be useful for small and medium businesses, as well as for enterprises, so this is a really all-in-one tool that meets everyone's needs.
SE Ranking Pros
White Label SEO reports
Users management with custom access
No hosting and maintenance issues
A very good UI and easy to use and setup
Affordable price
SE Ranking Cons
No option to track Domain authority
Too many tools that you can often forget what you need to do
SE Ranking provides API capabilities that allow you to integrate with different third-party applications. It can support Google Analytics, Zapier, Google Webmaster tools, etc.
The tool offers different pricing plans that depend on the frequency of ranking checks and how long your subscription period will be. The pricing starts at $31 per month to check 250 keywords. You can also try out a 14-day free trial to test the best features.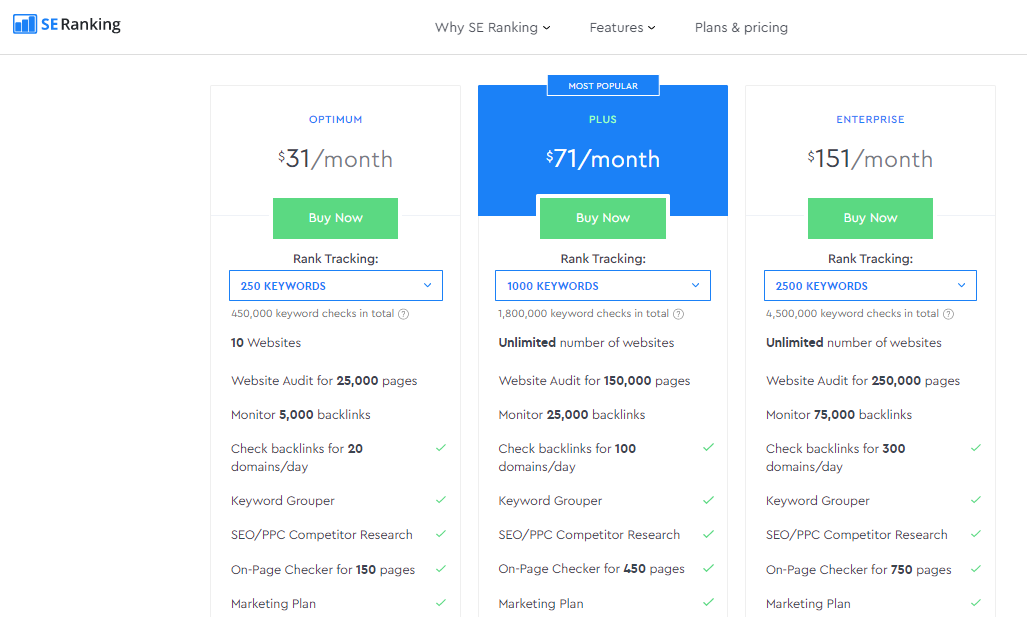 2. Pics.io
If you are looking for a fully-featured asset management solution on a tiny nonprofit budget, Pics.io is here to meet your needs and stick to your budget. The best thing about this tool is the option to have your assets under your control on Google Drive or Amazon S3.
The reasons why you should choose Pics.io are the ability to store files on a trusted server, easy to use, and great customer support. It doesn't require any technical skill to start using the tool.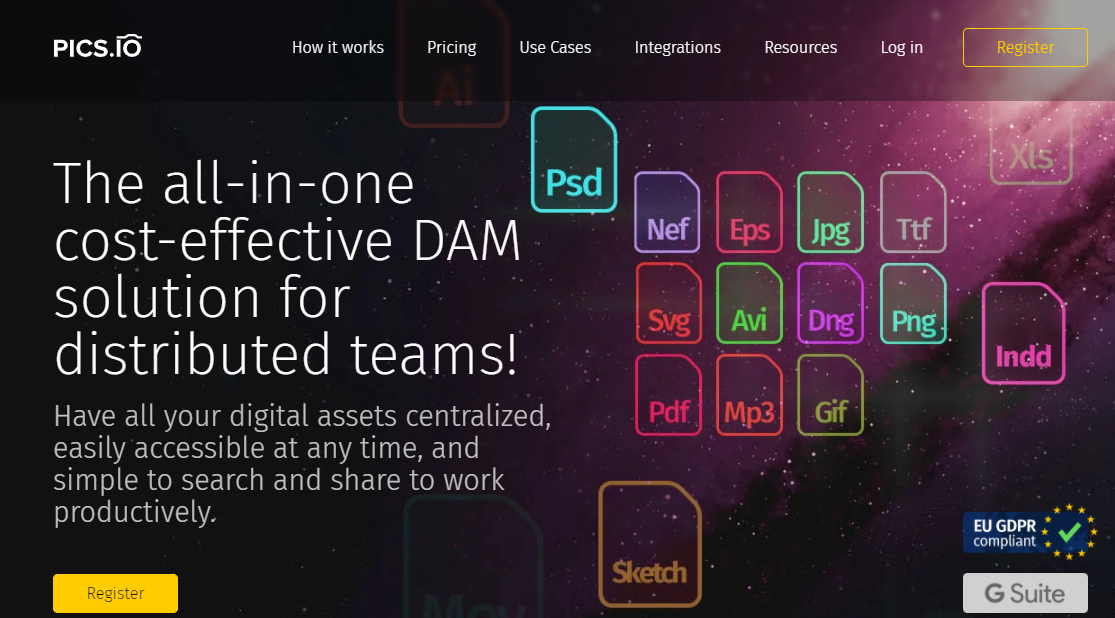 Top features you should definitely try out:
Thanks to Pics.io, it is easy to control versions of multiple designs and work with designers. Email notification, visual marks, and the option to chat inside the system can help you control all design workflows without leaving the page.
Pics.io Pros
The ability to use a controlled vocabulary for keywords
Granular permissions for different user roles
Great search functionality
Google Drive integration
Managing collections
RAW to JPG converter
Pics.io Cons
A bit of a learning curve
A little bit confusing design
I can say for sure that Pics.io is one of the best options for users who are looking for good storage and photo administrator. It looks like a great personal assistant solution. Moreover, you can make the most of the tool with powerful integrations (Zapier, Slack, Google Workspace, WordPress, Adobe, Shopify, etc.) to streamline your workflows.
The pricing plan starts at $50 per month per user. You can also request an enterprise plan and discuss the specific needs of your company.

3. Finteza
Are you looking for a good alternative to Google Analytics but much more advanced? Finteza is a great website analytics solution for marketers to find out what in their campaigns should be improved, where most traffic comes from, what are the main user behavior patterns if site visitors buy something, and why they decide to make or not to make a purchase.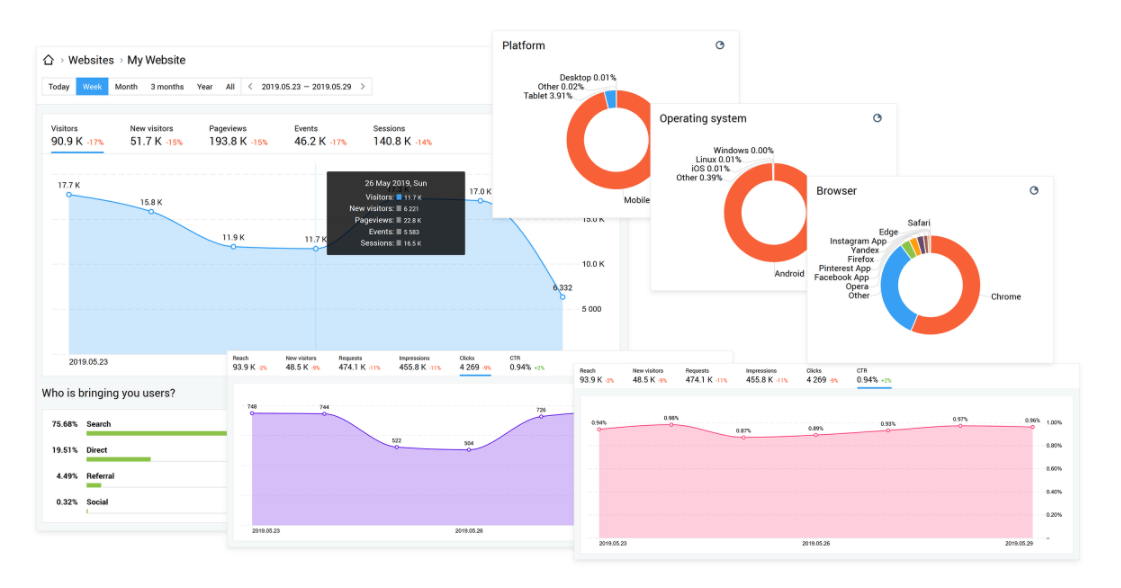 The tool allows you to get rid of weak points in your process, manage and optimize online ad campaigns effectively, improve conversion rates, and monitor the effectiveness and performance of your strategies.
The Best Finteza features you can benefit from:
Traffic quality measurement
Real-time website monitoring
Retargeting option
Creating and managing ad materials
Conducting A/B tests
Building conversion funnels
The best thing about this tool is the ability to simplify complex data for website owners. All data presented in reports include a lot of visual elements and are very interactive so you can understand your website analytics easily.
Finteza Pros
Detailed and accurate reports
Quick setup
Real-time statistics
Custom advertising engine
Reliable bot detector
Easy to use
Finteza Cons
Too advanced analytics for newbies
The market is swarmed with different web analytics tools, but Finteza stands well above. It goes beyond providing the basic metrics. It gives access to more than standard reports. This is a specialized solution for those who want to increase sales and reduce costs.
When it comes to pricing, Finteza includes two tools: website and app analytics and a multi-purpose advertising engine. The first one provides a fee of $25 per 100.000 unique users per month. The tool also provides a 1-month free trial period.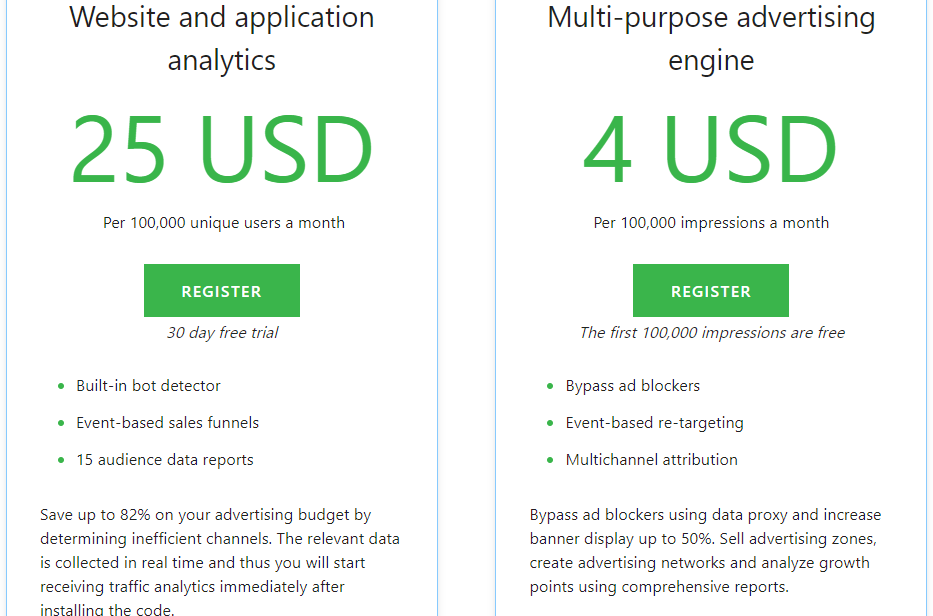 4. ContentStudio
If you are looking for a simple solution to optimize your digital content management and publish the best content for social media in an orderly fashion, ContentStudio will be your secret weapon in your arsenal of content marketing and social media management. It is a good SaaS platform, and like any other good Software As A Service project, it is constantly evolving and offers more and more features to users.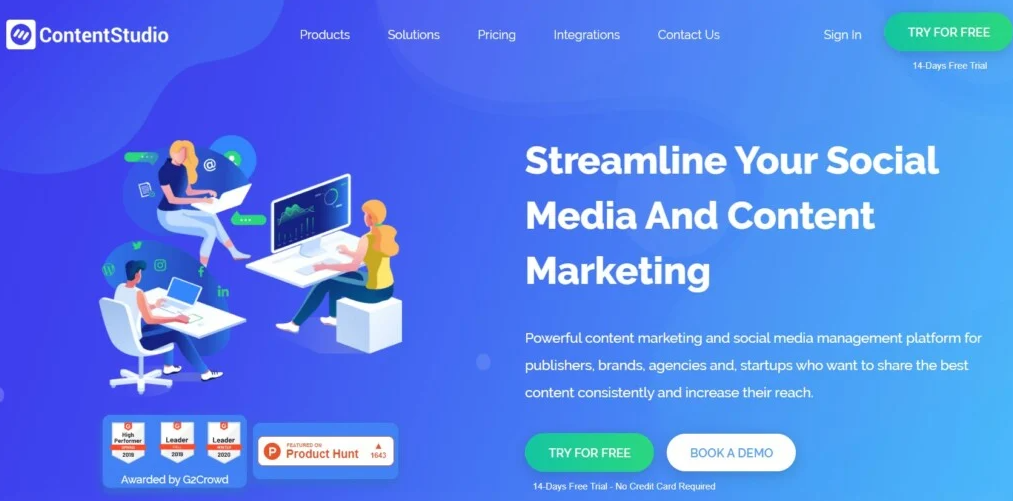 Simply put, ContentStudio provides specialists with everything they need to create the new valuable content and deliver it to the audience, as well as to manage multiple tasks and curate any social media project properly. The tool gives invaluable time and work saving in your efforts to improve your followers' experience, generate customers, and create commercial opportunities.
The key features of ContentStudio:
Automated publishing
Composer module
Content planner
Competitor tracking
Trend analysis
Detailed analytics
Workflow management
ContentStudio is super intuitive and easy to use. I like the option to search for news and blogs relevant to your industry. Another great feature is the social influencer area that helps you to research influencers in your field and reach out for collaborations.
ContentStudio Pros:
Content discovery and insights
iOS and Android apps
Workspaces feature
Integration with Replug
Affiliate program
A lot of useful integrations
ContentStudio Cons:
The lack of Instagram scheduling
No preview for a video to post
No search feature on the blog
One of the best things about ContentStudio is that it provides different plans for any size of business and budget. You can choose the best package to meet your needs and let your business grow. To try out the best features, you can get a 14-days free trial.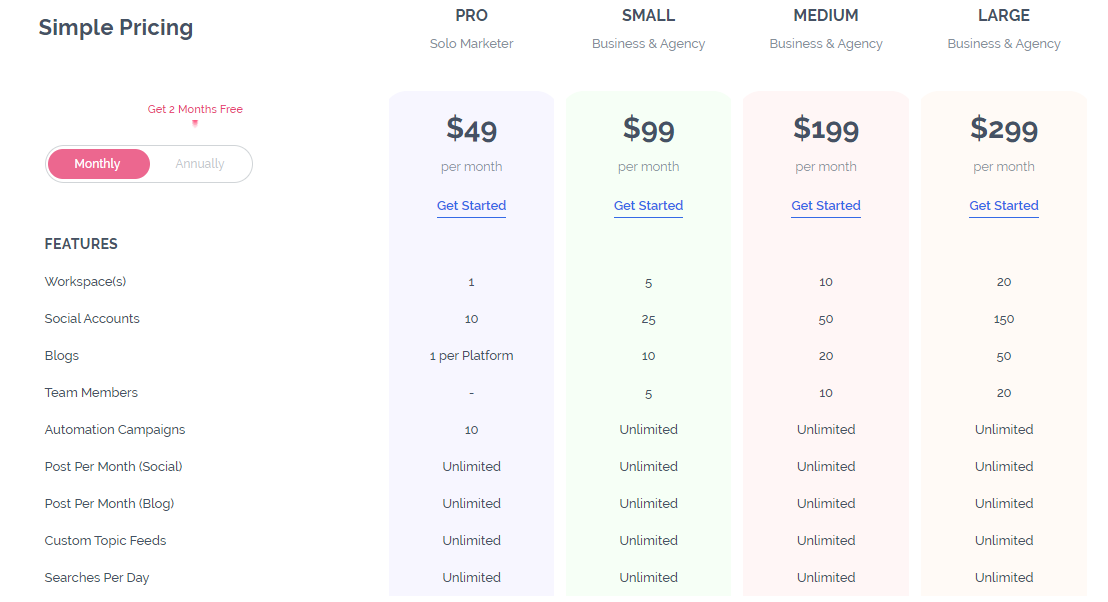 5. SocialPilot
SocialPilot is a great solution to manage, analyze, and grow your social channels as well as continuously promote your content on social. It works great for small businesses and enterprises and can be integrated with a lot of social networking websites, from Pinterest to Linkedin.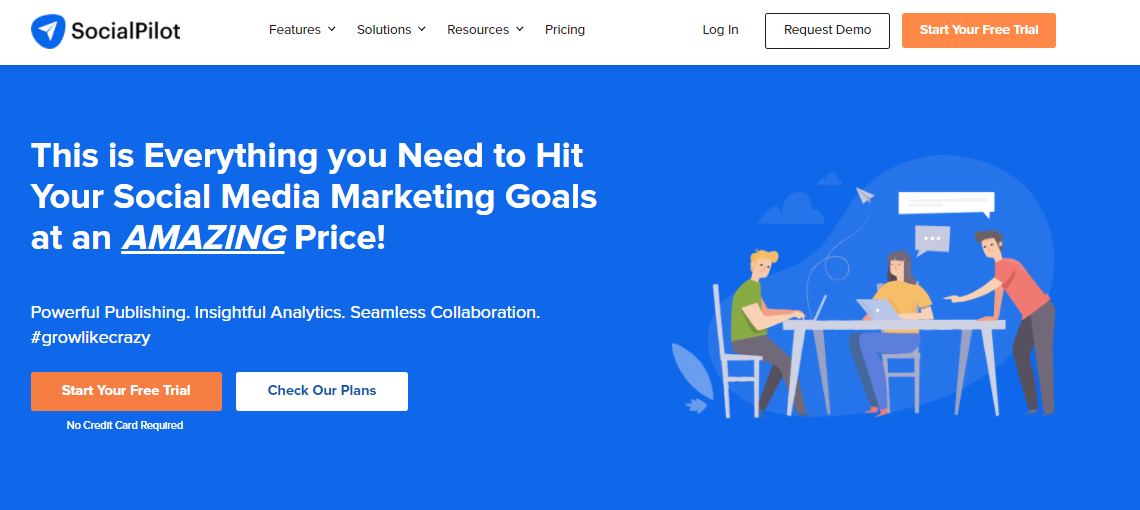 It allows posting something on Facebook without an automation tool's name (you automate sharing, but others don't know about it), creating bulk posts easily, working with team members online, analyzing the current marketing strategy, and managing customers' accounts.
Top SocialPilot features:
Social Inbox
Bulk Scheduling
Social Media Calendar
Client Management
Visual Support
Content Curation
SocialPilot is a very handy and useful tool that connects with popular remote storage platforms like Google Drive and Dropbox to decrease the number of downloads and uploads. Apart from all that, you will get detailed analytics that shows the orderly evolution of your work.
SocialPilot Pros:
Intuitive dashboard
Schedule TikTok videos
Integration with Canva
Post recycling option
SocialPilot Cons:
Lack of automatic email notification
Minor bugs on the calendar area
Daily usage limitations
The tool is a cheap alternative to HootSuite and Buffer but with a lot of useful and advanced features for social media management. The pricing plan starts at 50$ per month for 50 social media accounts. The enterprise plan is also available on request.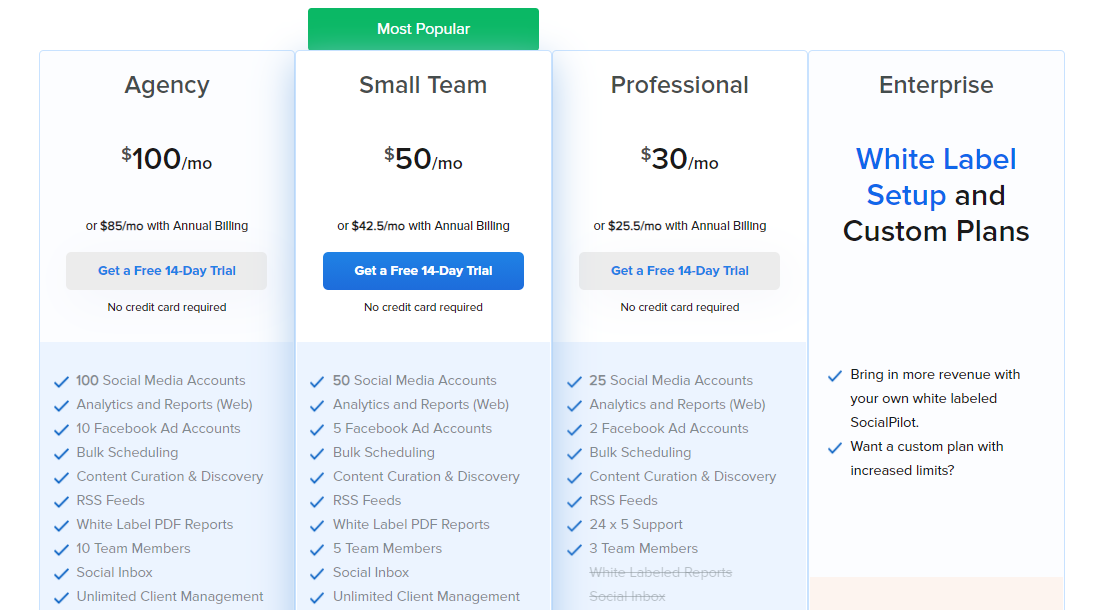 6. Grammarly
I hope that everyone knows and uses Grammarly. This is one of the most useful tools for bloggers and marketing teams that create a lot of content. The tool helps you improve the quality of your writing and support mistake-free writing.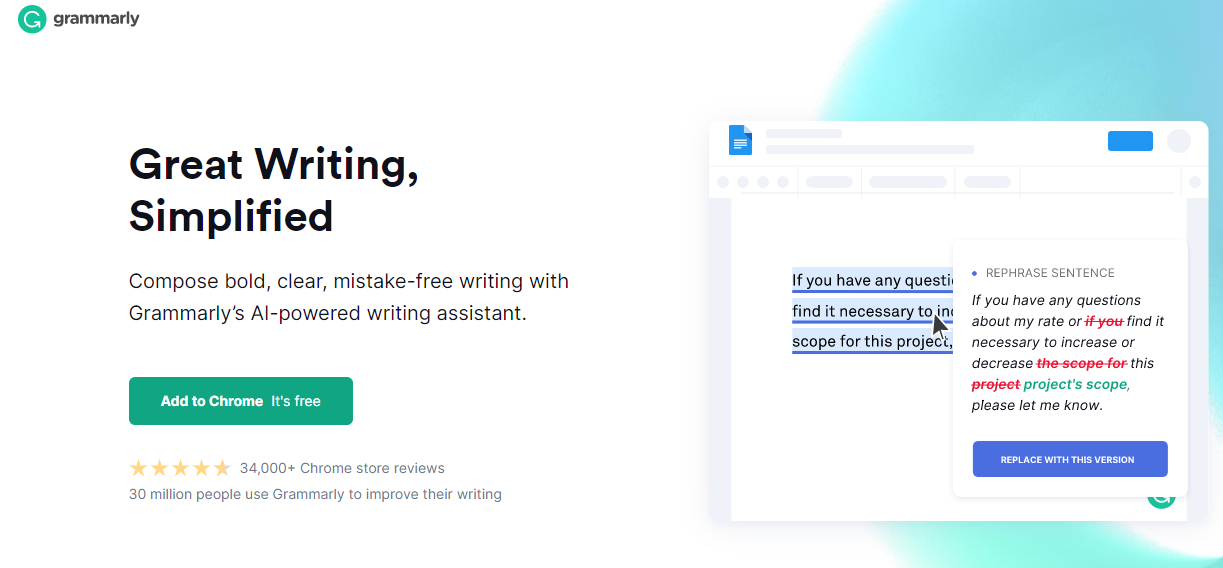 The best thing about this software is its writing suggestions that I've found most useful. You can be a free user and get a lot of value from this editing tool. It looks like more than enough to improve your writing considerably.
Here are some powerful features that Grammarly includes:
Tone detector
Grammar checker
Plagiarism Checker
Conciseness improvements
Grammarly is a good choice especially if you plan to use it in place of an editor. I think that this is the first tool that can help you improve the way you write in an easy way and at a good price.
Grammarly Pros:
Easy to use
Catch a lot of mistakes and writing suggestions
Advanced improvements for style
Robust admin controls
Integration with Google Docs and MS Word
Grammarly Cons:
Data security
Some flaws in the suggestions
No offline availability
Grammarly offers a free plan for individuals to suggest basic writing recommendations. If you are a freelancer or content writer, you can benefit from the Premium plan at $11.66 per month. There is also a special Business plan for large content marketing teams to make their communication more professional and clear.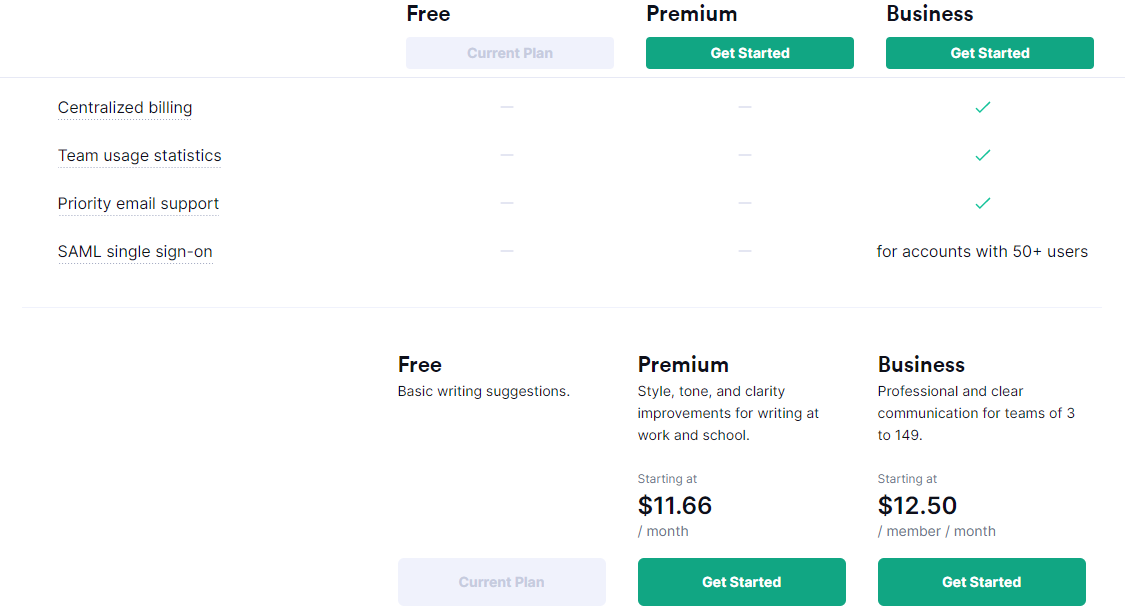 7. SalesHandy
SalesHandy is a powerful sales communication and analytics solution that is designed to empower inside sales teams and increase productivity. The tool comes with powerful email marketing features. A marketer who chooses this platform has an opportunity to schedule as many emails as necessary using a plugin, use dashboard feeds, see analytics, track emails, share files, create email templates and work with third parties.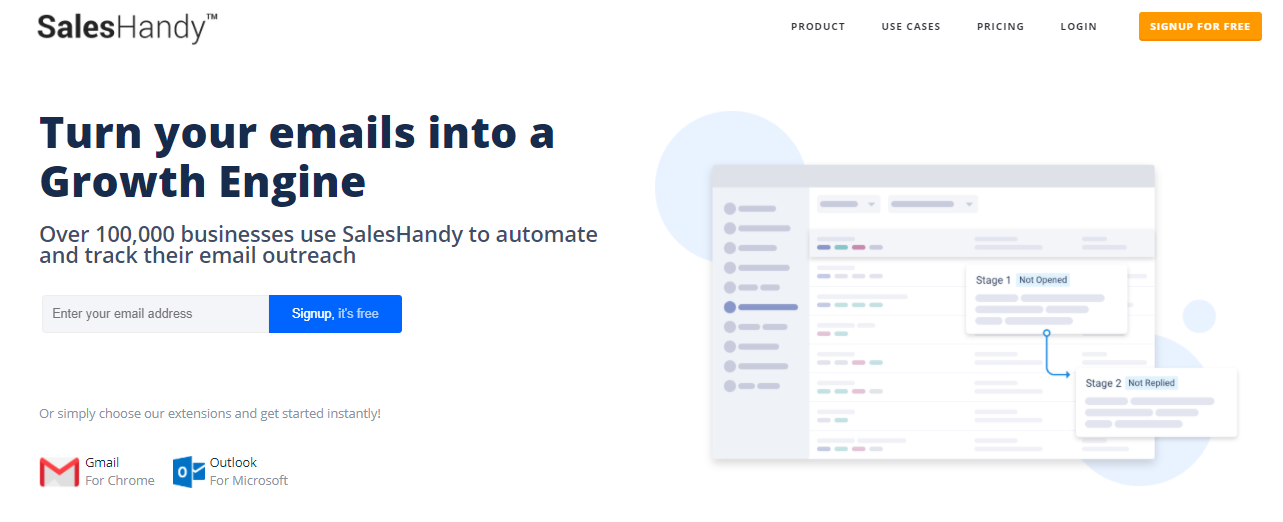 I love the simplicity and convenience of the tool. Since innovation is a complex, company-wide endeavor, it comes with a set of crosscutting practices and processes to structure and organize it. The ease of access, setup, and a detailed tutorial are exactly what SalesHandy provides.
Top SalesHandy features that can impact your business:
Template setup with personalized messaging
Team activity tracking
Unlimited email scheduling
Email tracking capability
Mail merge
Auto follow-up email
Document tracking
Email open history
SalesHandy integrates with different apps, including Outlook Mail, Google Workspace, Gmail, Zapier, Exchange, Office 365, etc. On top of that, the tool has a great customer support and seems open to getting improvement suggestions.
SalesHandy Pros:
Great training videos
Quick notifications
Good analytics
Demo access
SalesHandy Cons:
Paid email verification
No mobile apps
SalesHandy has four fundamental plans with varying features. The basic one is free with simple functionalities for newbies. Other plans come with a lot of different features ideal for enterprise marketers. It offers a 14-day free trial period to let customers get a feel of the whole software platform.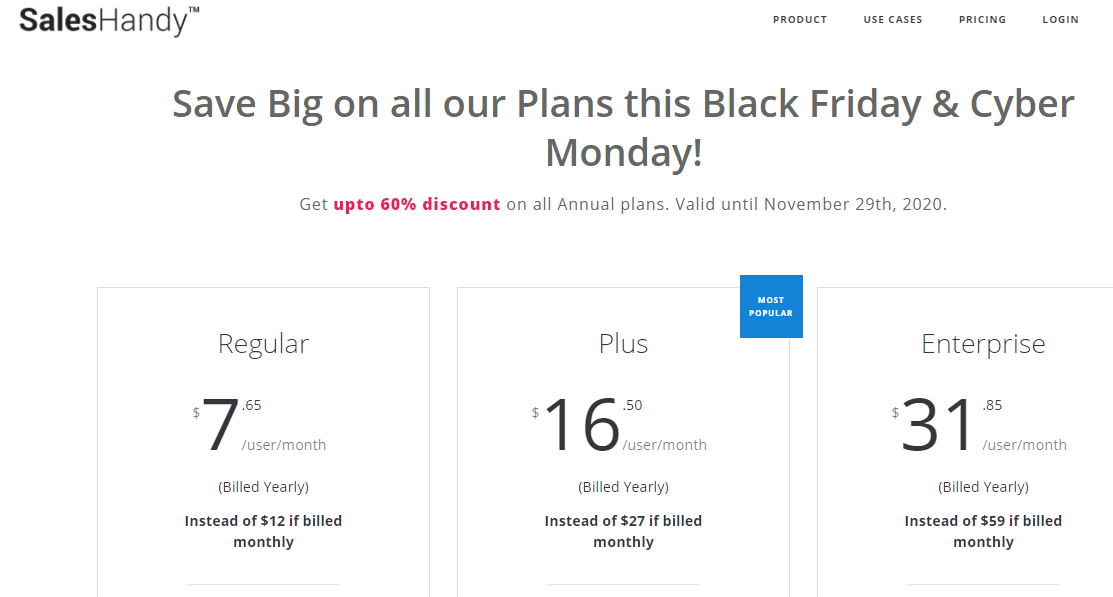 8. Better Proposals
As its name suggests, Better Proposals helps your business create high-converting and easy-to-sign proposals in a few minutes. First impressions are crucial especially if you want to increase sales. With Better Proposals, you don't need to be a designer to create attractive cover pages for your online proposals.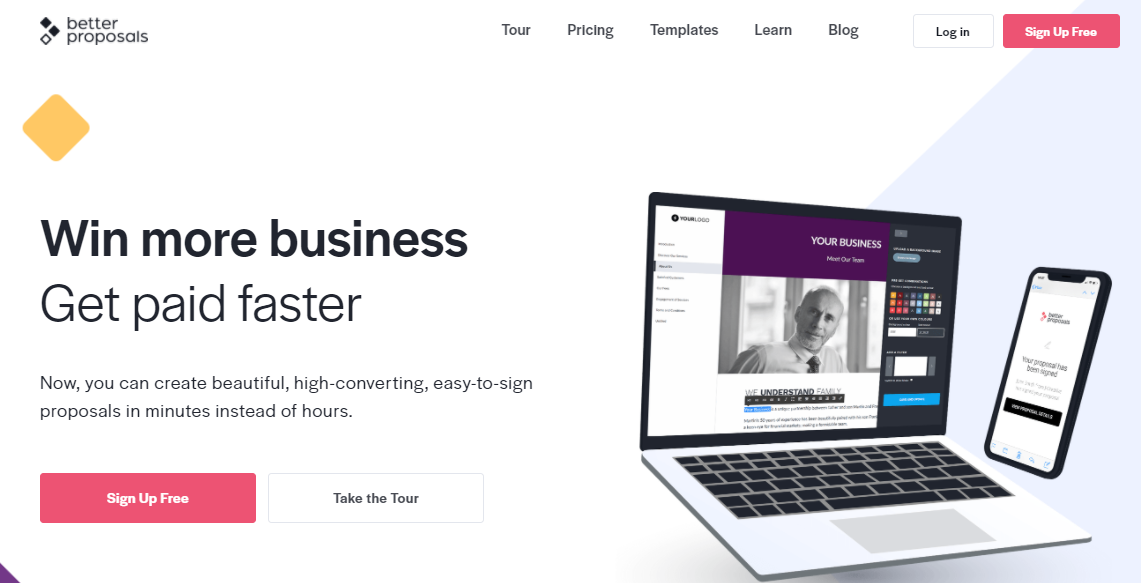 Thanks to an intuitive builder, you can easily customize proposals with your logo, graphics, and images or create your own cover pages from scratch. The best thing about the tool is the ability to track when your proposals are opened, downloaded, signed, or paid online. This allows you to automate the overall process, impress your clients, and grow your business.
Overview of key Better Proposal Features:
Template Builder
Automatic formatting
Powerful analytics
Educational videos and training
Content Library
Instant notifications
In-depth reports
Creating online proposals for your clients can take time and effort, but Better Proposals provides you with the best features you need to create convincing pages quickly and easily. Moreover, the tool gives a lot of useful information that you should pay attention to while creating your own proposal, live viewing, and how much time they spend on each section.
Better Proposals Pros:
Pre-built templates
Third-party integrations
Available in different languages
Proposal tracking
Online signing feature
Better Proposals Cons:
No preview function
A bit of a learning curve
The tool offers basic and enterprise pricing packages. For the Starter, Premium, and Enterprise plans, if you pay annually and get a two-month discount or you can choose to pay monthly. You can always use a 14-day free trial to choose the best features for your needs.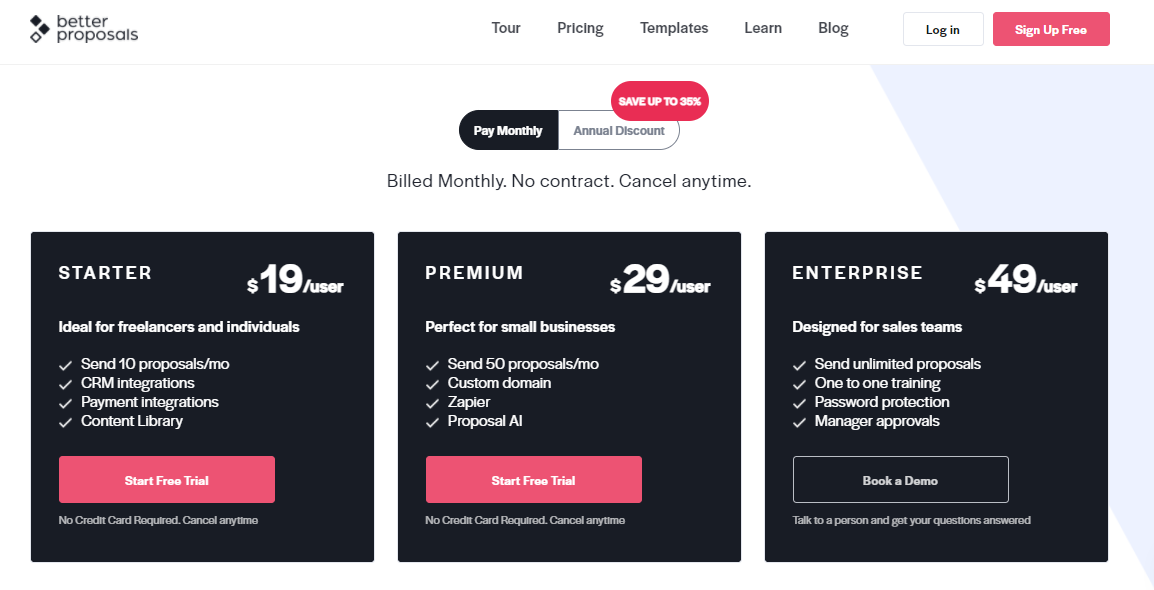 9. Elementor
Elementor empowers just about anyone to create dynamic WordPress websites without having to write a single line of code. With its intuitive drag and drop editor, 90+ widgets and hundreds of designer made templates, just about anyone can create the website they've always dreamed of.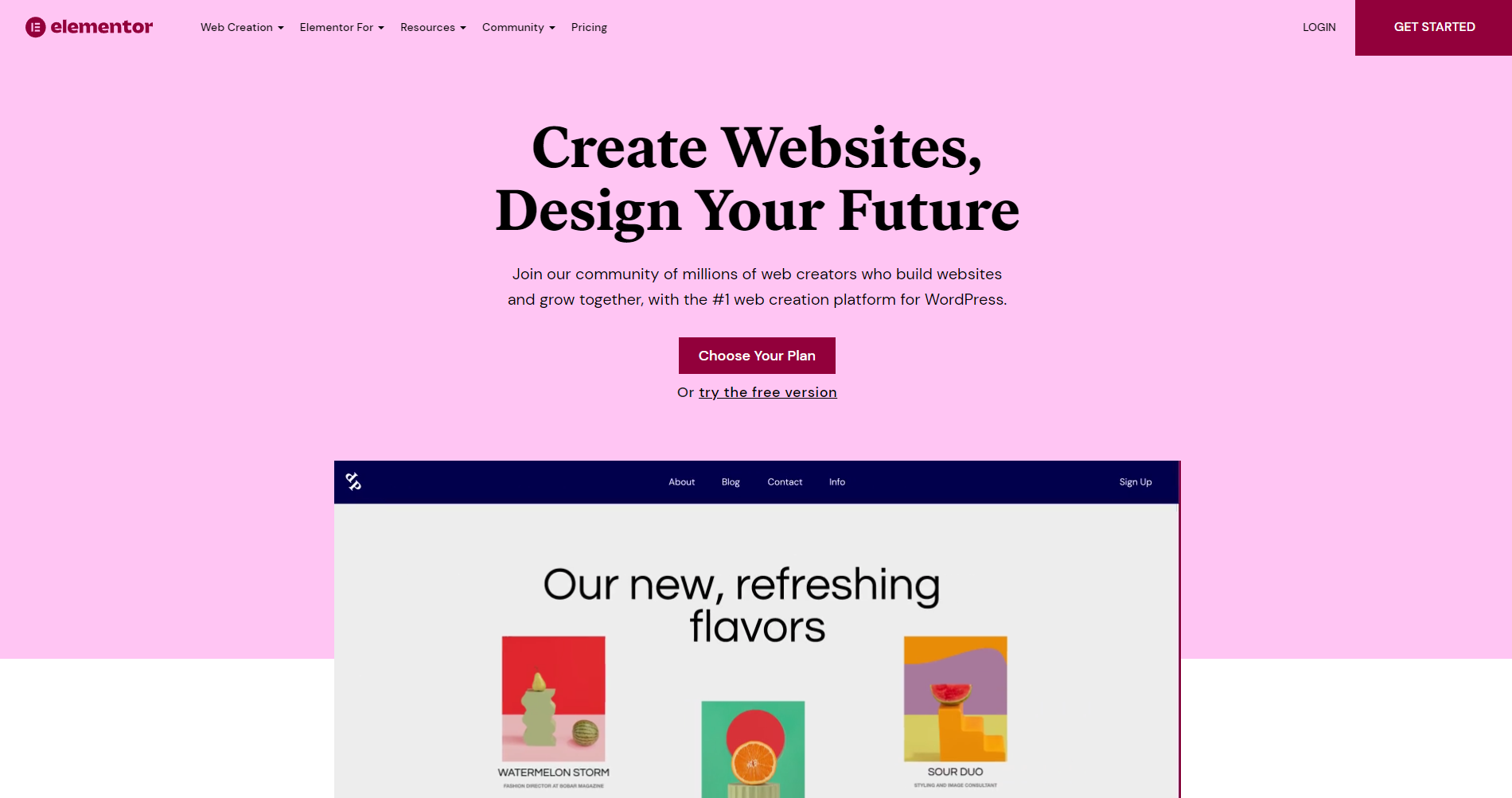 Elementor users can leverage powerful features such as code-free form and popup builders to capture leads and facilitate conversions. Those looking to get up and running with a website with as little hassle as possible can check out Full Site Kits. Complete, ready-to-go websites, Kits can be effortlessly customized and launched within a few clicks.
Top Features
Theme builder
Popup builder
Full Site Kits
Pros
90+ Widgets
300+ Templates
Intuitive drag-and-drop editor
Cloud hosting
Cons
No free plan for ecommerce sites
In addition to an extensive free plan, Elementor offers 4 subscription plans:
Essential for US$49 per year - You can build one professional website with this plan
Expert for US$199 per year - You can build 25 professional websites with this plan
Studio for US$499 per year - You can build 100 professional websites with this planAgency for US$999 per year - You can build 1000 professional websites with this plan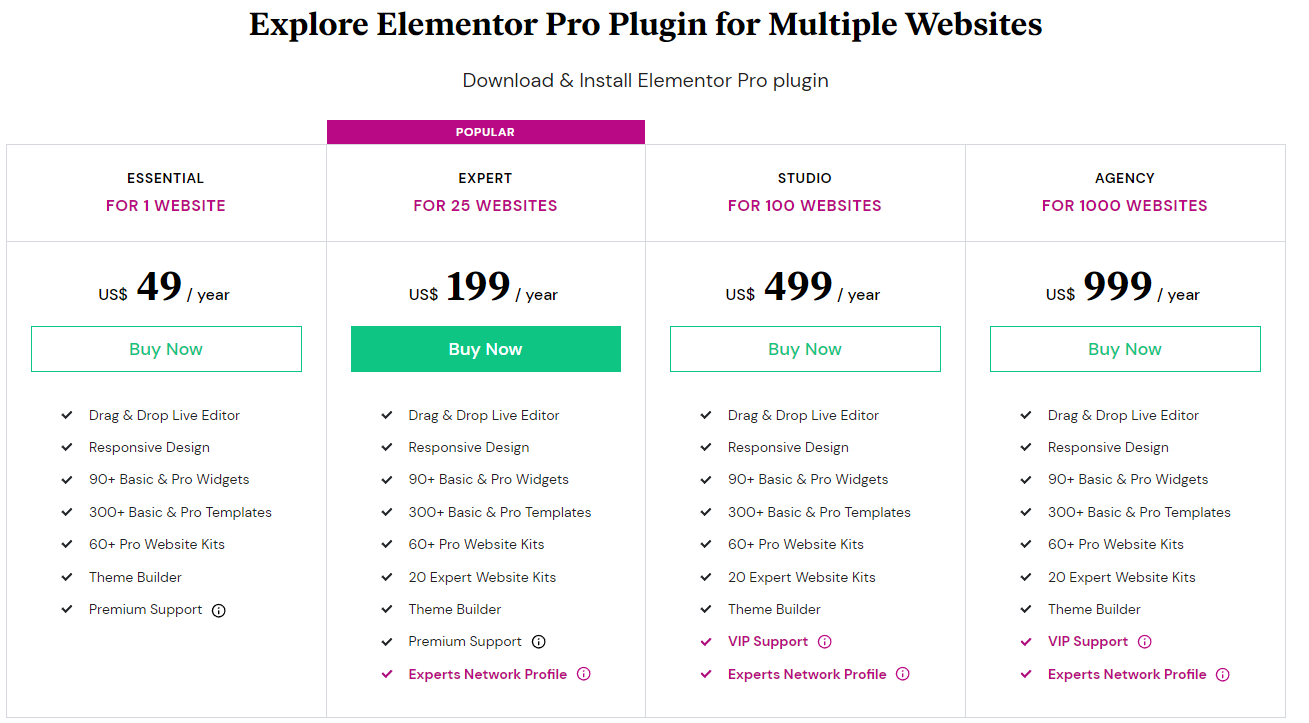 Bonus app
Automate.io as one of the no-code integration platforms for marketers to connect all their apps seamlessly. This app will help you streamline your workflow & automate your marketing, sales, and business processes.
Summing up
As you can see, there are a lot of top-quality tools that enable you to automate most processes and do all the work tasks really fast. If you have a website and want to see it in Google's top 10 results (everybody does), I hope you will find the right solution here to consider your competitors' experience, audit the website, and improve your SEO strategy.
So, go ahead and grab the best SaaS tool from the list to come off with flying colors.
And if you're looking for an excellent marketing digital asset management solution – Pics.io is the right tool for you. Store, organize, & distribute your files the most productively. Don't hesitate to book a free demo with us.
Give Pics.io DAM a try
Free 7-day trial
No credit card required
Set up in 3 minutes or less